Does the sudden "kiss-and-make-up" bid to buy Primaris REIT (OTC:PMZFF) between former foes H&R REIT (HR.UN on Toronto) and private equity manager KingSett Capital put the former on top as the biggest Canadian REIT? Not a chance.
H&R REIT CEO Tom Hofstedter is quoted in a press release as saying they are creating the largest and leading diversified REIT in the country, not the largest REIT in Canada. A subtle, but not insignificant choice of words.
The compromise deal to buy Primaris REIT announced today means H&R still has work to do to supplant RioCan REIT (OTCPK:RIOCF), the country's largest.
I think RioCan is a buy here, as its units were depressed due to the risk they would come in with their own unit offer to buy Primaris.
RioCan is trading at $27.04 CAD, up 25 cents on the deal news and yields 5.21%. It has a high of $29.20 and is still the top retail dog in Canada.
Of its 51 million square feet of real estate, RioCan has 49.1 million square feet of leasable area and properties under development that is or will be retail commercial. About 85% of this is located in Canada and 15% in the US.
H&R REIT had 43.5 million square feet of real estate properties, with 32% of that located in the U.S..
H&R also has a large component of properties under development, including a 2 million square foot office complex in Calgary, Alberta, called "The Bow."
RioCan units deserve a lower yield or "cap rate" and higher cash flow multiple than an office and industrial property heavy REIT such as H&R.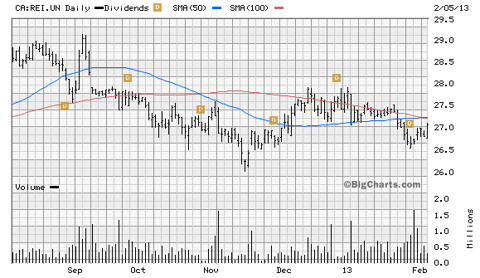 RioCan had $11.708 billion in property assets as of Sept. 30, 2012 and 298 million units outstanding, worth $8.05 billion at current prices.
As their part of the KingSett consortium, RioCan is buying 100% of the Oakville Place and 50% of the Burlington Mall for a total of $362 million with cash and an assumption of a $165 million first mortgage. The cash required will be reduced by $8 million to $189 million as the mortgage has an above market rate.
That Oakville, Ontario mall price ($569.20/ft2) seems expensive and well in excess of the Primaris overall valuation of around $325/ft2.
The Burlington, Ontario, mall is being valued at $263.40/ft2 and will be shared with a KingSett managed real estate income fund.
I once managed a bunch of stock brokers in Oakville, Ontario, and can tell you, everything is expensive there. It's one of if not the wealthiest city in Canada.
The Primaris transaction will bump RioCan's property assets to over $12 billion at book value.
Since the KingSett consortium will carve out $1.9 billion of the Primaris assets, H&R will not become "Canada's Largest REIT" as they announced with their surprise offer for Primaris on January 16.
They will take only $3.1 billion in assets (a mixture of book value and fair value for the most recent Primaris deal to buy 9 Alberta properties), and issue a maximum of 65.2 million units.
H&R gets the Dufferin Mall in Toronto, an asset they coveted because it is just "down the street" from H&R's head office on Dufferin Street.
I think the reputational damage caused by trying to put the Dufferin Mall into the break fee in the original deal was probably worth a few tens of millions for sure. The break fee is now just cash and "just" $100 million. I doubt anyone else will come in to trump the deal offered today.
H&R had $7.94 billion property assets including those under development, as of Sept. 30, 2012.
Post the Primaris deal, that would total $11.04 billion or about $1 billion shy of RioCan's.
The outstanding units will be 193.8 + 65.2 or 259 million at $23.40 currently worth $6.06 billion (not including any dilution from CV debs).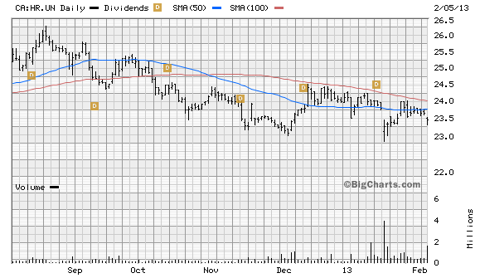 Oh well, it was a good compromise.
H&R CEO Tom Hofstedter expects to do more retail deals with the Primaris "platform" and is still gunning to be number one in Canada.
But that is for another day.
We are selling most of our Primaris REIT position at $27.35-27.47 because the units have moved up almost half way from yesterday's close to the buyout value, which will go down when H&R goes "ex" 11.25 cents on Monday.
We are buying RioCan at $26.84-$27.02.
Disclosure: I am long OTC:PMZFF, OTCPK:RIOCF. I wrote this article myself, and it expresses my own opinions. I am not receiving compensation for it (other than from Seeking Alpha). I have no business relationship with any company whose stock is mentioned in this article.