The major stock market indices are approaching all-time highs (in price terms). Investors are starting to get their mojo back. Inflows into equities and equity ETFs and funds are on the rise. Amazingly, the rally of the last few years has been on very low volume. So now that the retail investor has seen that the markets are moving, and it appears sustainable, they are starting to jump back in. That's usually when the retail investors makes a move en masse … when it looks like the coast is clear.
Now, stock market momentum is a powerful force. From what I've read , it may be the only technical indicator that can help an investor make money (personally, I'm not a believer in any technical analysis, but that's a different article - make that raucous argument). But the retail investor has a nasty habit of buying high and selling low, due to performance chasing. Is this the phenomenon in play these last few months, or is the stock market recovery warranted? They say the stock market climbs a wall of worry, that has certainly been the case from 2009, a period in which the S&P 500 and Dow Jones Industrial Average delivered a total return of some 80%. Is the party over? Is the retail investor arriving at the festivities to find the clean-up crew picking up the empty beer bottles and empty pizza boxes?
Let's ask Mr. Market.
From 1900 there have been 15 events of new all-time highs in price terms. Here's what happened after the market made new highs…
Number of New High Events for the Dow Jones Industrial Average from 1900: 15 Events
Short Term Run Followed by Big Drop - Four Events
Bull Market with Significant Gains - Four Events
Substantial or Modest Decline - Three Events
Moderate Gains - One Event
Moderate Drop - One Event
Small Decline Followed by Nice Gains - One Event
Gain then Drop Followed by Gain - One Event
And here are the specific events, starting with the top taken out in 1901.
In 1901, taking out the top of 68 lead to a 15% increase over several months, followed by a severe decline and then the markets losing almost half of its value over the next two years to 1904.
MODEST INCREASE 6 MONTHS / THEN SEVERE DROP
The market next took out its top of 78 in early 1905. The market delivered a quick 6% gain above the top and then a quick drop of 14% over a few months, then followed a 30% gain to 103.0 over several months - taking us to 1906. A very choppy road to say the least.
MODEST GAINS - MODEST DROP - GENEROUS GAINS
That top of 103 was not taken out for over a decade until 1916. There was a very quick 4% gain followed by a very severe loss of 40% over the next year or more. The new top was 110.0.
QUICK DROP
The 110.0 figure was not take out until 2.5 years later. The top lasted a few trading session and took us to 112.0. There was then a quick correction to 98.0, and then a run to 119.0, in late 1919.
MODERATE DROP
That top of 112.0 was not taken out for some 6 years until 1925. From there of course we had the incredible bull run of the roaring twenties. It roared for a few years up to 381.0 in 1929. A 340% gain.
BULL MARKET
380 was not taken out until 1955, some 26 years later. The Dow then went on its post-war baby boomer market boom to top out at 734.0 in 1961. A 90% plus gain.
BULL MARKET
That top was then taken out some 3 years later in early 1964. The market went on a nice run to 995.0 in 1966. A 35% gain.
NICE GAINS
That top was not taken out until 1972. The markets went on a quick run delivering a very small gain of 6%, and then a precipitous fall to 577 in 1975. The new top made was 1051.0.
SMALL GAINS QUICK DROP
That top was not taken out until 1983. The Dow then delivered a quick gain of over 20% to 1287.0 in late 1983. There was then a quick retracement to 1086 in mid 1984.
QUICK GAINS - FOLLOWED BY MODEST DROP
The 1287 top was taken out in late 1985. The Dow cruised to 2722 in late 1987, a 210% gain over two years.
TWO YEAR ROBUST BULL RUN
2722 was not taken out until 1990. There was a very quick 9% gain followed by a 20% pullback over a few months before perhaps the greatest bull run in stock market history - the bull run of the 90's.
QUICK GAIN - FAST DROP -
That 2722 top was taken out in 1992. The Dow then went on an incredible run topping out near 11,500 in 1999. A 425% gain over 7 years.
LONG-TERM BULL RUN
11,500 was not taken out until 2006. The market then went on a quick and insignificant run followed by a quick pullback to 10,700, a 7% decline. What followed was another run to 1,400 in mid 2007.
SMALL DECLINE - NICE GAINS
2007. The markets retested that 1,400 high in late 2007 but quickly blew off to fall some 50%.
RE-TEST FOLLOWED BY BIG DROP
The final scorecard reads 6 periods of gains to 8 periods of losses - all of various durations - after the market has reached a new high. And one event when the market was more than schizophrenic.
That might give an investor pause, but though the market has fallen on more occasions than it has risen, the bull markets had some significant gains that obviously outweigh the losses of the 8 down events. After all, it is up (just a bit) from 1900.
Net-net, I think this look at market tops reinforces the truth that no one can predict where the market is going at any time, short or mid-term. And it reinforces the mantra that investors should stay invested and stay the course. The best defense again the unknown is patience and consistency on behalf of the investor.
We've been in a secular bear market from the tech-induced market collapse of 2000. It's been one of the "worst" 10 and 15-year investment horizons in history for equity investors.
That said, if an investor had put $10,000 in the Dow Jones Industrial Average (NYSEARCA:DIA) ten years ago in 2002, he or she would now be holding $18,000 and would have generated a total return of 80%. That's a 5.4% annualized or average annual gain. If that investor had been investing consistently and dollar cost averaging, he or she could have juiced those gains significantly. Even going back to the worst starting point over the last 15 years and putting money down in the year 2000 an investor would have generated a 60% return.
And for those who practice asset allocation, the returns over the last 10 years are quite impressive. A simple 50/50 portfolio of DIA and (NYSEARCA:TLT) (Barclay's 20-year Treasuries ETF) would have generated returns in the neighbourhood of 115%. From 2000, if an investor had invested in the Dow and (PPTRX) Pimco's Total Return Fund (intermediate term corporate bonds) in equal amounts, they would have seen a return of 110%.
The 50-50 DIA-Pimco Total Return Portfolio - From 2000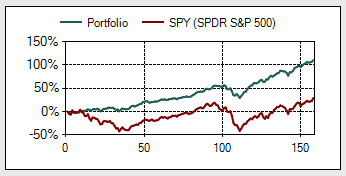 And as you can see from the chart, that investor would not have had to watch his or her portfolio go under water - at all. Now there's a solid argument for asset allocation during secular bear markets. And that leads to an interesting observation. During the past 10 and 15 years, a balanced portfolio of bonds and equities beats the more aggressive and volatile all-equity index portfolios. And if one were simply rebalancing to maintain a 50-50 or 60-40 asset allocation mix, the returns would have been boosted quite significantly. That rebalancing mechanism forces one to buy low and sell high.
Anyway, back to the market and the current threat to take out the top in price terms. Here's a look at the S&P 500, available as (NYSEARCA:SPY) in ETF form.
What will that chart look like one, two, five and ten years from now? I have no idea. But I do know that if you stay the course - stay invested, practice dollar cost averaging and reinvest your dividends and bond income, you will make money over the long-term.
That's all for now. It's the beginning of the month and my dividends and bond income just came in. Time to put that money to work … again. I think I'll order up some more Dow.
Disclosure: I am long DIA. I wrote this article myself, and it expresses my own opinions. I am not receiving compensation for it (other than from Seeking Alpha). I have no business relationship with any company whose stock is mentioned in this article. Please note that Dale Roberts aka cranky, the crankywriter, the scaredy cat investor is not a licenced investment advisor, and the above opinions should only be factored in to an investor's overall opinion forming process. Consult a licenced investment advisor before making any investment decisions. Pretty please.