Something very interesting is happening at Avanir Pharmaceuticals (NASDAQ:AVNR). Something that many of the company's supporters and detractors had all but given up hope on:
Impressive sales growth.
After a less-than-spectacular debut in 2011, many long investors remained optimistic that sales of the company's flagship product for the treatment of PBA, Nuedexta, would at long last begin to gain traction in its sophomore year. As it turned out, the once steadily increasing weekly sales slowed to a crawl in mid-2012, and even stalled out completely for weeks on end as the year came to a close.
With year two for Nuedexta giving investors little more than increasingly less-impressive growth rates and a share price to match them, there was little reason to think that 2013 would be much different.
So What's Happening?
In two weeks' time, Avanir grew weekly prescriptions by more than 28%. Prior to that, it had taken the company more than half a year to accomplish the same.
Weekly Total Prescriptions, As Reported By IMS Health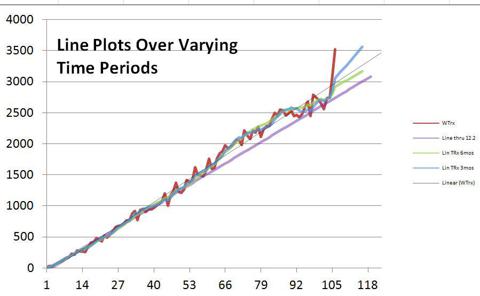 The most recent weekly prescription total of 3,523, as reported by IMS, puts the company at an annual gross run rate of $96-$99M. That translates to net revenues of $77.76-$80.19M. With the company's current annual cash burn estimate being about $110M, Avanir only has to find another $31M or so in net revenues until it reaches cash-flow breakeven.
While the recent spurt doesn't yet signify that long-suffering longs are completely out of the woods and in the clear, as the company marches toward inevitable profitability, one must think that the large short position (22M shares) will soon be a thing of the past. In fact, if the recent unexpected growth continues on for a few more weeks and a new growth trend is established, Avanir investors may just get to witness an event that many have been hoping for, for many years: The ever elusive short squeeze.
The big question on everyone's mind at this point has to be:
Is this sudden, unexpected jump in Nuedexta sales simply an anomaly, or are we witnessing paradigm shift that will forever alter this small biotech's landscape?
It is still unclear if the recent sales boost is primarily the result of Avanir's new direct-to-consumer advertising campaign via television commercials, the recent retooling of Avanir's sales force to put even more emphasis than it already had on long-term care facility sales, off-label neuropathic pain prescribing (a higher-dose version of Nuedexta is currently being tested for central neuropathic pain in patients with MS) or a healthy combination of all the above. One thing is clear, though. Investors will be expecting an update on all of this from the company's CEO, Keith Katkin, during this Thursday's quarterly conference call.
If the recent unprecedented growth is mainly attributable to the company's second-go-around with a long-term care facility re-focus, as some believe, a gradual leveling off from current weekly prescription numbers can be expected as a result of the law of diminishing returns.
If the recent unprecedented growth is the primary result of the new television ad campaign (which is my initial thought, as it is the only entirely new aspect of Avanir's marketing efforts), the recent growth may simply be the beginning of a months'-long growth period that would propel Avanir into profitability far sooner than most have been thinking.
Either way, many believe Nuedexta's market penetration is still relatively low. To read more about the potential market size for PBA, "Uncovering Nuedexta's Potential" is a two-part article that I co-authored, which I believe to be a reasonable (though some may say overly optimistic) effort at removing bias from company-sponsored survey data and establishing what I now consider to be a best case scenario treatable-patient population.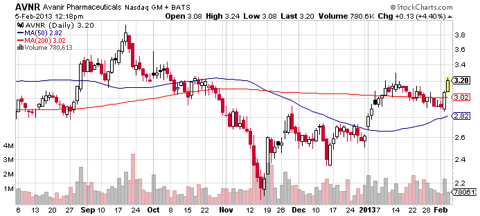 Key Metrics As Of 9/30/12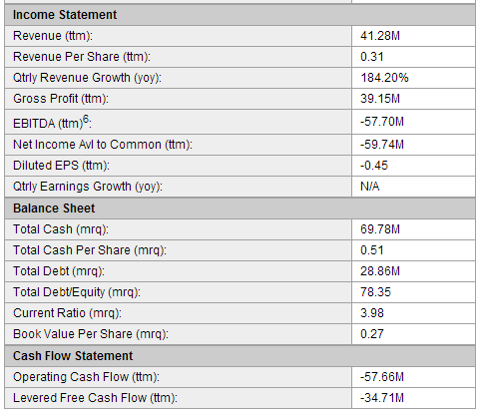 Shares of AVNR are already up more than 7% since the second consecutive week of stellar growth was confirmed yesterday, but there is plenty more upside potential to be realized if Avanir can continue to build upon its recent successes. With the possibility of broad label approval for Nuedexta in the EU on the horizon and a very promising Phase II pain trial in the works, there has never been a more exciting time be a shareholder of Avanir Pharmaceuticals.
Disclosure: I am long AVNR. I wrote this article myself, and it expresses my own opinions. I am not receiving compensation for it (other than from Seeking Alpha). I have no business relationship with any company whose stock is mentioned in this article.