This very short piece of news in Bloomberg Wednesday morning is straight to the point, how the hell are you going to export to countries (when you now need to live from exports) if those countries are having massive devaluations while you mark time. Oh, I know that Ukraine and Russia represent only a small fraction of Baltica exports, but they aren't the only ones falling, the Romanian Leu, the Polish Zloty, the Hungarian Forint, the Czech Koruna are all falling, and all these countries are direct rivals for market share in the rest of the EU.
AB Snaige, the only refrigerator maker in the Baltic states, will cut about 300 jobs in its Lithuanian factory, citing lower demand in Russia and Ukraine as both the ruble and hryvnia lose value against Lithuanian litas. Sales in Russia and Ukraine have "stopped" and "there is no evidence these markets will revive" during the first quarter, the Alytus, Lithuania-based company said in a statement to the Vilnius Stock Exchange today. The company employs "more than" 2,300 workers in its two factories in Lithuania and Kaliningrad, Russia, according to its Web page.
Basically as I say, it also matters which currency you are pegged to. One commenter has made this point.
Regarding Latvia, I'm working for [an] industrial company in Latvia, with most customers from Sweden or Russia and [the] latest SEK and ruble rate changes have really eaten up business both for export and import. From SEK/LVL we lose in [a] funny sequence, [the] more you sell - [the] more you lose. Today, there are a lot and a lot of industries closed, closing or planning to close.
Evidently there is a lot of "restructuring" going on, but is it the kind of restructuring Latvia and Lithuania need, I ask you?
Euro To Swedish Krona
Here's the chart of the Euro with the Swedish Krona.
click to enlarge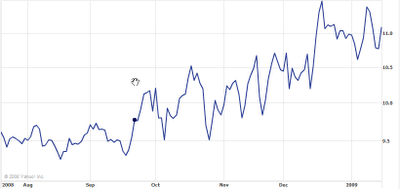 Euro To Russian Ruble
Here's the Euro/Ruble chart: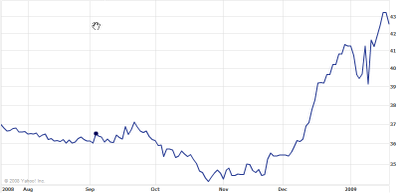 Euro To Polish Zloty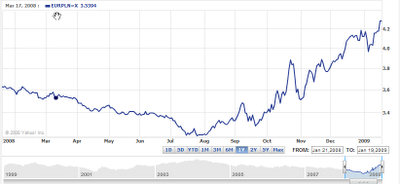 Finally, here's Latvian industrial output for November, anyone spot the trend?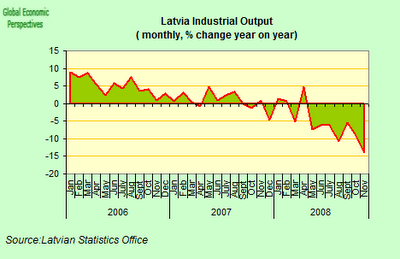 And incidentally, Latvian exports were down 19.7% between October and November 2008. And incidentally, Latvian exports were down 19.7% between October and November 2008. Oh, I know, I know, not only doesn't Latvia need exports, it doesn't need industry either. Meanwhile, onwards and downwards we go.