On the heels of a record-breaking December, global exchange-traded product (ETP) flows continued to experience incredible momentum in January, surpassing the milestone figure of $2 trillion for the first time and finishing the month at $2.04 trillion in total assets. This was the industry's best January ever, with $40.2 billion in inflows (breaking last January's record of $33.5 billion).
In addition to the blockbuster numbers, January also mirrored December in the decidedly risk-on nature of flows. Equities accounted for 94% of flows while the fixed income category remained subdued. While all equity segments attracted net inflows, emerging markets (EM) ETPs "emerged" as the trend to watch. Broad EM ETPs drew in $7.0 billion, the highest monthly total for the category in more than three years. EM single country ETPs also saw strong inflows of $5.8 billion, with investors favoring China, South Korea, and Mexico exposures.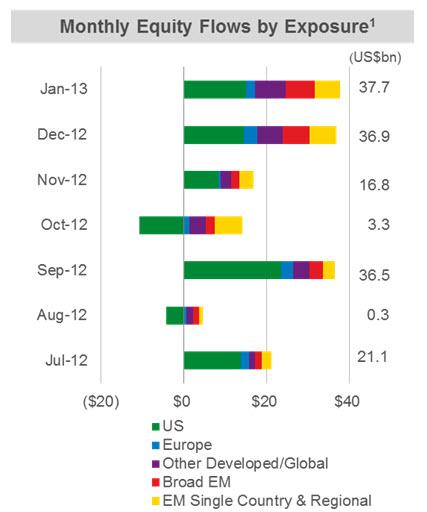 For those looking to make a more tempered transition into riskier assets, ETPs offering "minimum volatility" strategies have been a vehicle of choice. These products, which offer a way to access equities with the objective of reducing risk in the form of market volatility, have seen significant inflows in their relatively short lifespan, from ~$1 billion at the end of 2011 to nearly $7 billion at the end of January 2013. January inflows alone for minimum volatility ETPs weighed in at $0.8 billion.
Another interesting story on the equity flows side was the resurgence of dividend-oriented ETPs, which had experienced outflows in the build up to the fiscal cliff last month. With tax uncertainty no longer a barrier, dividend products staged a comeback in January, gathering $2.9 billion.
Risk was also a trend within fixed income, where investors favored high yield bonds to the tune of $0.8 billion in inflows. In contrast, the "safe haven" Treasuries category posted outflows for the second month in a row amid concerns that improvements in the U.S. economy could put upward pressure on yields.
Will this risk-on behavior continue? January market activity has certainly prompted some analysts to believe we've entered a period of "Great Rotation" from bonds into stocks. However, Russ Koesterich believes -- and I'm inclined to agree with him -- that while we are seeing some investors rediscover equities, the reality is that it may take awhile to see the massive shift that some are anticipating. Rather than one smooth movement, it's likely to be more of a grudging, volatile process. Meanwhile, we do still advocate a long-term positive view of equities (you can get Russ' most recent investment outlook here).
Source: BlackRock.

Disclaimer: Past performance does not guarantee future results.