Agricultural nutrient provider Potash (NYSE:POT) announced relatively weak fourth quarter results Jan 31. Revenue tumbled 12% year-over-year to $1.6 billion, falling below consensus estimates. Earnings also missed the mark, dropping 38% year-over-year to $0.48 per share. Company-wide gross margins sank 1,200 basis points year-over-year to 35.7%.
Potash, generally the company's namesake nutrient, was weak everywhere outside of North America. Total potash volumes declined 17% year-over-year to 1.3 million tonnes, even though North American volumes were 39% above the comparable period of 2011. Going into 2013, management thinks demand for potash will remain strong in North America, mentioning on the conference call:
"In North America, dry conditions persist in certain areas, but many of our customers say farmers are talking about the economic potential of their land and the need to address declining fertility levels in their soils, rather than worrying solely about Mother Nature."
With global population on the rise and North American farmers sitting on strong financial positions, we think nutrient productivity investment is poised to grow. However, we think farmers are valuing superior seeds offered by the likes of Monsanto (NYSE:MON) and DuPont (NYSE:DD) as more favorable investments at this time. Recent strong results seem to support this notion.
Regardless, Potash will need to see higher product prices and more demand from Asia and Latin America to propel earnings higher. Off-shore potash volumes tanked during the fourth quarter, falling 37% year-over-year and putting downward pressure on realized prices (which were down 10% to $387 per tonne). China and India are demanding lower prices for potash shipments, but we think China's hand will be forced, and the nation will boost potash imports. India, on the other hand, looks like it could remain challenged. Management provided some wonderful insight into the situation on the conference call, saying:
"India remains an enigma that would truly benefit from balanced fertility, but is not fully engaged. While this region remains an important long-term customer, especially given it ssignificant growth potential, we're not expecting it to be a major driver of global potash demand in 2013.
Although we anticipate new contracts that could be settled during the first quarter, the political challenges that affected demand during 2012 are unlikely to improve significantly this year. We believe shipments to India will increase from 2012's depressed levels due to limited inventories in that country. But anticipate that it will continue to be a major gap between its actual consumption and the scientifically recommended application levels it requires to improve their lagging crop yields."
The need for improved crop nutrition is there, but the country appears as though it simply won't allow it. Regardless, global potash volumes are anticipated to rise in 2013 (shown below), improving the fundamental outlook for Potash's business. (Image Source: POT Q4 Earnings Presentation.)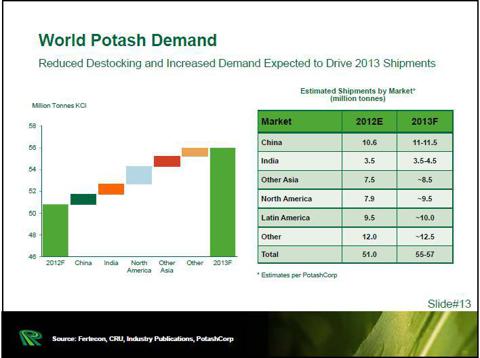 Phosphate and nitrogen, Potash's other crop nutrient segments, also experienced year-over-year declines in profitability. Phosphate shipments were down 0.1 million tonnes to 0.8 million tonnes, and average selling prices were substantially weaker than the prior year. Looking ahead, management anticipates the segment will post decent results, driven by improved feed and industrial performance. Nitrogen gross margin dollars fell 15% year-over-year, even though volumes were flat. Still, the segment recorded record earnings in 2012, and the firm believes 2013 will be another record-setting year.
Looking ahead, the company guided to full-year 2013 earnings of $2.75-$3.25 per share, a relatively wide range around the consensus estimate of $3.18. Nevertheless, the company has ample capacity to capitalize on any major increase in potash prices (and it still generates copious operating cash flow - it raked in over $3 billion in operating cash flow during 2012). Further, the company quietly turned itself into a respectable dividend play, increasing its quarterly payout four-fold during the past year, leaving shares with an annual dividend yield of 2.6% at current levels.
We generally aren't big fans of commodity businesses, but Potash is one of the better ones and has long-term tailwinds moving in a positive direction. Still, we'd need to see a substantial pullback before considering the company as an addition to the portfolio of our Best Ideas Newsletter.
Disclosure: I have no positions in any stocks mentioned, and no plans to initiate any positions within the next 72 hours. I wrote this article myself, and it expresses my own opinions. I am not receiving compensation for it (other than from Seeking Alpha). I have no business relationship with any company whose stock is mentioned in this article.