Frontier markets are economies that are in the beginning stages of capital market growth. Focused exchange traded funds give investors exposure to the growth spurt as the economies begin industrializing.
"Frontier funds' 24 percent average return last year compares with 14 percent for U.S. funds, 16 percent in both Japan and emerging markets, and 17 percent in Europe, according to data compiled by Bloomberg," Michael Patterson wrote for Bloomberg.
MSCI frontier measure, made up of 141 stocks accounting for a market value of $3 billion gained 7.5%, and has reached its highest level since 2011 this month. The MSCI All-Country World Index shares in developed and emerging countries is up 4.6 % in 2013, following a 17 % gain last year, reports Patterson. The MSCI frontier index is valued at 11.6% times reported profits, and has a dividend yield of 3.6%.
The iShares MSCI Frontier 100 Index (NYSEARCA:FM) is made up of the 100 largest companies in the MSCI frontier index. The Gulf states of Kuwait, Qatar, and the United Arab Emirates dominate the ETF, with other countries such as Nigeria represented. A 30-day SEC yield of 2.79% helps balance out the 0.79% expense ratio.
"Today the risks are all in the developed world: Not only do you have low growth, but that low growth is going to continue. These economies are saddled with massive debt. You are going to have fiscal austerity for the foreseeable future -- low growth. So today, I think investors are faced with a choice: do you go for strong economies, strong fundamentals with strong growth, or do you go to these tired, old developed economies?" Allen Conway, head of global emerging market equities at Schroders, said in a Morningstar interview.
Frontier markets have lower valuations and higher income yields, reports Neena Mishra for Zacks. As emerging markets continue to close the gap with developed markets, frontier economies have become a new way for investors to diversify to gain risk adjusted returns over the long term. Some analysts say today's frontier market will be tomorrow's emerging market.
Other frontier market ETFs:
PowerShares MENA Frontier Countries ETF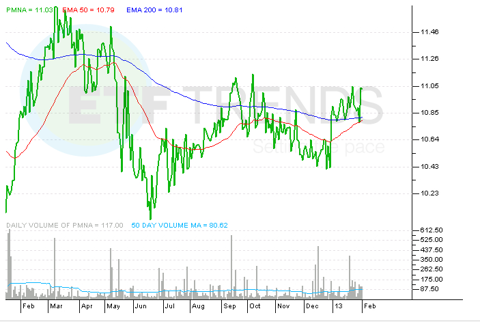 Tisha Guerrero contributed to this article.
Disclosure: I have no positions in any stocks mentioned, and no plans to initiate any positions within the next 72 hours. I wrote this article myself, and it expresses my own opinions. I am not receiving compensation for it. I have no business relationship with any company whose stock is mentioned in this article.
Additional disclosure: Mr. Lydon serves as an independent trustee of certain mutual funds and ETFs that are managed by Guggenheim Investments; however, any opinions or forecasts expressed herein are solely those of Mr. Lydon and not those of Guggenheim Funds, Guggenheim Investments, Guggenheim Specialized Products, LLC or any of their affiliates.