National Oilwell Varco (NYSE:NOV), the 30 billion market-cap provider of products and services for the oil and gas drilling industry reported record earnings of $5.91 per share for 2012. This shows an increase of 24% year-over-year. The company ended the year with a record rig technology backlog of $11.9 billion.
The company is seeing strong demand for offshore floating rigs and equipment, while demand for land equipment and services in North America has been lighter. Unfortunately, new drilling equipment package pricing has been 8% - 10% below the levels of 2007 - 2008. This was a result of new competitors entering the market and less cap-ex spending from drilling contractors.
NOV was an acquisition powerhouse in 2012, spending $2.9 billion on 17 transactions. These acquisitions were implemented for gaining efficiencies in operations, to expand the company's geographic footprint, and for overall growth.
The company is positive about its backlog, the prospect for new orders, growth in international markets, and the benefits of recent acquisitions. However, in order for margins to expand significantly, NOV needs activity in North America to pick up.
The stock is owned by Warren Buffett in the Berkshire Hathaway (NYSE:BRK.A) (NYSE:BRK.B) portfolio. NOV comprises 0.45% of the portfolio.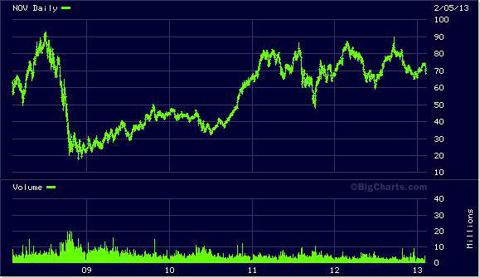 National Oilwell Varco looks undervalued with a forward P/E ratio of 9.91, a PEG of 0.72, and a price to book ratio of 1.48. Even the trailing P/E ratio of 11.7 is below the S&P 500's P/E of 13. For the past twelve months, the company had a profit margin of 12.43% and an operating margin of 17.69%.
The stock is a bit choppy and is currently pulling back a bit. However, I think investors need to have a long-term view and own it for 5 years or more. NOV pays a small 0.7% dividend. However, the beauty of the stock is its long-term growth. NOV is expected to grow earnings annually at 16.1% for the next five years. This growth should allow the current stock price of $68 to increase to about $140 in five years. With an undervaluation and strong expected growth, National Oilwell Varco should be a solid, long-term, market-beating company.
Disclosure: I have no positions in any stocks mentioned, and no plans to initiate any positions within the next 72 hours. I wrote this article myself, and it expresses my own opinions. I am not receiving compensation for it (other than from Seeking Alpha). I have no business relationship with any company whose stock is mentioned in this article.