After Sirius XM's (NASDAQ:SIRI) most recent conference call for Q4 2012, trading seemed to defy logic. Those who watched the daily activity will surely have noticed the large share price drop of very low volume at the beginning of the day on what appeared to be good numbers, and a good call. While the call did not beat or exceed by leaps and bounds on any specific metric, and earnings actually "missed" street estimates by less than 1%, the call itself could be considered a win.
So why the hammering of the share price in early activity? Why did the price drag all day long?
Bear Trap
I mentioned it in the comments of a few articles here on Seeking Alpha including my most recent which outlines what may be the shining star of the call, Sirius XM's low 1.8% churn rate. In a comment to SA user amp61 who had some concerns around the share price activity early in the day I outlined around 10 AM:
Just let it get bought up today. :) Read about "bear traps" ... cuz in my opinion that is what is going on here. Drop the price and scare people to grab up a bunch of shares or play the volatility. The large retail base of SIRI investors can / will not process the call numbers fast enough and a good number of shares could be shaken from weak hands right around and earnings call.
And the day played out exactly as expected. So what are the mechanics that go into this? How can an investor watch for it and not get caught in such a trap themselves? First, read up on bear traps at this link here. Simply stated:
A bear trap occurs when shorts take on a position when a stock is breaking down, only to have the stock reverse and shoot higher. This counter move produces a trap and often leads to sharp rallies.
What fueled the bear trap initially? A $7 million miss on earnings vs. street expectations, less than 1% but enough to post a "miss." It was hardly noteworthy, and weaker hands and novices alike may see a red number pass through the call and sell out. Stronger hands, and in my opinion more seasoned and arguably "smarter" hands bought right into this weakness as is evident by the following chart expanded to show extended hours trading.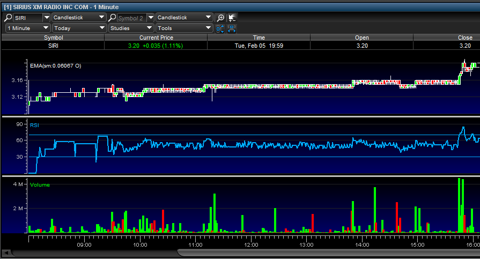 Click to enlarge
An intelligent investor would listen to and digest every single word of the conference call and understand all facts and figures presented before making panicked decision to buy, hold, or sell the equity. Did the conference call produce any significant downside or upside surprises? Was there anything within the call to change investor expectations for better or worse? The simple answer here is no, and investors had ample time to think about this before the market opened.
Yet, not all investors do this, and that's why this is called a bear trap. A drop on low volume will force many to look for answers as to "why." People see red, they sell, and those who are aware of the trap happily buy up those shares. You will notice that the end of the day showed very high volume and a rapid increase in share price. With $3.16 a key price level, once the stock passed this point it was game on for the remaining minutes of trading, driving prices up right until the closing bell.
So how do investors avoid falling for this? First, do your homework. Seeking Alpha has an excellent team of writers covering Sirius XM and each offers a unique and valuable perspective. Second, understand that such a thing as a "bear trap" does in fact exist and happen. Watch for low volume drops followed by steady share price appreciation on high volume. And third, something which I stress often, watch the money flow.
Anyone who watched the money flow today, or the measure of shares trading for the ask (bullish buying) vs. shares trading for the bid (bearish selling) would have seen that Sirius XM was under heavy accumulation for almost the entire day. Use AVAFIN.com for this as I have found them to be the most reliable. Here is the data they have for February 5th's trading:

Click to enlarge
The day ended with 3 shares being bought for every one sold and a positive money flow of $158 million into the stock. Bearish? Absolutely not. This was and is completely bullish activity and shows heavy accumulation.
The more investors understand about the fundamentals of the company in conjunction with technical indicators as well as certain tools like money flow which are available to them, the better off they will be. A fundamental understanding would have allowed an investor to shrug off a $7 million miss on the call. A technical understanding would have shown an opening bear trap. And using tools such as money flows would have helped confirm that indeed, the stock was under accumulation.
So when comments like this start hitting: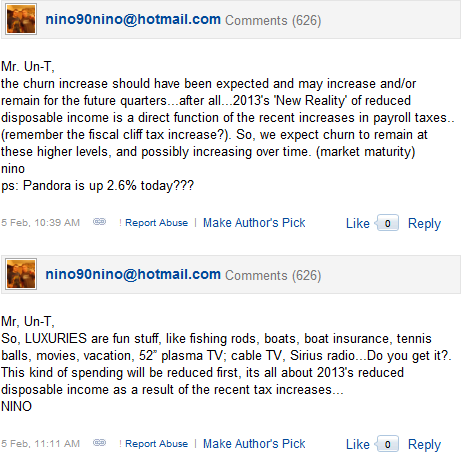 Investors can either skip over them, or pause and say wait a minute here? Churn decreased so why is this guy saying churn increased? Subscribers are way up. Low volume drop followed by high volume buying with hugely positive money flows is happening. What's that have to do with 52" plasma televisions, payroll taxes, and the price of tea in China?
Knowledge really is power and is an investor's best defense against emotional snap judgments.
$4.20
So, you're probably curious why I said bear traps are on sale for $4.20? Well, a well respected analyst for Maxim Group, John Tinker raised his price target for Sirius XM Tuesday after analyzing the conference call. His target was increased from $3.80 to $4.20 citing increased growth in free cash flow per share going forward.
Our assumptions are more aggressive than management and expect SIRI to buy back ~800M shares in FY13 and an additional 980M in FY14. We estimate FY13 FCF of $978M or $0.168/share (up 57% y/y) and FY14 FCF of $1.36B or $0.28/share (up 67% y/y). We are assuming leverage to increase to 3.1x net debt/adjusted EBITDA in FY13 and 4.0x in FY14.
Tinker also notes that he expects Liberty Media (NASDAQ:LMCA) may hold off on participating in Sirius XM's buyback program now that it has gone to a controlling stake.
Liberty Media is no longer committed to tendering its SIRI stock suggesting increasing confidence in the growth prospects and desire to own more without paying.
I believe this to be immensely important going forward as this changes the game from a 1:1 float / Liberty sellback ratio to a possibility that Sirius XM simply buys back from the float and allows Liberty to increase its stake in the company without committing more capital. This is something I have expected and suggested before, and I would not be surprised to find that Liberty does not participate in Sirius XM's buyback plan for some time. Unless Liberty needs the cash and sees better prospects for the use of said cash, why not leave it with Sirius XM if gains of 33% year over year are in sight?
Liberty may have suggested it would prefer not to spin out high basis stock, but that spin may be 2 or more years away. There's plenty of time to allow the high basis stake, and the low / zero basis stake, to grow.
The more the "float" is reduced, the less weak hands, and the fewer trading shares exist. This may have the effect of increasing the share price beyond historic valuation multiples for the duration of the buyback. It's a simple matter of supply and demand. Investors should make note of this, and watch how this all plays out carefully.
Regardless of Liberty's participation in the buyback or not, though, the future looks bright for Sirius XM, and investors should continue to see steady appreciation in the share price through 2013. I'm pleased to see that John Tinker's target of $4.20 matches up closely with my own at $4.25. Time will tell if these targets are met.
Disclosure: I am long SIRI. I wrote this article myself, and it expresses my own opinions. I am not receiving compensation for it (other than from Seeking Alpha). I have no business relationship with any company whose stock is mentioned in this article.
Additional disclosure: I am long SIRI Jan 2014 $2 call options.