The Dow Jones Industrial Average is hovering near the "psychologically" important (but otherwise meaningless) 14,000 threshold - hallelujah. Take note: the beginnings of what will invariably turn out to be a tragic story are unfolding. Over the past three weeks, retail investors have poured some $16 billion into U.S. equity mutual funds according to ICI weekly flows data. This means that unless there is a spectacular outflow reported Wednesday, January will mark the first month of net inflows to domestic equity mutual funds since April of 2011.
Similarly, TrimTabs recently noted that a record $77.4 billion flowed into equity mutual funds and ETFs combined last month. Note that this is a far cry from last year. Contrary to popular belief, inflows into equity ETFs did not offset equity mutual fund outflows in 2012 as the two vehicles posted a net outflow of $21 billion between them.
It certainly appears that the retail investor finally came "off the sidelines" so to speak in January though, meaning that home gamers have either been duped by the media into thinking that "Dow 14,000" actually means something, or, after squirreling away 6.5% of their personal income in December, they figured out that the return on their savings accounts isn't even sufficient to keep up with the BLS's understated CPI figure. Either way, the so-called "dumb money" is set to once again violate that timeless investing maxim that no one can ever seem to adhere to: "buy low, sell high."
There does appear to be one group that knows when to sell however: insiders. According to a recently published note Tuesday, investors buying now should be on "sucker alert" as
...there have been more than nine insider sales for every one buy over the past week among NYSE stocks.
As a caveat, insiders are often not the best judges of when to buy and sell stock - ill-timed share buyback programs have cost several companies billions over time. Nonetheless, it is safe to assume that corporate executives are at least better informed than the average investor and as such, their willingness to unload their shares to the suddenly stock-happy masses should be cause for concern for those who dumped last month's paycheck into the S&P 500 SPDR (NYSEARCA:SPY) hoping to "ride the wave."
Given that insiders aren't as enamored with Dow 14,000 as the rest of the market, one wonders what they know that everyone else doesn't. Surely they would want to participate in what Baron Capital's Ron Baron promises will be a 100% increase in the Dow Jones Industrials over the next decade. It appears the most logical explanation may be that they (the insiders) are simply unwilling to look past the rather obvious signs of economic malaise and the ever-present tail risk posed by an unstable Europe. This is reminiscent of the situation which prevailed last fall when retail sales suggested an emboldened consumer but capital expenditures hinted that executives were feeling far less exuberant.
After last week's abysmal fourth quarter GDP print, all eyes turned to Friday's non farm payrolls report as legions of optimists (still presumably in denial regarding the reality of the "New Normal") sought evidence to support their claim that the apparent contraction in the economy is merely a one-off. There would be no respite. The economy created just 157,000 jobs in January, short of estimates and the unemployment rate ticked up to 7.9%.
True to form however, the market rallied on the Labor Department's upward revisions to November and December's numbers. Apparently, investors were blind to the rather obvious fact that an upward revision to the prior months' figures simply makes January's number look that much worse and seemingly validates what the GDP report said: namely, that U.S. economic growth has officially ground to a halt. Here's Decision Economics' senior advisor Cary Leahey:
The market sees job growth was 247,000 in November and 196,00 in December so 157,000 in January seems like a big slowdown...The average gain in the previous months had hit that elusive 200,000 gain we'd all been looking for. So the market wonders whether the economy stalled a little in January.
Let us also not forget that the headline number is derived from the establishment survey (which polls businesses). The actual unemployment rate is computed from the household survey. A quick look at the household numbers shows that the U.S. economy added only 17,000 jobs in January. Additionally, average weekly hours were down, the manufacturing workweek contracted, and average weekly earnings fell, all decidedly negative outcomes given that gas prices hit an all time first week of February high this year right along with the S&P GSCI commodities index: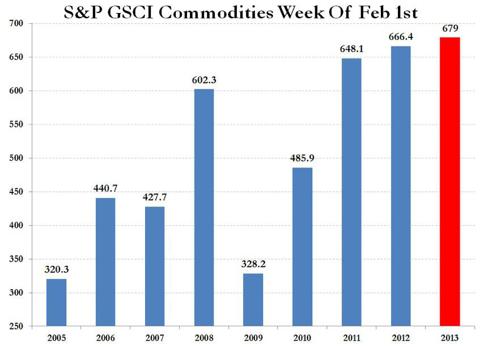 Source: ZeroHedge
In sum, gas and commodities are at record February highs just as the average workweek, wages, and average weekly hours are all declining. This quite obviously translates to an erosion of purchasing power.
Recall also that in a previous article I addressed Jim Cramer's off-the-cuff remark that there were simply too many companies reporting growth to make the fourth quarter GDP print "real." I noted that as of 17 days into earnings season, the percentage of reporting firms posting positive earnings surprises was 13% lower than the 40-quarter average. Along these same lines, consider that just two companies (Microsoft and JPMorgan) have accounted for half of the total earnings upside this season: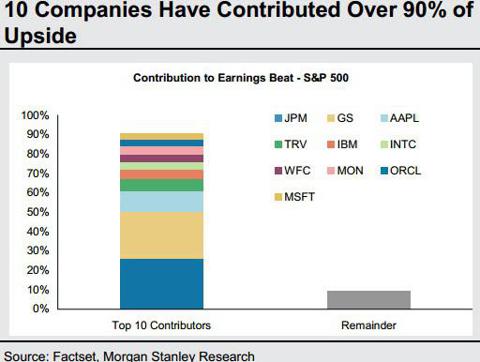 Source: Morgan Stanley, Factset, via ZeroHedge
Meanwhile, things are deteriorating again in Europe just a month after the market cheered a "robust" Spanish bond auction. As I recently noted on my website, the European periphery is anything but fixed:
...a recent post on Naked Capitalism entitled "Spain Bucks The Happiness Trend" outlines the dire situation that persists in Spain. From a nearly 11% plunge in retail sales in December to a 9 billion euro lifeline request from Catalonia, Spain is in no better shape today than it was when yields on Spanish 10s were 200 basis points higher last July.
Furthermore, bad loans in Spain now comprise 11.38% of total lending while unemployment continues to grind higher and sits above 25%: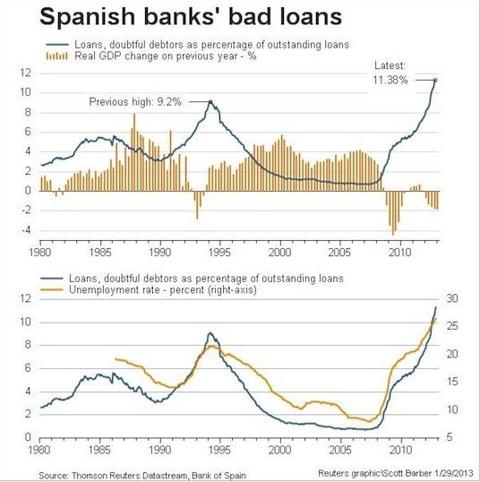 Source: Reuters
As the sovereign debt market wakes up to the fact that the ECB's OMT program does nothing to solve the periphery's structural problems, Spanish and Italian debt is losing its luster. Yields on Spanish and Italian 10s spiked 23 and 14 basis points on Monday alone and are now 50 and 33 bps wider since January 10. Some of the uncertainty stems from corruption charges leveled against Spanish Prime Minister Mariano Rajoy. In short, the tail risk represented by the implosion of the EMU has not and simply will not disappear.
Given this backdrop and given the staggering Fed-engineered rally stocks have undertaken over the course of the last four years, one certainly cannot blame any corporate insider for disposing of their shares. Sadly, retail investors are setting themselves up to yet again bare the brunt of the pain when economic reality finally catches up with a market running entirely on the FOMC's own brand of rocket fuel.
Equity purchases should now come stamped with a "buyer beware" notice. If you wouldn't dine at a restaurant where the cooks weren't willing to eat their own food, then you shouldn't be buying the shares management is dumping - especially given the fragile state of the economy and the powder keg situation in Europe.
Disclosure: I have no positions in any stocks mentioned, and no plans to initiate any positions within the next 72 hours. I wrote this article myself, and it expresses my own opinions. I am not receiving compensation for it (other than from Seeking Alpha). I have no business relationship with any company whose stock is mentioned in this article.