United Technologies Corporation (NYSE:UTX) is a diversified conglomerate, providing high technology products and services to the building systems and aerospace industries worldwide. On February 4, 2013, UTX closed at $89.54 and had gained 5.37% since our last article of "This Is The Right Momentum For United Technologies As Refocusing Continues." More positive developments will be covered for UTX in this article and the current options strategy will be reviewed.
Recent Highlights
Q4 earnings: UTX's Q4 profit jumped 55% as it benefited from gains on the sale of its legacy Hamilton Sundstrand's Industrial businesses, though costs rose sharply. UTX reported a profit of $2.06 billion, or $2.26 a share, up from $1.33 billion, or $1.47 a share a year ago. The latest quarter included about $1.05 billion, net of tax, in gains on the sale of the Hamilton Sundstrand businesses. UTX's earnings from continuing operations fell to $1.04 from $1.42 a share. Revenue was up 14% to $16.44 billion. Analysts surveyed by Thomson Reuters recently expected a per-share profit from continuing operations of $1.03 on revenue of $16.63 billion.
$5.4 billion buy back: As reported by Bloomberg on February 5, 2013, UTX plans to buy back as much as $5.4 billion in stock as it resumes share repurchases after a yearlong pause following the acquisition of Goodrich Corp. To protect the company's credit ratings, the buyback was suspended. For 2013, the company will repurchase as many as 60 million shares for a total of about $1 billion, which is in-line with the previous projection. According to data compiled by Bloomberg, the company has 916.5 million shares outstanding, so the buyback would be about 6.5 percent of the total. Chief Executive Louis Chenevert had indicated he would like to spend as much as $2 billion and pegged this year's plans to at least $1 billion.
Improving economics: China's manufacturing index rose to a two-year high in January, 2013. U.S.'s economy is also showing encouraging data while concerns over the Eurozone debt crisis have also eased. UTX and other industrial companies, such as General Electric (NYSE:GE) and 3M (NYSE:MMM) are all benefiting from the economic recovery. UTX expects Asian sales to increase about 7 percent to 8 percent in the next decade as construction of skyscrapers in China boosts demand for elevators and air conditioners. Otis opened a new plant in China's Chongqing in September, 2012, boosting its presence in a country that makes up about half of worldwide elevator sales.
Pratt & Whitney: On February 4, 2013, Pratt & Whitney, a unit of United Technologies Corp., had delivered the first 10 F117 engines to Boeing to power a fleet of C-17 Globemaster III transport aircraft for the Indian Air Force. Through Pratt & Whitney's ongoing investment in product improvements, the engine continuously surpasses established goals of time on wing and support turnaround time. On February 3, 2013, Pratt & Whitney had also finalized a contract with the Pentagon for 32 engines to power a fifth batch of F-35 Joint Strike Fighters. The contract included 22 F135 conventional propulsion engines for the Air Force models of the F-35, three short take-off vertical landing engines for the Marine Corps models, and seven engines to power the carrier variant of the new warplane for the U.S. Navy. Due to mounting pressures on the Pentagon budget, Pratt ultimately agreed to lower its price by about $20 million as reported by Reuters.
Key Stats and Fundamentals
UTX has an enterprise value of $99.17B with a market cap of $80.50B. UTX has a total cash of $4.82B with a total debt of $23.22B. UTX generates a strong cash flow of $6.65B with a levered free cash flow of $1.63B. By using Morningstar's data, UTX's key stats will be compared to its competitors in the industry of diversified industries, including GE and MMM. UTX has lower revenue growth (3 year average) of -0.9, as compared to the industry average of -0.4. UTX has lower operating margin of 13.3%, ttm, and net margin of 7.6%, ttm, comparing to the industry averages of 16.3% and 8.8%, ttm, respectively. UTX generates higher ROE of 18.5, as compared to the average of 15.4. UTX's P/E of 18.4 is lower than the industry average of 18.6 but higher than UTX's 5 year average of 14.9. UTX's forward P/E of 12.5 is lower than S&P 500's average of 13.3.
Technical Analysis
UTX closed at $89.54 with 0.33% loss on February 4, 2013. UTX had been trading in the range of $70.71-$90.75 in the past 52 weeks. The MACD (12, 26, 9) indicator had turned slightly bearish on the last trading day, and the MACD Histogram closed at -0.01. The momentum indicator, RSI (14), is declining slightly but still indicating a strong buying momentum at 66.73. UTX is currently trading above its 50-day MA of $83.51 and 200-day MA of $78.15, as seen from the chart below.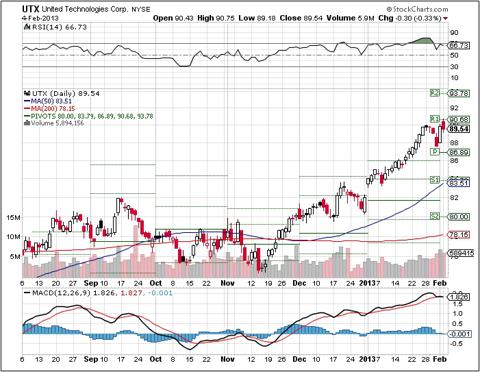 Source: StockCharts.com
Reviewing Options
The last reviewed credit put options play of May 18, 2013 $72.5/$77.5 is currently yielding 16.87% return on margin, achieving 70% of the maximum return. With the recent run-up, investors can consider taking the profit now to reduce the risks. Investors can also wait until the options expiration on May 18, 2013 to gain full profit if UTX closes above $77.5. A new credit put spread of May 18, 2013 $75/$80 can be reviewed if UTX pulls back to $85/$85 price range.
Note: All prices are quoted from the closing of February 4, 2013 and all calculations are before fees and expenses. Investors and traders are recommended to do their own due diligence and research before making any trading/investing decisions.
Disclosure: I am long GE. I wrote this article myself, and it expresses my own opinions. I am not receiving compensation for it (other than from Seeking Alpha). I have no business relationship with any company whose stock is mentioned in this article.
Additional disclosure: May initiate a long position in UTX and MMM