A few days ago I was reading an article written by one of my favorite Seeking Alpha writers, Chuck Carnevale. In that article, Attractively Valued Blue-Chip Dividend Champions, Carnevale identified 33 out of 105 "Dividend Champions" (see report published by David Fish) in a process whereby he screened the list of vetted companies looking for candidates he "believed best exemplified Ben Graham's criteria".
Carnevale, who also developed FAST Graphs, has become a mentor for me and I consider his investment experience to be beyond years. In fact, Carnevale's FAST Graph website is one of the best "all purpose" risk minimization tools that I have found and the powerful charts provide me with an exceptional resource by which I am able to separate "hazardous speculations from bona fide investment opportunities".
As most intelligent investors know, we are all looking to select securities with a significant margin of safety that
constitutes a "favorable difference between price on the one hand and indicated or appraised value on the other (Graham).
As mentioned, Carnevale's recent article (and editor's pick) was aimed at dividend investors and he started his pitch as follows:
Once we reach retirement, investing becomes all about income and safety. Yet over the years one of the greatest laments of the retiree is the struggle associated with living on a fixed income. Retirees have been conditioned to the notion that once they reach retirement age they must become completely risk-averse regarding their investing practices. Therefore, they end up holding portfolios full of fixed income with little or no growth of either income or principal. However, it doesn't have to be that way. I believe that retirees can have their cake and eat it too. If they adhere to sound principles of investing, they can have safety, growth, and an increasing income each year.
Now most of you know that I focus on the equity REIT sector and accordingly, I am exceptionally bullish on the high dividend alternative. In fact, I am writing an article later this week where I plan to make the case that REITs should be a "core" asset selection, not just an alternative.
In Carnevale's recent article he makes a very good argument that stocks should be selected base on dividend performance. As he wrote:
Ben Graham believed that the conservative investor should only consider companies that have paid a dividend every year for at least the last 20 consecutive years. He believed that dividends represented a strong proxy for profitability since they are paid from earnings, and he liked the idea that they offered investors a return even when the company's stock price was not cooperating. This last point is a critical element of the thesis behind this article.
He went on to explain:
In today's low interest rate environment, the opportunity to invest in blue-chip Dividend Champions at sensible valuations provide a level of safety and performance that I believe is suitable for retirees. Normally I would suggest a blend of equities and fixed income where the fixed income was designed for maximum current income, and the equities designed to provide a raise in pay each year. However, with interest rates so low today, I feel that fixed income (bonds) is aberrantly risky, and therefore should temporarily be avoided.
And this is the best part:
The retiree does not need to be faced with the challenge of living out their retirement years on a fixed income or budget. Investing in quality dividend blue-chip paying stocks is not as risky as some believe especially for those whose focus is more on the income stream than it is on price volatility.
Bingo! Now let's talk about the REIT dividends baby!
REITs: This the Real Deal Lucille
Carnevale is absolutely right. Ben Graham did like dividends and in fact, he considered the durable income stream to be a filtering mechanism whereby companies demonstrating "consistency and durability are (considered) attributes for competitive advantage". Graham explained his sentiment on dividends in his legendary book, The Intelligent Investor:
Paying out a dividend does not guarantee great results, but it does improve the return of the typical stock by yanking at least some cash out of the manager's hands before they squander it or squirrel it away.
But wait. REIT Investors don't have to guess whether the manager decides to pay or not to pay. Remember, REITs are forced by law to pay out at least 90% of cash flow in the form of dividends. In a recent telephone interview, Tom Lewis, CEO of Realty Income (NYSE:O), explains:
REITs, in particular, offer higher dividends than many other public companies because they are structured so that they have to pay 90% of their taxable income as dividends to their shareholders. In other words, they are structured as income vehicles. In addition, generally the assets that provide the cash flow are commercial real estate, which, if not over levered, has tended to be a pretty reliable generator of cash flow to support dividends over time.
Clearly dividends are a compelling feature for REIT investors and, as Lewis suggested, the value proposition can be beneficial in the short term or the long term. As Lewis explains:
Compounding investment returns through dividend reinvestment can be an essential way in which to enhance returns down the road for those investors who don't need cash income right now. The ongoing reinvestment of dividends gives rise to a compounding effect, which, has provided many investors with more consistent returns over time.
But also, dividends can have an added multiplier effect. As Brad Case, Ph.D.,CFA, CAIA, Senior Vice President, Research & Industry Information with NAREIT explains (in a recent telephone interview):
Strong dividend payments don't just put more money into investors' pockets-they can improve stock prices, too. Because REITs finance their acquisitions and other investments through secondary equity offerings, corporate bond issues, secured debt, bank lines of credit, and other sources, their decisions are continually monitored by outsiders. That forces them to make only those investments that increase earnings-which results not just in stronger future dividends but also in higher future stock prices. Academics have known about the 'free cash problem' for decades, and REITs ameliorate it through their high dividend payouts.
You Simply Can't Beat a REIT
Carnevale was "spot on" with his recent article and he explained the value proposition vividly in the closing sentence:
As Ben Graham intimated, companies that have a long legacy of paying a dividend, and in this case even increasing it, are indicative of healthy and strong profitable enterprises.
There are eleven REITs that have demonstrated exceptional track records for paying and increasing dividends. Keep in mind that these eleven REITs stuck it out through one of the worst economic downturns, the Great Recession. This financial collapse which was only paralleled by the Great Depression and saw the end of Lehman Bros and Bear Sterns with the near collapse of Citigroup and AIG.
So while the financial markets were in utter turmoil, there was no certainty that any REIT would have access to capital, let alone to pay and increase dividends. These worthy eleven stood the test of time:
Federal Realty (NYSE:FRT), HCP, Inc. (NYSE:HCP), Universal Health Trust (NYSE:UHT), National Retail Properties (NYSE:NNN), Tanger Factory Outlets (NYSE:SKT), Realty Income , Urstadt Biddle Properties (NYSE:UBA), Essex Property Trust (NYSE:ESS), W.P. Carey (NYSE:WPC), Omega Healthcare Investors (NYSE:OHI), and National Health Investors (NYSE:NHI).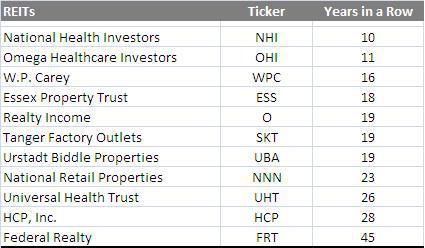 By reading Chuck Carnevale's articles I have learned some wonderful lessons and specifically, I have accepted the fact that a stock's value must be determined through a methodical analysis of a security and that is the central task of the Graham-inspired value investor model. Accordingly, without a doubt, I am absolutely certain that the "promise for safety of principal and satisfactory return" are essential to the investor's objective of maximizing total returns.
However, investors should consider the quality of the income stream as many of the "blue chip" REITs often warrant premium pricing. I would not argue that you should pay any price for a"blue chip" (with higher multiples), but most of these REITs possess superior management teams and that is the mark of "sleep well at night" investment". As I wrote in a previous article:
Investors are purchasing the stocks much like an insurance policy in that you are purchasing risk premium coverage for the dividend's future performance. Remember, risk-control is invisible in good times, but essential.
Here a snapshot of the stalwart dividend paying REITs. Note, I have included my target prices (and you will see these in my Forbes Newsletter):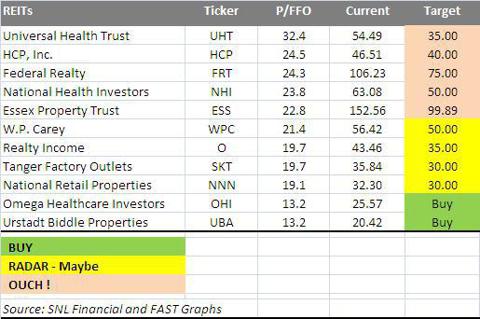 It's critical for investors to compare the returns of REIT stocks with non-REIT stocks, but also to other fixed-income instruments. When you consider the macro-level economics, it is plain to see that REITs are UNDERvalued - especially when you look at their historical relationship with investment-grade and high-yield bonds. Tom Lewis, CEO of Realty Income, said it best:
Dividends are important to all investors who need income because, in today's low interest rate environment, dividends can provide these investors with higher income combined with an acceptable risk profile, than they otherwise might be able to obtain.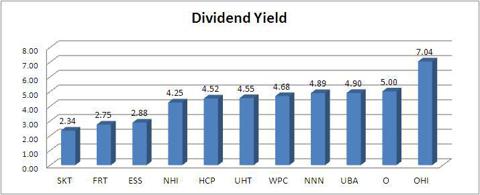 In one of my favorite childhood movies, Charlie and the Chocolate Factory, Willy Wonka defines the "Everlasting Gobstopper" in a way that is much like the "everlasting REIT dividend". The attractive value proposition for both of these appetizing products is that they are highly sustainable and never change over time. As Wonka explains:
Everlasting Gobstoppers! They're completely new! I am inventing them for children who are given very little pocket money. You can put an Everlasting Gobstopper in your mouth and you can suck it and suck it and suck it and suck it and it will never get any smaller!... There's one of them being tested this very moment in the Testing Room next door. An Oompa-Loompa is sucking it. He's been sucking it for very nearly a year now without stopping, and it's still just as good as ever!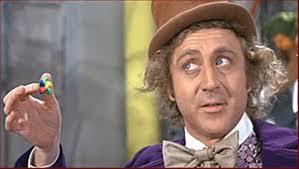 Special thanks to Chuck Carnevale, Tom Lewis, and Brad Case for taking the time to provide quotes for this article.
Disclosure: I have no positions in any stocks mentioned, and no plans to initiate any positions within the next 72 hours. I wrote this article myself, and it expresses my own opinions. I am not receiving compensation for it (other than from Seeking Alpha). I have no business relationship with any company whose stock is mentioned in this article.