Getting physical gold bars and coins instead of the corresponding ETF (NYSEARCA:GLD) has been the rallying cry for many gold investors in the USA. In this article, I will try to explain why the ETF has been the best thing for gold investors and getting away from it is perhaps not very wise.
Let's first examine how gold did before and after the introduction of the ETF.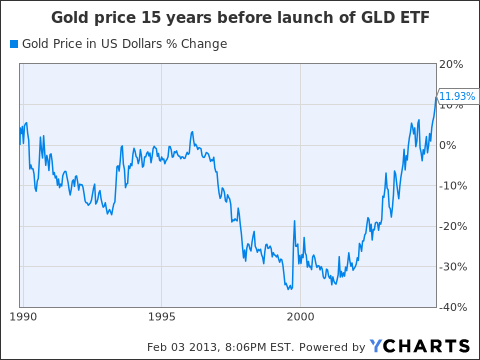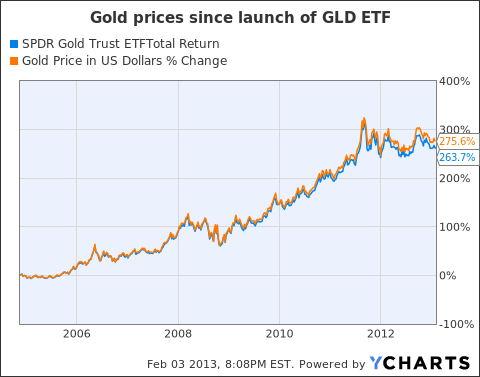 As the charts show, gold prices went up less than a percent a year for 15 years till November 2004, when the GLD ETF was launched. Since then, gold prices have gone up by ~12% every year.
Why is this the case? Before the GLD ETF was launched, people wanting to invest in gold would have to buy coins and bars from local gold dealers and store the coins and bars. That was clearly not very convenient. There was markup to pay, security risks, and storage costs. So, gold investors would often invest in the gold miners instead. Let's examine how the miners have done since the launch of the ETF.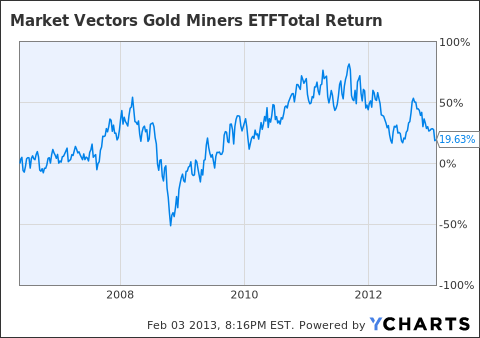 The gold miners have had virtually no return since the GLD ETF was launched. This is again as expected. Once there was an option to invest directly in gold without the trouble of paying markups to the dealers and then storing the physical gold, gold investors moved a large part of their money from the miners to the GLD ETF. This caused the GLD ETF to shoot up and with it the price of gold, while the miners essentially flat lined.
In summary, the GLD ETF has been marvelous for the price of gold. Why do so many people want to get rid of it and go back to the old days of getting the metal itself?
A bit of this is serendipity. There is an ongoing suspicion that the GLD ETF is not actually backed by physical gold, making it no better than the fiat currency that gold investors try to avoid. There is some basis for this suspicion. Reports Forbes:
Where most investors are confused about GLD, though, is about redemption. Even though GLD is "physically backed," ordinary investors can't just go to London and redeem their bullion. Only "authorized participants" are allowed to create or redeem shares. Authorized participants are registered broker-dealers or other securities market participants which have entered into agreements with the trustee and sponsor.
But the real issue may be more perverse. The apparent losers in the launch of the ETF may be the miners whose stock prices have languished, but the real losers are the dealers themselves who could in the past make a fortune by charging exorbitant markups to gold investors. As this ABC News story reports:
In February of this year, Goldline International, one of the country's largest dealers of gold and precious metals, agreed to pay $4.5 million to customers who had bought gold coins through them. The company, which gained hundreds of millions in sales from endorsements from conservative radio talk show host Glenn Beck, was accused of charging customers more than 55 percent more for their coins than their actual worth in gold. Under the terms of the settlement, Goldline is required to pay out an additional $800,000 into a fund towards settling any future gold fraud claims, ABC News reported.
The recent rise in popularity of gold in the USA has coincided with several talk show hosts recommending it to their listeners. Some of these talk show hosts apparently (as the above story suggests) were on the payroll of the dealers who they were touting, and who in turn were charging obscenely high markups. Clearly gold investors were not getting the best advice from these group of talk show hosts.
There is also a belief that buying the metal itself will cause gold prices to skyrocket. However, the facts are pretty clear on this. When buying the metal was the only game in town, gold prices languished. When the GLD ETF came to town, gold prices soared.
So, what should gold investors do? If they still want to buy physical gold, they should, but they should also make sure that they are not paying exorbitant markups. Otherwise they should buy the ETF.
I am personally not bullish on gold prices for a myriad of reasons, so this is not an endorsement to buy gold. This is a public service warning. If gold investors want gold prices to go up, they should just look at the above charts, what gold price did before the launch of the ETF and after, and decide for themselves what is better for the price of gold. I posit it is buying the ETF.
Disclaimer: This is not meant as investment advice. I do not have a crystal ball. I only have opinions, free at that. Before investing in any of the above-mentioned securities, investors should do their own research, consult their financial advisors, and make their own choice.
Disclosure: I have no positions in any stocks mentioned, and no plans to initiate any positions within the next 72 hours. I wrote this article myself, and it expresses my own opinions. I am not receiving compensation for it (other than from Seeking Alpha). I have no business relationship with any company whose stock is mentioned in this article.