Appliance maker Whirlpool (NYSE:WHR) reported strong fourth quarter earnings Thursday morning. Improving operating margins helped drive earnings growth of well over 600% to $2.29 per share on an adjusted basis, easily exceeding expectations. Revenue fell 2% on a reported basis, to $4.8 billion, but was up 2% in constant currency.
Perhaps the most impressive part of Whirlpool's results (shown below) was that the firm significantly expanded operating margins (profitability), despite the weakness in its largest market, North America. Sales fell 3% year-over-year to $2.5 billion. However, ongoing business operating margins more than doubled to 9.3%, and the firm saw a total profitability increase of 121% (please see image below). The firm has lowered its cost structure to the point where it will experience less cyclical downside, in our view. But with sales expected to accelerate as the US housing recovery firms during 2013, we could see segment earnings continue to jump significantly. Management is forecasting a modest demand increase of 2-3% in the US, but that pace could be conservative (Image Source: WHR Earnings Presentation).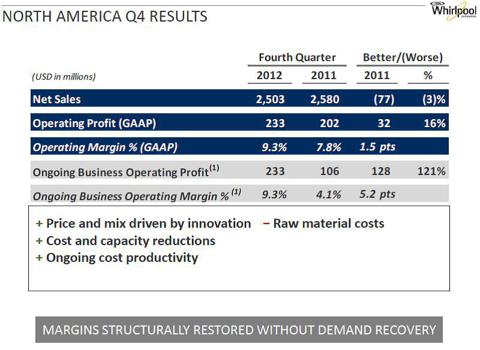 Whirlpool also saw an anti-dumping judgment ruled in its favor, as management explained on the conference call:
Last week, the U.S. International Trade Commission, or ITC, confirmed an unanimous 6-0 vote that unlawful pricing by Samsung and LG caused injury to the U.S. domestic appliance industry. The positive vote was the ITC's final ruling in the anti-dumping investigation related to clothes washers from South Korea and Mexico. As a result of the vote, the U.S. government will impose trade remedies on the imports of the unlawfully traded washers.
International operations were mixed. Sales jumped 1% in Latin America to $1.3 billion, but ongoing business operating profit jumped 24% year-over-year to $119 million. While the segment was negatively impacted by raw materials and currency fluctuations, unit sales increased 10% year-over-year, and the segment looks strong heading into 2013. Revenue in Europe, however, was challenged, with revenue from the region dropping 6% year-over-year to $794 million, while operating margins were a meager 1%. We believe the European housing sector is about as challenged as the US was a few years ago, and management isn't expecting any material increase in demand in the near future. Ultimately, a lower cost structure will be beneficial, but we aren't expecting a large earnings contribution from Europe during 2013. Asia was also weak on the top line, with sales up just 1% year-over-year to $203 million, but operating profit advanced 3-fold-to $7 million. Given the wealth of domestic and regional competition, we also aren't expecting much from this segment in 2013, even if sales increase 3-5% as management suggests (Image Source: WHR Earnings Presentation).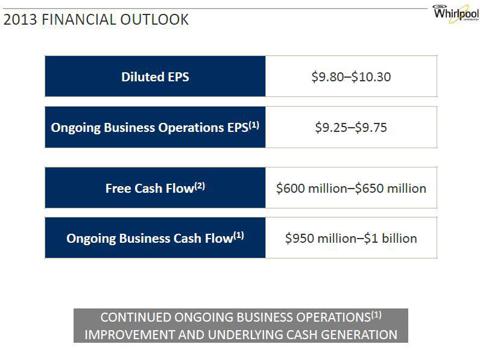 Heading into 2013, Whirlpool (shown above) is anticipating stronger free cash flow, as well as an increase in ongoing EPS of at least 30%. Not only do we see the firm's guidance as achievable, but we also see upside to the forecast, particularly if the US housing recovery outpaces the firm's expectations. Least we not forget about the powerful comeback of the US auto industry, which we also believe has a strong multiplier effect given the amount of employment directly and indirectly generated by its presence.
Ultimately, Whirlpool now trades at the low end of our fair value range, but it continues to be one of our favorite direct plays on the US housing market. In fact, we'd consider adding shares to the portfolio of our Best Ideas Newsletter if we see just a mild pullback in shares.
Disclosure: I have no positions in any stocks mentioned, and no plans to initiate any positions within the next 72 hours. I wrote this article myself, and it expresses my own opinions. I am not receiving compensation for it (other than from Seeking Alpha). I have no business relationship with any company whose stock is mentioned in this article.