Introduction
Last week I wrote an article where I argued that Apple's (NASDAQ:AAPL) margins would continue to decline due to lower average selling prices and higher production costs. Some readers acknowledged that while my thesis may be correct, Apple is still priced very cheaply and is therefore worth buying. In this article I will analyze whether that theory is correct by estimating the fair value of the company through a DCF valuation.
Apple's revenue growth
A DCF valuation is based upon estimating the present value of the future free cash flow, but before we can come up with a reliable estimate of the free cash flow, we need to forecast its future revenue growth.
To estimate revenue, I like to decompose it further into these 3 pieces:
Average selling price of Apple's products.
Future size of the tablet/smartphone market.
Apple's future market share in the tablet/smartphone market.
In the below graph I have gathered some data from research firms, and as you can see, the expected market sizes of the tablet and the smartphone market is expected to increase, while the PC market is expected to be somewhat stagnant.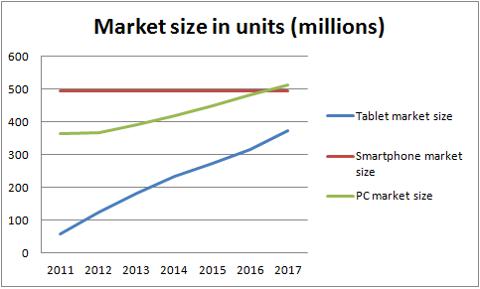 Source; IDC, Gartner and my own extrapolation for 2017.
Moving on to the next graph shows my market share estimations. You may notice that I forecast a somewhat steep decline in market share for iPads due to expectations of tougher competition. While Microsoft's (NASDAQ:MSFT) Surface didn't exactly impress in terms of sales figures in the last quarter, it is very likely that Windows will obtain a market share of at least 5% in 2016.
The Android tablets have also done better as of late, and therefore I don't think Apple can maintain the supremacy in the tablet market it has had over the last two years.
I believe the iPhone will continue to be extremely popular and dominant in the US over the next five years. However, China's smartphone market will outgrow the US market, and as Android (in the most recent quarter) had a 90%+ market share in China, this will be bad news for Apple's global market share.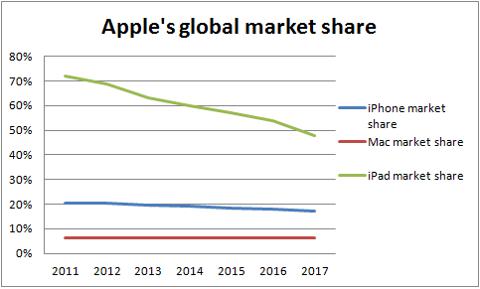 Below you can see my average revenue per unit estimations for the iPad and the iPhone. Note that the decline in the iPad is primarily caused by changes in product mix as the iPhone Mini has a lower ARPU than the 10-inch iPad. Aside from product mix I don't expect any significant changes in the iPad's ARPU.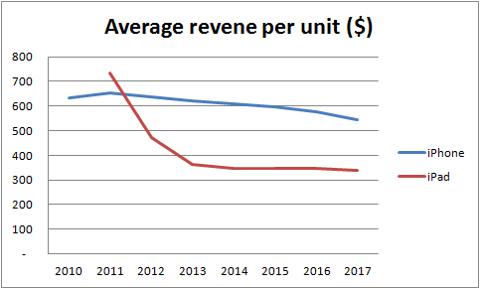 Given my ARPU, market size and share estimations, I have calculated Apple's future revenue growth rate. As you can see in the below table, I believe that Apple will continue to grow on a topline basis, but at a much slower rate than previously.

Apple's future operating margin
As the iPad Mini is cheaper to produce than the 10-inch iPad, I estimate that the production costs of the iPad will continue to decline. However, I believe that Apple will continue to devote more resources in order to make the best smartphone possible, which will lead to a slight increase in production costs of the iPhone.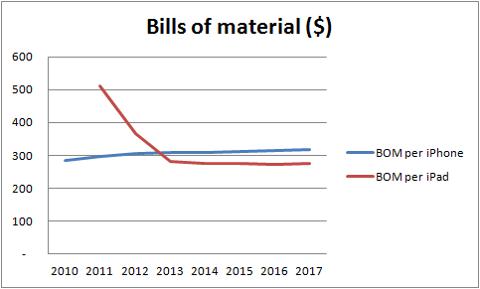 Over the last couple of years, almost everything has gone right for Apple which has resulted in a fantastic revenue growth rate. Operating expenses as a percentage of revenue has therefore declined. But in the future I believe that Apple will have to work harder to obtain revenue growth, which makes each dollar spent on R&D less efficient. This leads to higher OPEX spending, which will put further pressure on the profitability of Apple.
Therefore I forecast that Apple's operating margin will decline from roughly 33% in 2012 to 23% in 2017.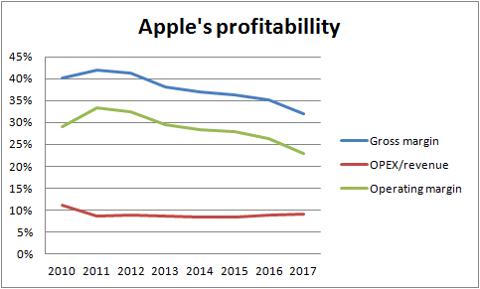 Future earnings and cash flow
Despite my expectations of a declining operating margin, you can see that my estimations still imply an increase in operating profit from 2013-2016. This is primarily explained by increased iPhone sales. But while the iPhone is Apple's biggest asset, it also makes Apple suffer from the "all the eggs in one basket" problem. So when sales of iPhones slow down and the margin pressure continues, Apple's earnings will take a hit.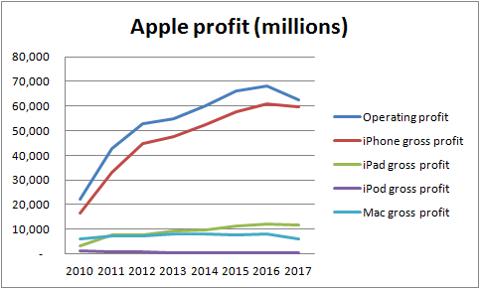 To calculate the free cash flow I replace depreciations with capital expenditures and the change in working capital. I estimate that CAPEX will total roughly 6% of revenues through the budget period, and 8% in the terminal period as Apple will be less efficient with its capital expenditures 10+ years from now on.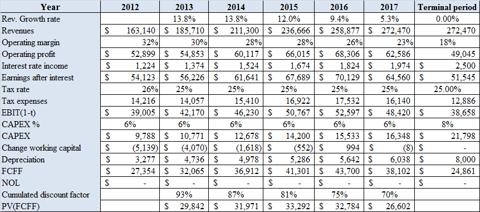 The fair value of Apple
As you can see in the below table I assume that the growth rate in the terminal period will be negative. From the response I had from my most recent article, I know that this is a controversial assumption, as some people think Apple can continue growing earnings forever.
But one must remember that the competition in the smartphone/PC and tablet market is very tough, and that Apple won't be able to develop superior products and or maintain its brand value forever. Eventually sales growth will slow down and earnings/free cash flow will decline.
Given all these assumptions and estimations, the fair value of Apple is $485, which means that Apple is slightly undervalued. I still wouldn't buy Apple as I prefer a higher margin of error (15%+ typically).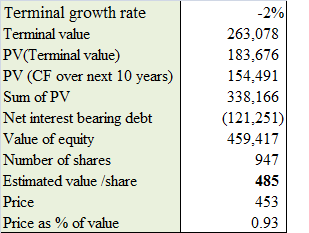 You may have noticed that I haven't mentioned anything about an Apple TV. That is intentional as I have a very difficult time estimating the release date, sales figures and profit margins. So $485 is the fair value assuming Apple won't release a TV.
If you, on the other hand, are very convinced that Apple will be successful with a TV launch, then you will probably find Apple to be heavily undervalued as the fair value would be above $500.
Disclosure: I have no positions in any stocks mentioned, and no plans to initiate any positions within the next 72 hours. I wrote this article myself, and it expresses my own opinions. I am not receiving compensation for it (other than from Seeking Alpha). I have no business relationship with any company whose stock is mentioned in this article.