We had a good day in our personal portfolios yesterday, but then again when the market is up the way that it was one would hope that good performance would be achieved. The oil and natural gas sector has been very good to us, and we were given another gift yesterday as PDC Energy released some good news (see below) which received a warm reception. The deal simply highlights a growing trend we see within the industry and that is that there is a shift from the dry natural gas assets to the wetter plays which host NGLs, condensates and oil (which is widely known and well underway). What has grabbed our attention within this move is where these dry natural gas assets are going and that is what is so interesting to us. Public companies are divesting them while MLPs and private investment companies are gobbling them up and using cash in many instances to pay for them. Using cash would be our desired way to buy a producing asset with price uncertainty for the underlying commodity too as debt financing would probably be difficult (although it is all about the structure and cash flows for any deal involving debt) and the amount of sleep we would lose at night would be unbearable.
Commodity prices this morning are as follows:
Gold: $1671.60/ounce down by $1.90/ounce
Silver: $31.69/ounce down by $0.185/ounce
Oil: $96.09/barrel down by $0.55/barrel
RBOB Gas: $3.0283/gallon up by $0.0091/gallon
Natural Gas: $3.434/MMbtu down by $0.035/MMbtu
Oil & Natural Gas
So it is not just the shale drillers who are having difficulty managing cash flow and their balance sheets, so too is Petrobras (NYSE:PBR) which saw shares fall $1.43 (7.93%) to close at $16.60/share yesterday. Volume was exceptionally high, coming in at 68.1 million shares as the stock fell to a new 52-week low and closed just above that level. The company cut its dividends in order to keep capital expenditures up in order to continue to develop its top-tier deepwater assets off the coast of Brazil. The company did acknowledge that they had offers to purchase assets they hold, but as of now nothing has happened on that front. Investors will remember that the company has a nearly $240 billion capital expenditure plan scheduled to be spent over the next 5 years, and the dividend cut will save almost $1.8 billion per year, so although this grabbed headlines, please do not be fooled. Rather the real problems investors saw dealt with the company's losses in imports and refining losses. That will be what investors need to pay attention to moving forward.
PDC Energy (NASDAQ:PDCE), a holding in our retirement portfolio, closed yesterday at $41.17/share after investors bid shares up by $3.27 (8.63%) on news that the company had sold their Piceane, NECO and other non-core Colorado properties (which produce natural gas almost entirely) for approximately $200 million in cash to Caerus Oil & Gas, LLC. This takes PDC's liquids mix up to 48% of production and provides the company with a further $200 million in cash to develop their two core projects, the Wattenberg and Utica shale plays. The cash will also keep the company from having to dilute shares moving forward as had been feared, so the move here served the company well in many regards and appears to have been a great move for shareholders.
The overall story here appears to be bullish, one just has to hope the midstream assets in the Wattenberg catch up to production on time. otherwise 52-week highs will be the thing of the past for a while.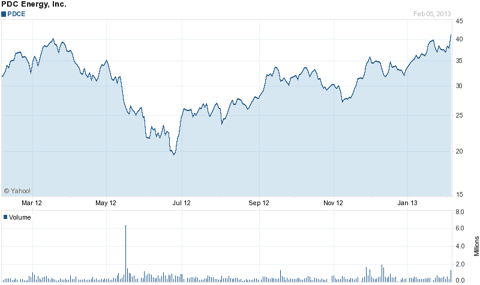 Chart courtesy of Yahoo Finance
We continue to look at ways to hedge should that be needed as Europe is beginning to worry us with certain areas getting worse, not better. That is our gut feeling, which has always served us well in the past, however when we look at some of the indicators which have been spot on for some time now those seem to conflict with the gut and indicate that the party is still ongoing. One of those indicators we have disclosed to readers is Cheniere Energy (NYSEMKT:LNG) which has been a great indicator for risk-on and risk-off trades in the market. It has remained strong over the past few months, even as there were big pullbacks in the oil and natural gas sector. In fact yesterday it hit a new 52-week high during the session and continues to lead the way higher. This is something that investors need to continue to watch, especially those who have previously expressed their concerns regarding pullbacks in individual stocks.
Refiners
Tesoro (NYSE:TSO) shares hit a new 52-week high yesterday as shares rose $1.42 (2.91%) to close at $50.23/share. Valero blew their earnings out of the water, and that helped all of the refiners but one has to believe that most of any beat is already factored into the shares. With that said however, the shares did hit a fresh 52-week high ahead of their earnings which are due out today after the close, so the strength is being bought into here. As we have said numerous times before we like the refiners simply because of all the domestic oil being discovered and produced which has created pricing discrepancies that enable the refiners to sport fat margins. Do not get caught up in the headline number too much, but rather pay attention to the margins that the company is running at when they do release their results.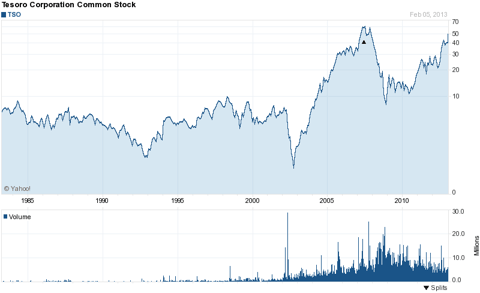 Chart courtesy of Yahoo Finance.
Coal
It was bad news for investors in Arch Coal (ACI) yesterday as shares were pummeled by investors with the loss ending the session at $0.89 (12.84%) and the stock closing at $6.04/share, a level just above the lows of the session. Volume spiked to 36 million shares on the news that the company's earnings missed the mark, and truly they did. The entire report was abysmal with revenues having missed followed by the loss being wider than expected and even volumes falling. It has long been coal bulls' argument that we were not seeing natural gas take over electricity production from coal and that load production was certainly not going to be affected. Well it sure seems that those gains in market share are holding stronger than expected and metallurgical is not doing much better, and thus the problem. Making matters worse still was the fact that the company wrote down asset values. The entire earnings call transcript can be found here.
Disclosure: I am long PDCE. I wrote this article myself, and it expresses my own opinions. I am not receiving compensation for it (other than from Seeking Alpha). I have no business relationship with any company whose stock is mentioned in this article.