Cree Inc. (NASDAQ:CREE) develops and manufactures light emitting diode (LED) products, and semiconductor products for power and radio frequency (RF) applications. There is nothing drastically wrong with this industry long term, but consumer electronics were not selling as well as expected this Christmas season. As of January 24, 2013, the forward earnings estimates for the Computer & Electronics Retail sector were down -28.1%. This sector includes products such as video and gaming screens, and function indicator lights. These use LEDs. CREE also produces many lighting products. With the Computer & Electronics Retail sector in trouble, CREE is in trouble too. Sporting a P/E of 91.77 and an FPE (FY2014 PE) of 25.76, CREE is far overvalued and overpriced in a weakening sector.
Longer-term, Cree is facing serious competition in its lighting business from FIPEL lighting technology (field-induced polymer electroluminescent). FIPELs silently give off a soft white glow, without the hum and yellow tint of fluorescent bulbs or the sharp, bluish hue of LED light fixtures. This technology has only recently become a viable light source. It is twice as efficient as compact fluorescents (CFLs), which are filled with hazardous materials that can leak into the environment if the bulb is broken. FIPELs are not hazardous to the environment. FIPELs are equally as efficient as LEDs. Also, FIPELs are tuneable. They can be manufactured to give off virtually any colored light. FIPELs can be molded into virtually any shape, including the typical light bulb shape. FIPELs are long lived. FIPELs have only recently been developed enough to be economically viable. They now appear to be set to take a significant part of the lighting business. In the future they will provide increased competition for less versatile LEDs. Ultimately, this means that the long term outlook for LEDs (and hence CREE) is murky at best. Most analysts seem to be ignoring FIPEL technology thus far. Hence, their long term outlooks for CREE are likely too rosy.
In the shorter term CREE performed well in the last quarter. It had revenue of $346.3 million in Q2 of 2013. This was a 14% increase year over year. On a GAAP basis net income was up 69% year over year. On a non-GAAP basis, net income was up 29% year over year (or $0.32 versus $0.25 per share). This beat estimates slightly. CREE had stronger sales in both LEDs and lighting and it improved its gross margins by 170 bps to 38.5% on a GAAP basis (39.2% on a non-GAAP basis) sequentially. Accounts receivable decreased $17.7 million sequentially, with days of sales outstanding of 38. This shows good management. However, it may mean revenues for Q2 2013 got a one quarter boost of $17.7 million, which will not be sustainable in future quarters. This will be even more true if the days of sales outstanding move slightly higher in subsequent quarters. This could easily happen in a US economic slowdown/recession.
In contrast to the good Q2 2013 data, CREE's outlook for Q3 2013 left a lot to be desired. CREE targeted revenue in a range of $325 million to $345 million. Even the top number in the range is below the Q2 2013 revenue total of $346.3 million. The company has forecast a +1% better gross margin figure of 39.5%, which might compensate a bit for the lower revenues. Still, it is hard to believe that lower revenues can be a sequential growth indicator for Q3 2013.
Additionally, CREE announced a slate of new products. New products often have problems when they are first released. It could easily happen that the expected gross margin growth could disappear (or even worsen). It could happen that the net margin could be lower. These things have yet to be determined. While CREE's new LED products are not as complex as the Boeing 787 with its myriad early problems, the same new product problems logic applies. It can many times take a year or more for a new product to become commercially profitable (or at least to reach an acceptable gross margin). Further, new products often take extra marketing and sales resources.
The above data shows there are serious questions about CREE's growth path going forward. They indicate that CREE's growth will slow down in the future. The two year chart of CREE (below) shows technical indicators that reconfirm concerns about CREE's future profits and stock performance.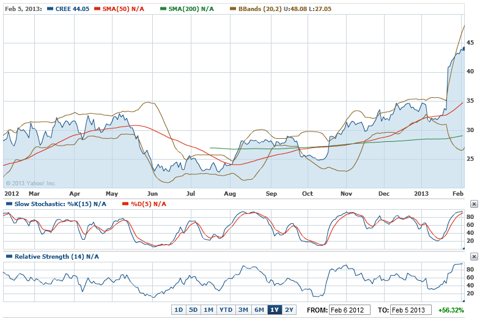 The slow stochastic sub chart shows that CREE is far overbought. The relative strength sub chart confirms CREE's overbought status. The main chart shows that CREE has recently spiked far above its 50-day SMA and its 200-day SMA. The Bollinger Bands have widened to approximately three times their normal width. All of these indicators imply a sharp snapback move soon. Cree closed Tuesday February 5, 2013 at $44.05. The Q2 2013 earnings data was good, but not great. The huge spike up was most likely a typical case of HFT/momentum traders short squeezing a stock higher on good information. CREE's 15.90% short interest makes a short squeeze easy to accomplish. Therefore, it makes the logic of this explanation much greater. It is common for a short squeezed stock to fall back to earth shortly after the short squeeze period ends. Such logic implies a move down to the $37 range on a purely technical charting basis.
On top of this an overall market pullback may occur soon. Such market gurus as Doug Kass have lately said they have become bearish on the overall market. Doug Kass has done an excellent job of calling market turns in recent years. A significant overall market pullback would provide a tailwind for a CREE pullback. CREE could easily pull back to levels below its Q2 2013 announcement levels. It could fall to $28 or even $25 fairly easily. CREE's P/E of 91.77 leaves it ripe for such a pullback. It could easily halve, but more reasonably it could move to the 50 to 60 P/E range. A 50-60 P/E might be considered more normal for a company with an expected 30%+ EPS growth rate for both 2013 and 2014, but a 16.40% next five years EPS growth rate per annum. In other words, analysts are expecting CREE's growth rate to halve. This process could easily occur earlier than some currently think. Plus, as the lower growth rates inch closer, the stock premium should logically decrease. A 60 P/E would imply a stock price of approximately $28.80.
If you own CREE, it is time to take profits in this overbought and overpriced stock. If you are an aggressive trader, you might want to try to take advantage of the likely short squeeze aftermath drop to approximately $37 by shorting CREE. More aggressive traders might like to try for an even lower price level. Notably there has been a small amount of insider selling; and institutions have sold 16.36% (-14,525,700 shares) in the prior quarter to the latest quarter. When institutions start leaving, the retail investor is smart to pay attention, especially when the stock is highly shorted.
NOTE: Some of the fundamental financial data above is from Yahoo Finance.
Good Luck Trading.
Disclosure: I have no positions in any stocks mentioned, but may initiate a short position in CREE over the next 72 hours. I wrote this article myself, and it expresses my own opinions. I am not receiving compensation for it (other than from Seeking Alpha). I have no business relationship with any company whose stock is mentioned in this article.