So far in 2013, agency mortgage REITs have staged quite the recovery. It is my opinion that some income seeking investors have returned to this sector seeking yield. Currently, American Capital Agency Corp (NASDAQ:AGNC) is one of the largest and highest yielding of these mortgage REITs. I also consider it the best managed, as it has been able to pay consistently higher dividends and increase book value at a faster pace when compared to its peers. AGNC will be reporting its Q4 and FY 2012 results after market close on February 7. As of Tuesday, AGNC was trading for $31.48 per share. The company offers a quarterly dividend of $1.25 per share. At current prices, the yield for AGNC is 15.9%.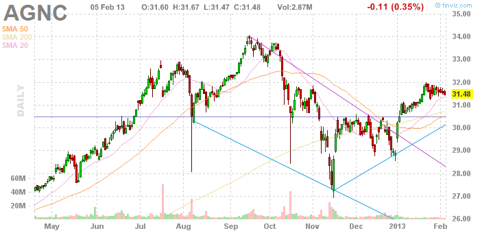 Click to enlarge
Like its peer Annaly Capital (NYSE:NLY) and CYS Investments (NYSE:CYS), AGNC responded aggressively to the decline of its share price during the later half of 2012. On December 14, AGNC announced a $500M share repurchase program. At current prices, this program would represent about 4.7% of AGNC's market cap. Q4 results should provide some insight into how the share buybacks affect the book value of these companies. I believe that these programs will have a positive effect, and will slightly increase book value. AGNC was also able to remarkably increase book value in 2012. Since Q3 2011, AGNC was able to increase its book value from $26.90 to $32.49. This represents an increase of 20% in one year.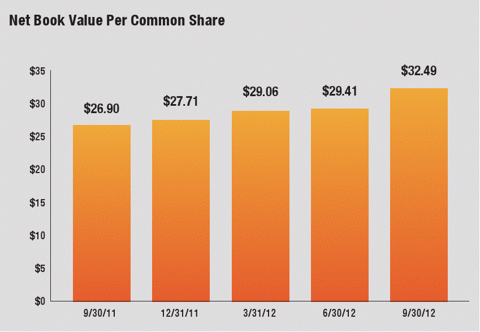 Click to enlarge
Probably the most important metric for AGNC will be its net interest rate spread. As of Q3 2012, it stood at 1.42%. The interest rate spread for AGNC has be declining steadily since Q3 2011. The primary reason for this would have to be declining yields due to the effects of Fed actions ("QE3").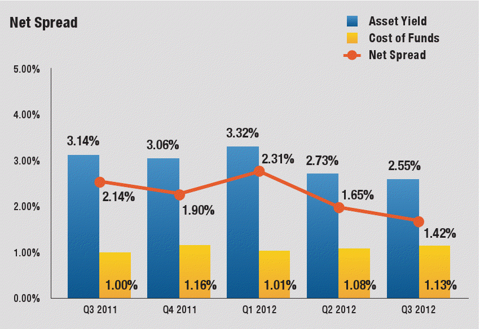 Click to enlarge
However, there have been some recent improvements in the yield spread. The 10-2 year Treasury spread is currently near its six-month high.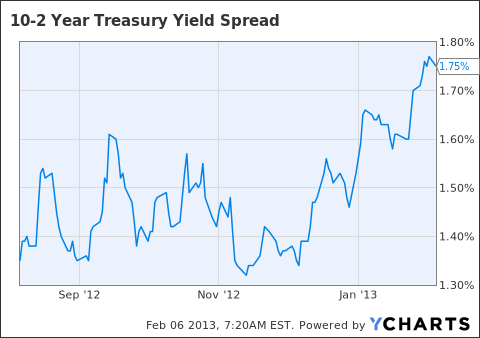 10-2 Year Treasury Yield Spread data by YCharts
AGNC was one of the few agency REITs that was not forced to reduce its dividend for Q3 2012. This, however, can be attributed to AGNC having some left over undistributed income per share. As of Q3 2012, AGNC had $1.36 in cumulative undistributed income per share. This undistributed income should somewhat support AGNC's dividend. However, AGNC may need to eventually lower the dividend, especially if the net interest rate spread does not improve in 2013.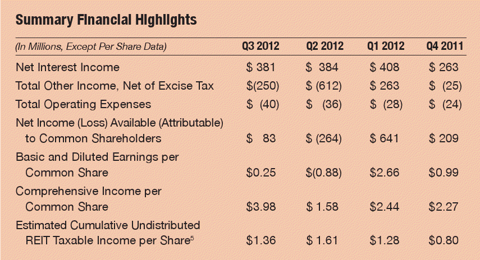 Click to enlarge
Conclusion
Few stocks offer the yield that AGNC offers. AGNC also was able to steadily increase its book value throughout 2012. However, I would wait until after Q4 2012 earnings are released before starting a position in AGNC. I would need to see if the net interest rate spread improved from the Q3 levels. I would also like to see how the share buyback program affected book value. AGNC is currently trading at a 3% discount to book value. The book value should serve as some resistance to any further share price appreciation.
Disclosure: I am long CYS. I wrote this article myself, and it expresses my own opinions. I am not receiving compensation for it (other than from Seeking Alpha). I have no business relationship with any company whose stock is mentioned in this article.