In a recent article we wrote, we espoused the idea of investing in Intel (NASDAQ:INTC) for patient investors and a commenter noted that Corning (NYSE:GLW) was in a similar way. That piqued our interest and we decided to take a closer look and in fact, if anything, GLW appears an even more attractive long-term investment. That said, GLW is in for a tough slog over the next quarter or two. The current negatives for GLW are a trough in display glass (i.e., LCD) sales, especially for Q1, issues with a solar subsidiary, and the $/Yen, which hurts Corning as the dollar strengthens versus the yen as it has recently. On the other hand, GLW's balance sheet is pristine, it trades at a very low multiple, its dividend yield is reasonable and sustainable, and the company generates enough cash flows to support buybacks. In addition, with a queue of exciting new products, from flexible glass (willow glass), to be used in next generation displays, to circuit-board fiber optics for big data applications, GLW does not look like a low-growth story in the future.
Corning is (primarily) a purveyor of specialty glass, probably the most well known is gorilla glass used in mobile phones and tablets. The majority of its sales, however, come from glass used in LCD TVs, desktop PCs, and notebooks. And there is the rub, as recently there has been a decline in demand, and prices, in this "display segment" for a number of reasons including a recent unwanted inventory build. In 2012, the display segment, as shown below in Table 1, lost 8% in revenue hurting GLW's bottom line. While GLW has five so-called business segments, the display segment accounted for 36% of revenue in 2012. While gorilla glass is in high demand, it currently only accounts for about 1/8 of revenue, albeit growing.
So what happens going forward? We used the company's guidance from its recent earnings release and transcript of the Q4 conference call, generated by Seeking Alpha, to generate revenue estimates for 2013 Q1 and for all of 2013 and beyond. As can be seen, in Table 1 below, Q1 will be rough ride with total revenue expected to be down 5% on a sequential basis (i.e., vs 2012Q4; column labeled 2013Q1). The big drag continues to be the display segment with volumes expected to be down 5% and price declines, while moderating, are still at 1.5% for the quarter. In addition, the specialty materials segment is expected to be down significantly from its robust Q4 numbers as a result of an expected 30% decline in gorilla glass.
Table 1: GLW Segment Results and Forward Estimates

Click to enlarge
Running our revenue numbers through the income statement produces a sad result for Q1. Notably, we assume that gross profit margin declines a bit to 42%, typical of what occurs in a declining revenue environment, while holding R&D and SG&A constant as a percent of revenue. The net result would be a decline of 6% in operating income, all else equal. However, GLW has an exposure to the $/Yen in Q1 to the tune of about $8mn per percent change in the foreign exchange rate. Given that last quarter the exchange rate averaged 81 and is on course to average 93 in Q1, this will impact revenue and operating income by $130mn or about 9 cents per share. This is unwelcome and it is unclear if GLW has hedged this exposure further since the conference call. Hopefully, we will find out more at the investor conference this Friday. Finally, continuing issues at GLW's solar subsidiary, Hemlock Semiconductor Group, where there is a glut of solar polysilicon and a threat of China anti-dumping trade rulings, will likely continue to drag equity earnings down in Q1 by 5% and 20% year over year.
We see a 30% decline in (adjusted) net income for the first quarter. In addition, based on reasonable assumptions on depreciation and capital expenditures, we forecast the dividend coverage will be close to unity in the first quarter. While not unheard of in a tough quarter, this is certainly far from the 2+ dividend coverage that GLW typically sports. Given the constrained cash flow, it is uncertain whether GLW will institute a new buyback program in Q1 (the previous $1.5bn program just ended) although given its strong balance sheet, large current ratio, and low debt/equity, it could easily spend $150mn in Q1 to continue buying back shares - they are below tangible book value.
The balance of 2013 is meant for improvement although GLW's display segment is still forecast to be down, partially made up for by a rebound in other sectors. A recent acquisition in the life sciences sector will likely boost revenue there although it will still account for only about 10% of total revenue. Altogether, we see about 6% revenue growth for 2013 but, with the impact of the Yen, we see net income, adjusted for non-recurring items, as down nearly 10% on the year. We would not be surprised if there were some additional impairments and restructuring charges to hit the balance sheet in 2013 as GLW copes with its short-term issues.
With all these short-term clouds hanging over GLW, one has to wonder if now is the time to step up and invest for the future. We think it is with one caveat. Given the market's typical short-term focus, we think GLW could come under more pressure as the bleakness of Q1 gets recognized by analysts and earnings estimates get marked down. That said, we think this will provide excellent entry points for longer-term investors. Shown below is our historical and forecast financials for GLW. One can see the decline in adjusted net income forecast in 2013 but a rebound in the future as revenues improve in the current lagging segments. Of particular note is the strong cash flow position of GLW, generating $1.86/share in the tough year of 2013. Given its capital expenditure guidance for 2013 of $1.3bn (90c/share), the distributable cash flow is 96 cents per share. This is an important number since this supports the dividend and buybacks given GLW's strong balance sheet which needs no shoring up. We assume the dividend will be increased again in 2013 and that $750 mn in buybacks will occur. Given an average (and conservative) price of about $11.5/share, based on maintaining a PE of 10, this will provide a nearly 3.5% dividend yield. More importantly, the DCF yield, including what is spent on buybacks, will be north of 8% - that is an impressive yield if you ask us.
Table 2: Select Financials and Estimates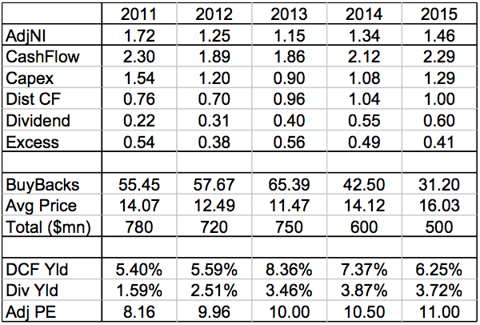 Click to enlarge
Going forward, using quite conservative estimates in our view, GLW will provide robust cash flows and an excellent return on investment. By 2015, we see GLW easily trading in the mid-teens which when discounted to today incorporating dividends, results in an IRR north of 15% given where the stock currently trades. This is exceptional in our view in light of GLW's balance sheet, longer-term revenue growth prospects, and where GLW's long-term bonds trade - 4.5% callable yield. As with any investment there are risks but we believe the market has beaten down GLW too much. It's a boring stock. There is no new bond or equity issuance so the street has little interest in promoting GLW. There is pessimism abounding. But Ben Graham is whispering from the grave: "buy".
Disclosure: I am long GLW, INTC. I wrote this article myself, and it expresses my own opinions. I am not receiving compensation for it (other than from Seeking Alpha). I have no business relationship with any company whose stock is mentioned in this article.
Additional disclosure: We are looking to add to our GLW position in Q1