By Todd M.
Summary
Green Mountain Coffee Roasters (NASDAQ:GMCR) is set to report 1Q2013 earnings on Wednesday, February 6 at 4:00 pm EST, followed by a conference call at 5:00 pm EST. Green Mountain is Vermont-based, leading provider of single-serve coffeemakers and K-cups.

Outliers & Strategy
Non-GAAP Earnings Per Share: Green Mountain reports Non-GAAP Earnings Per Share, which is the value that will compare to estimates. The Street consensus is $0.65, with a range of $0.62 - $0.71. (Source: Yahoo! Finance) In the last earnings release, the company issued guidance for 1Q2013 Non-GAAP EPS of $0.62 - $0.67 and FY2013 Non-GAAP EPS of $2.64 - $2.74.
Revenues: Wall Street consensus sees revenues growth of 15.00%, or $1.33bln, with a range of $1.13bln - $1.37bln.
Adjusted Earnings Per Share (EPS) Guidance: 1Q2013: Analysts see the company issuing next quarter guidance of $0.73, with a range of $0.66 - $0.77. FY2013: For fiscal year 2013, analysts are expecting EPS guidance of $2.71, with a range of $2.65 - $2.80.
Sympathy Plays:
Dunkin Brands Group (NASDAQ:DNKN) - Reported EPS of $0.34 vs. $0.33 expected and revenues of $162 mln vs. $170 mln expected. Dunkin Brands shares closed marginally higher in the following session, up 0.22%.
Starbucks (NASDAQ:SBUX) - Reported EPS and revenues in line with consensus estimates. Starbucks shares closed the following session $2.24, or 4.10% higher.
Recent News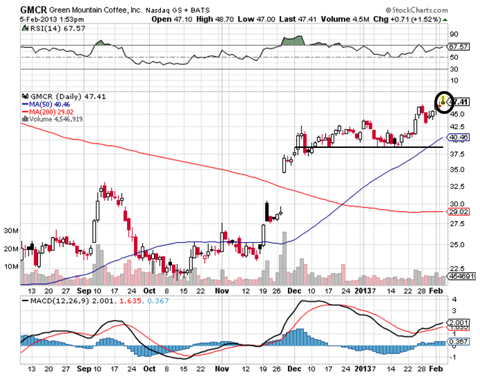 Techincal Review
Green Mountain shares have had a great run lately, rising 77.30% on the quarter, while filling the gap created in early May 2012. Resistance near $50, coupled with a "hanging-man" candle on February 5 are bearish signals, but there is no denying the powerful trend reversal that began in summer 2012. Should earnings surprise to the upside, look for resistance at $50, followed by the $56 area. Conversely, support can be found at the 50-day SMA, followed by the $39 area. (Chart courtesy of StockCharts.com)
Summary
Green Mountain Coffee Roasters shares have staged an impressive turn-around in recent months. Shifting opinion on ability to maintain market share, relatively slow sales of Starbuck's Verismo machine, solid reports from competitors, and an improving economic backdrop have given cause to the recent run-up. The upcoming release will determine whether or not Green Mountain shares can break through the $50 resistance level.
DISCLAIMER: By using this report, you acknowledge that Selerity, Inc. is in no way liable for losses or gains arising out of commentary, analysis, and or data in this report. Your investment decisions and recommendations are made entirely at your discretion. Selerity does not own securities in companies that they write about, is not an investment adviser, and the content contained herein is not an endorsement to buy or sell any securities. No content published as part of this report constitutes a recommendation that any particular investment, security, portfolio of securities, transaction or investment strategy is suitable for any specific person.
Disclosure: I have no positions in any stocks mentioned, and no plans to initiate any positions within the next 72 hours. I wrote this article myself, and it expresses my own opinions. I am not receiving compensation for it (other than from Seeking Alpha). I have no business relationship with any company whose stock is mentioned in this article.