Larry Ellison took to his old ways on Monday morning as he wrote a check to buy Acme Packet (NASDAQ:APKT) for $2.1 billion. The move took seasoned analysts by surprise, not that Acme Packet would be acquired, actually it's been rumored for quite some time, but that Oracle (NASDAQ:ORCL) stepped up out of left field and beat Cisco Systems (NASDAQ:CSCO) and Juniper Networks (NYSE:JNPR) to the punch. After evaluating the move for the past 36 hours I've come to one conclusion, my last article on Acme Packet and Audiocodes (NASDAQ:AUDC) was dead on. Now I'm here to remind all investors not to sleep on AUDC here as the risk reward is as exciting as ever and the actions by Audiocodes' management and the move by the legendary Ellison on Monday screams that Audiocodes is an easy double in a very short time period.
In my last article, I stated that APKT and AUDC were both outperformers, but that AUDC represented less risk and more upside. Today, the story remains the same, but the upside target is now $8 - $8.50 per share in the next 3 to 4 months. My target price of $30 for APKT was almost hit as it was just north of the buyout offer of $29.25, and of yesterday's high of $29.45. That was a return of 28.5% for anyone that followed my recommendation. I would also note that AUDC hit a high of $4.22, up 26% from the $3.33 when I recommended it on January 2, 2013. Oracle has now upped the stakes in pushing IP networks full steam ahead. I remind you that Acme Packet hit $83 per share just 16 months ago. Jim Cramer highlighted this on his Mad Money program last night as he highlighted that smart money is taking advantage of price discrepancies in the market. Hello? I am now putting Audiocodes at a "Strong Buy" as the unexpected Oracle acquisition of Acme Packet puts Audiocodes in the spotlight. In the next 30 days I believe hedge funds, pension funds and mutual funds of all sizes will learn why Larry Ellison bought APKT at a discount (7 x revs is discount?) and why Audiocodes bought back 10% of its stock at an average price of $2.75 per share over the past 12 months.
Here are the reasons to own AUDC's here:
Last week the company reported its 2nd consecutive quarter of sequential increase in sales, strong profitability and unexpectedly strong cash flow of $8 million making all holders very excited about 2013 and beyond. Positive.
With the buyout of Acme Packet, Audiocodes is now in play. We could see Juniper Networks, or Dell, or Microsoft make a move after missing out on Acme Packet. We could also see competitors of Oracle follow them into the space and target Audiocodes. As Brian White of Topeka Capital said of the acquisition "The deal might herald more acquisitions of communications gear makers by companies like IBM Corp. (NYSE:IBM), Hewlett-Packard Co. (NYSE:HPQ) and Dell Inc (NASDAQ:DELL)".
Acme Packet represents the carrier side of the Session Border Control (SBC) equation and Audiocodes represents the enterprise side of the SBC equation. Enterprises usually delay build outs of their networks until they feel overly confident in the new technologies. Oracle just firmed up IP networks in a single $2.1 billion cash outlay. It will now firm up Audiocodes' quarterly numbers as it should be positively impacted as enterprises are much more secure in upgrading their legacy telephony networks to IP based networks. Neutral
Audiocodes has aligned itself with Microsoft (NASDAQ:MSFT) Lync with its One Voice Lync. Microsoft is pushing the IP Unified Communication (UC) platform to enterprises. The voice side of the platform was off to a slow start for MSFT, but it appears that enterprises are finally moving towards Unified Communication (UC) platforms. This was the conclusion of a recent report commissioned by Sonus Networks (NASDAQ:SONS). Some of the highlights of the report included: "Awareness and interest in Microsoft Lync has been increasing". "There is a trend towards Cloud-based deployments of UC". "A surge in demand for SBCs is anticipated". Oracle's purchase of APKT confirms this. I also believe that Audiocodes' One Voice Lync will help jump start IT managers and CIOs in the 1'000s of enterprises around the globe that MSFT currently commands with its browser to purchase MSFT Lync in 2013 and beyond. Important to note, MSFT doesn't pick sides when it comes to its suppliers but if you dig into Audiocodes' One Voice Lync strategy with the Lync and Skype combo it's clear that Audiocodes seems to have a special relationship with Microsoft along with strong revenue leverage. Positive.
Microsoft, Google (NASDAQ:GOOG), Facebook (NASDAQ:FB), and Apple (NASDAQ:AAPL) will all be pushing Over the Top (OTT) applications to mobility. Enterprises' employees are increasingly mobile and their IP networks must follow its users, hence software for OTT smartphone use is a big issue for IT and CIO managers. Smartphones and all connected devices must be protected when they access the IP network over Wi-Fi networks. Audiocodes has these applications and continues to convey that they're working on mobile apps to address this growth curve. OTT could really take off if a recent Federal Communications Commission (FCC) proposal to create super WiFi networks across the nation is adopted. The WiFi networks would be so powerful and broad in reach that consumers could use them to make calls or surf the Internet without paying a cell phone bill every month. This would be a home run for OTT. Exciting.
Carriers are usually first movers, so APKT deserves to be acquired first. Enterprises are next. APKT ran to $83 then fell back to the low teens before rising to the mid twenties before being acquired at $29.25 per share. Where can Audiocodes climb to if they show proof that they are the next APKT of the enterprise space? If APKT climbed to $83 with 67 million shares outstanding how far can AUDC climb with 38 million shares outstanding and a float of approximately 28 million shares? Here's a hint: High enough to make it your biggest winner of 2013 if not your career and make my $8 - $8.50 target look conservative. Exciting.
Audiocodes elected Stanley Stern onto the board in December 2012, he was the lead investment banker that took them public with its IPO back in 2002. In my opinion, this foreshadows the potential for an outright takeout of the company in the near future. Was he hired to shop the company or just give broad oversight governance to the company? I think Audiocodes is primed for a private equity buyout now that Oracle has set the bar. Watch for large volume buyers to come into the shares on the current bull wedge. Positive.
Audiocodes trades at 0.90 times 2014 estimated revenues of $150 million. The company sports $50 million in cash and is estimated to generate $15 - $25 million in cash flow in 2013 and $30 - $35 million in 2014 which will have them trading at less than 5 x 2014 cash flow. Subtracting the cash, (understanding that the turn around has been confirmed by the company's execution in the past 2 quarters) and adding the low end of the cash flows, you're basically buying the shares at leap option prices for a 2014 takeout or a surge in enterprises buying into SBCs with great downside protection. Positive.
Shabtai Aldersberg, CEO, owns 15% of Audiocodes and the co-founder owns 9%; this lets shareholders know that the stock is in great hands in front of an industry that Larry Ellison was willing to pay 7 times revenues on. Shabtai has proven to me that with strong profits, new products and the new direction he is taking the company that investors should pay attention, as this could well be another Israeli technology stock taken over for a 100% -150% premium. I believe that the industry will explode in the next 6 months and that brings AUDC to $8 - $8.50 per share. Positive.
Chart: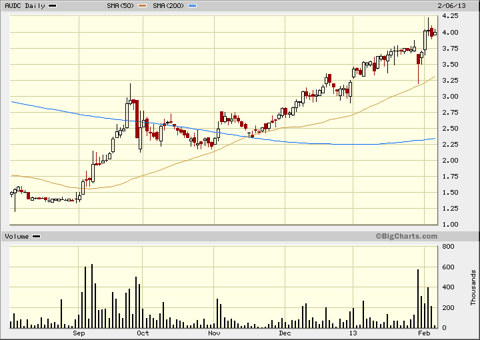 Since the breakout at the end of November, 2012, the stock has been on a great run. It had a pullback in December and then a shake out at the end of January, both buying opportunities. The shake out was particularly important as it scared weak hands out of the stock. We saw volume come into the stock and as a result, increased liquidity as the average volume increased from 84,000 shares to 300,000 shares over the past week after Audiocodes received its first buy rating from Oppenheimer. The stock made a 52 week high and is consolidating here at $4.00 digesting the move. The recent shake out, the increase in volume and the fact it just made a new 52 week high are reasons that I believe we will see a new breakout and the potential for a momentum run to $6 - $6.50 in the next month and $8 - $10 over the next six months.
Conclusion:
Sometimes I don't understand Wall Street. Audiocodes not popping to $5 per share on news of the buyout of Acme Packet by Larry Ellison was one of those times. However, I do know that Wall Street understands and respects Larry Ellison. Cramer proved that last night with his mention of the APKT buyout on a dip from $83. When Wall Street meets AUDC, it will understand and respect its IP strength, its One Voice Lync strength and its strength in IP networks. This is an opportunity not be missed, especially if the shares are trading under $5 per share and only then will we understand how Wall Street can work.
Disclosure: I am long AUDC. I wrote this article myself, and it expresses my own opinions. I am not receiving compensation for it. I have no business relationship with any company whose stock is mentioned in this article.