By Paul Carton
ChangeWave's latest survey contains some intriguing signs that consumer spending may finally be stabilizing after a prolonged, horrendous slowdown.
For the first time in eight months we're seeing signs of a tiny spending uptick. Moreover, there's an improvement in consumer sentiment and expectations going forward.
But don't break out the champagne. The overall spending environment remains fiercely negative and this momentary improvement may well prove short-lived – similar to what happened after the tiny May 2008 uptick that occurred as a result of the stimulus tax rebate program.
The combination of a new year, a new presidential administration, and lower inflation are likely contributors to the stabilization seen in this latest ChangeWave survey of 2,798 U.S. consumers, conducted Jan 5 - 9, 2009. Here's a quick look at the good and the bad.
The Good
While overall spending still looks terrible, the 90-day outlook is not quite as horrible as it was in last month's survey (December 2008).
Better than half (57%) of U.S. respondents still say they'll spend less over the next 90 days than they did a year ago – but that's 3-pts better than in the December survey. Another 13% say they'll spend more – 2-pts better than previously.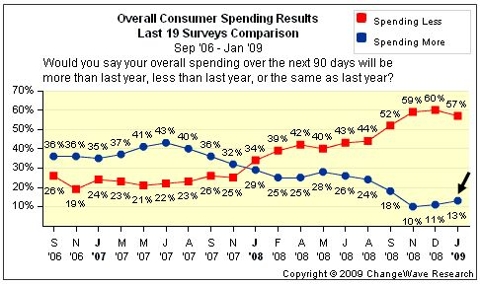 A Bounce in Consumer Sentiment
Respondents were also queried on their current impressions of the economy, and once again – while things still look bad – they don't appear quite as awful as they did in December.
A total of 12% think the economy will improve in the next 90 days – which is a notable 3-pts better than in December. And while 56% think the economy will worsen over the next 90 days – that's still a significant 10-pts better than the December low.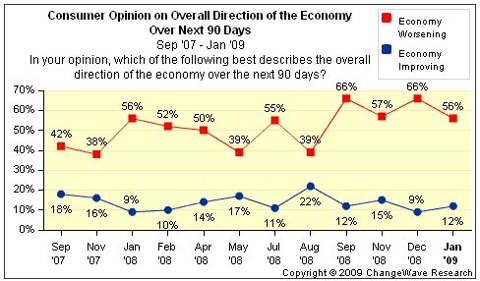 Other sentiment indicators also show some improvement:
5% now say they are

Very Satisfied

with the current state of their personal finances, up 1-pt from the record low in December. Another 39% say they're

Somewhat Satisfied

, up 8-pts.
26% say they are now

More Confident

in the U.S. stock market than they were 90 days ago, 13-pts better than previously. Only 31% say they're

Less Confident

, a whopping 25-pt improvement.
The Bad
Consumers Still Hunkered Down
Among those U.S. consumers who say they're spending less, Reduced Income (38%; up 1-pt), Saving More Money (41%; up 2-pts) and Reducing Debt (36%; up 3-pt) are the top reasons why.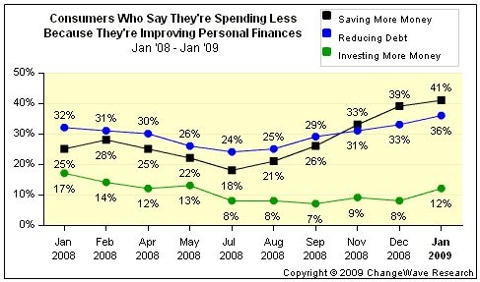 We note that over the past 6 months, the percentage saying they're spending less in order to save more money has skyrocketed from 18% to 41%, and the percentage saying they're reducing debt has jumped from 24% to 36%.
Sluggish Spending In Every Category
Spending is sluggish in every consumer category, but the results aren't quite as bad as in the previous survey when nearly all categories hit a record low. Even so, spending remains far worse than a year ago (January 2008).
It's worth noting that for the first time in a year, there are slight signs of improvement in Restaurant spending, although the category remains very weak. Only 6% say they'll spend more going forward and 48% less – a net 2-pt improvement since December.
Spending on Household Repairs/Improvements has also registered an uptick from the all-time low seen in ChangeWave's December survey. One in four (26%) now say they'll spend more on Household Repairs over the next 90 days, while another 21% say less – a net 4-pts better than last month.
Consumer Electronics remains one of the weakest of all categories. And while a seasonal decline in purchase intentions is expected after the holidays, spending is severely lower than the level of a year ago. Only 15% say they'll spend more on consumer electronics going forward compared to 41% who say less – a net 6-pts worse than the previous survey, and 22-pts worse than a year ago.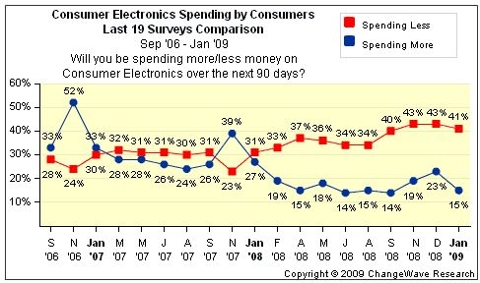 Home Entertainment Shopping - Next 90 Days
For the third consecutive survey, Amazon (NASDAQ:AMZN) (24%; up 1-pt) is the clear momentum leader in home entertainment and networking shopping. Also, the survey showed encouraging results for Amazon's electronic reading device, the Kindle, with 2% of respondents saying they've already purchased one, and 58% of current owners saying they're Very Satisfied with the Amazon product.
Both Best Buy (NYSE:BBY) (37%; down 6-pts) and Circuit City (OTC:CCTYQ) (7%; down 2-pts) show significant weakness going forward. There was a similar decline after the 2007 holiday season, but both are considerably lower than a year ago. In another negative for Best Buy, only 6% say they'll spend More Money there over the next 90 days – 1-pt less than last month. Two-in-five (39%) say they'll spend No Money, a 12-pt jump to the highest reading to date.
Retail Store Trends
Since February 2007, ChangeWave's consumer surveys have consistently pointed to two retail winners, Wal-Mart (NYSE:WMT) (Net Score = +6) and Costco (NASDAQ:COST) (+6). But while both still lead among retail outlets in terms of spending growth over the next 90 days, Costco has experienced a significant drop in its growth rate in the past six months (from +11 in July '08 to +6 in Jan '09).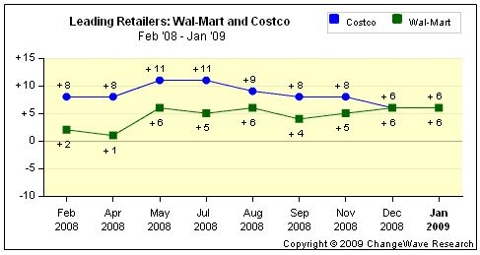 Once again, the greatest weakness going forward is among traditional retailers – led by Bed, Bath & Beyond (NASDAQ:BBBY) (-14), Sears (NASDAQ:SHLD) (-12), Macy's (NYSE:M) (-12) and JC Penney (NYSE:JCP) (-10).
Bottom Line: For the first time since May 2008 we're seeing signs of a tiny spending uptick. Moreover, there's an improvement in consumer sentiment and expectations going forward.
These improvements, however, are tenuous at best. Just as the May uptick was in part due to heightened expectations over the tax stimulus package, the current outlook may have much to do with the anticipation surrounding the new Administration's economic stimulus plan.
Reduced inflation – and particularly lower gas prices – is another likely contributor to this survey's modest signs of stabilization.
The big question going forward is whether these trends will continue in the aftermath of the January Inauguration, or if this is simply a short term blip. We'll know more next month, once our February survey results are in. Stay tuned.
Jean Crumrine co-wrote this article.
-----------------------------------------------------------------------
This article summarizes the results of a recent ChangeWave survey. ChangeWave runs a research network of 20,000 business, technology and medical professionals -- as well as early adopter consumers -- who spend their everyday lives working on the front line of technological change. For more info on ChangeWave, or to sign up for real-time email alerts on the latest survey findings, click here.