In a season full of holidays, we will finally get a clean look at mortgage activity next week. It will be brief though, since the nationally celebrated President's Day holiday will be on the 18th of February. Still, investors in mortgage lenders will have an opportunity to assess true activity rates. Most real estate relative data has been positive of late, including within many of the earnings reports of homebuilders.
The Mortgage Bankers Association (MBA) reported its Weekly Application Survey for the week ending February 1st last week, a period inclusive of adjustment for the Martin Luther King holiday. In the past, we have pointed to the imperfect adjustment of economic data for holidays, especially for three-day weekends. That's why we believe investors will have to wait until next week for a clear perspective of mortgage activity.
This latest data showed the MBA's Market Composite Index increased 3.4% on a seasonally adjusted basis. Unadjusted, the index jumped 16% against the previous period, inclusive of the MLK holiday. The seasonally adjusted Purchase Index, which measures applications made for the purpose of home purchase, increased by 2% (+21% when unadjusted).
The MBA's Refinance Index increased by 4%, but changes in mortgage rates offered little incentive. So we say investors in mortgage lenders should be cautious in their regard of these highly suspect gains in mortgage activity. Interest rates on 30-year fixed rate mortgages for conforming loan balances increased for seven of the last eight weeks. Both average contracted interest rates and effective rates rose this week for each major class of mortgage listed by the MBA.
| | |
| --- | --- |
| Mortgage Type | Rate Change in Period |
| 30-Yr. Fixed on Conforming Balance | 3.73% (+0.06%) |
| 30-Yr. Fixed on Jumbos | 3.96% (+0.01%) |
| 30-Yr. Fixed on FHA Sponsored | 3.53% (+0.05%) |
| 15-Yr. Fixed Rate Mortgages | 3.00% (+0.05%) |
| 5/1 ARMS | 2.72% (+0.12%) |
The shares of major mortgage lenders have continued their rising trend so far in 2013, but given the latest GDP and employment data, investors are beginning to question whether that can continue. You can see that in the leveling off of gains in the SPDR S&P 500 (NYSEARCA:SPY).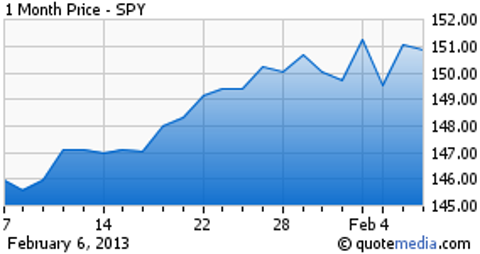 Gains in housing and lending stocks have been marked, but the overall rate of activity is still less than perfectly healthy. This is likely due to the still high level of true unemployment, which we believe is much higher than the government reported figures. At still high levels of unemployment, no matter how you measure it, fuel for economic and housing recovery is limited.
| | |
| --- | --- |
| 5 Leading Mortgage Lenders | 2013 Performance Thru 2/5 |
| Wells Fargo (NYSE:WFC) | +2.7% |
| J.P. Morgan Chase (NYSE:JPM) | +11.7% |
| U.S. Bancorp (NYSE:USB) | +3.7% |
| Bank of America (NYSE:BAC) | +2.3% |
| Citigroup (NYSE:C) | +8.5% |
Next week will offer a brief window of insight into an otherwise noisy period of data reporting. So investors in the mortgage lenders and the rest of the real estate relative issues may find support for recent gains or reason to question further rise.
Disclosure: I have no positions in any stocks mentioned, and no plans to initiate any positions within the next 72 hours. I wrote this article myself, and it expresses my own opinions. I am not receiving compensation for it (other than from Seeking Alpha). I have no business relationship with any company whose stock is mentioned in this article.