CoreLogic reported yesterday that its repeat-sales Home Price Index, based on sale prices for the same homes over time, posted an 8.3% year-over-year gain in December (including distressed sales). It was the largest annual increase in home prices nationwide in more than six years, going back to May 2006 (see chart below).
It is also the 10th consecutive monthly increase in national home prices on a year-over-year basis, starting in March of last year. The last time there were 10 back-to-back monthly increases in year-over-year home prices was in 2006. Excluding distressed sales, CoreLogic reported that national home prices increased annually by 7.5% in December.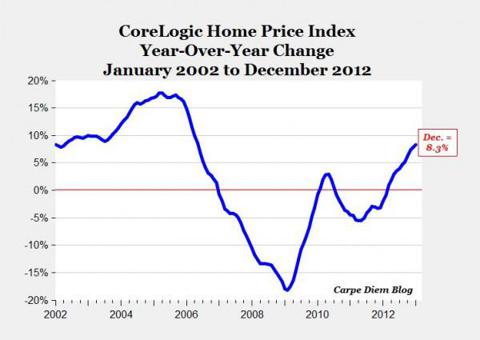 Click to enlarge
Looking forward one month, the CoreLogic Pending Home Price Index predicts that national home prices in January will increase by 7.9% on an annual basis. CoreLogic Chief Economist Mark Fleming commented: "December marked ten consecutive months of year-over-year home price improvements, and the strongest growth since the height of the last housing boom more than six years ago."
From Anand Nallathambi, president and CEO of CoreLogic, "We are heading into 2013 with home prices on the rebound. The upward trend in home prices in 2012 was broad based with 46 of 50 states registering gains for the year. All signals point to a continued improvement in the fundamentals underpinning the U.S. housing market recovery."
Only four states (Pennsylvania, New Jersey, Illinois, and Delaware) showed annual home price declines in December. And seven states registered double-digit gains in Decemer home prices -- Arizona, +20.2%; Nevada, +15.3%; Idaho, +14.6%; California, +12.6%; Hawaii, +12.5%; North Dakota, +10.8%; and Utah, +10.7%.
Related: Trulia reported yesterday that asking prices for homes for sale in January were up year over year in 86 of the 100 largest metro areas, by an aveage of 5.9%. Over the last quarter, asking prices were up by 8.8% on an annual basis.
The case that 2012 marked the start of a U.S. housing recovery is further strengthened by yesterday's report on national home prices from CoreLogic. The Home Price Index is based on repeat sales like the Case-Shiller home price index, but the Core Logic index is more comprehensive geographically (covering areas that represent 86% of the U.S. population compared to the 20 metro areas covered by Case-Shiller) and is more representative of recent (and pending) sales activity (Case-Shiller is based on a three-month moving average of home prices and released with a two-month lag).
With almost every new housing report on sale prices, asking pries, home sales, construction, architecture billings, housing starts, homebuilder ETFs, lumber prices, and homebuilder confidence showing ongoing improvements, at some point even the housing bears may have to admit that 2012 was the year of the U.S. housing recovery.