Exxon Mobil (NYSE:XOM) and Chevron (NYSE:CVX) are both known for being stable high revenue producing companies. However, the companies have massive market capitalizations and they are likely to be more perfectly priced because of their gargantuan size. I created a stock screen recently to search for a large-cap value energy stock and I used the following criteria.
1. Sector - energy
2. Market Capitalization - large capitalization
3. PEG Ratio - less than or equal to 1
4. Price to Sales Ratio - less than or equal to 1
5. EPS Growth (5 Year Historical) - highest 20%
6. Cash Flow Growth Rate (5 Year) - highest 20%
The screen produced two results, Marathon Petroleum (NYSE:MPC) and Phillips 66 (NYSE:PSX). I decided that Phillips 66 is the more attractive investment of the two because Phillips 66 has a lower P/S ratio and a higher cash flow growth rate.
Phillips 66 is an independent downstream energy company. The company refines, markets and transports petroleum products. As of September 2012, it operated 15 refineries and approximately 10,000 branded marketing outlets. The company also operates 15,000 miles of pipeline systems. Phillips 66 was created through the repositioning of ConocoPhillips and the company went public on May 1, 2012.
Despite trading beginning less than a year ago, Phillips 66 reported a great Q4 and FY 2012. Greg Maxwell, CFO of Phillips 66, stated that the company's earnings for this quarter were up almost 250% in the Q4 2012 conference call. The company's market share is up 95% in the fourth quarter compared to 72%. The company also reduced debt from 8 billion to 7 billion. The company also announced that will be buying back $2 billion worth of shares and the company raised the dividend 56% to $1.25. The company also said that demand from Asia is growing. As shown in the infographic below, Phillips 66 is a truly global company.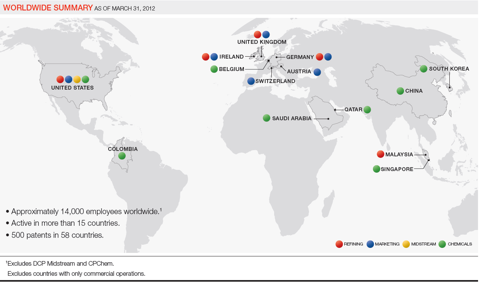 Click to enlarge
Source: from Phillips 66 website
The company has solid fundamentals. The PEG ratio is .8 and the P/S is .23. The EPS growth rate (5 year historical) is 45.33% and the cash flow growth rate (5 year) is 28.36%. As stated before the company has lowered its debt by a billion dollars and now the debt to capital ratio is in the 20s. The dividend yield at 1.6% is somewhat lower than the company's competitors, but the company did increase the dividend last year. The TTM P/E ratio is lower than the average at 9.43. As shown in the graph below, the quarterly gross profit margin has stayed in the mid teens since the IPO.

Click to enlarge
Source: chart from Y Charts
Conclusion
Demand for oil is only going to increase and refiners like Phillips 66 will be in high demand. Higher demand from India and China this year will help to grow the company. The stock has performed well since its IPO and it has gained nearly 70%. The company has a diversified portfolio of products that will help to protect it from downturns. The stock has strong fundamentals and it should continue to perform well in 2013.
Disclosure: I have no positions in any stocks mentioned, and no plans to initiate any positions within the next 72 hours. I wrote this article myself, and it expresses my own opinions. I am not receiving compensation for it (other than from Seeking Alpha). I have no business relationship with any company whose stock is mentioned in this article.