With the recent market run-up, where the average forward P/E ratio of the S&P 500 has increased to 14.0, Wal-Mart Stores, Inc. (NYSE:WMT) may still have more upside potentials for 2013. Below is a chart comparing the YTD performance of WMT with the Dow Jones Industrial Average. WMT has lagged the Dow Jones with 3.72% gain only, as of February 5, 2013. However, unusual call activities had been identified for WMT with a daily call volume ratio of 2.33. An unusual high volume of call options can be a precursor of a major movement for the underlying stock.

Source: Google Finance
Wal-Mart Stores, Inc. operates the retail stores in three business segments: the Wal-Mart U.S. segment; the Wal-Mart International segment; and the Sam's Club segment. The company's main philosophy/strategy is "Everyday Low Price," pricing items at a low price everyday. WMT closed at $70.77 with 1.64% gain on February 5, 2013. WMT had been trading in the range of $57.18-$77.60 in the past 52 weeks. WMT has a very low beta of 0.36.
Bullish Factors
Groceries: According to the report from CNN Money, 20% of WMT's net sales (about $48B) were made up by groceries 10 years ago. In 2012, groceries accounted for 55%, or roughly $244 billion. WMT adapted to fit the needs of its cash-strapped customers in the midst of a slow economic recovery as consumers have been shopping more for needs than wants. Wal-Mart has become a needs-oriented store as stated by Craig Johnson, president of independent consulting firm Customer Growth Partners. Wal-Mart should continue to benefit from the slow economic recovery.
Expanding fresh-food offerings: WMT is expanding its fresh-food offering to every store in Canada from 50 percent now. As reported by Bloomberg,
The fresh food expansion allows Wal-Mart to set it apart from Target, which is more focused on clothing and housewares. Target, based in Minneapolis, plans to open about 125 Canadian stores starting in March or April in its first expansion outside the U.S.
Two-pronged strategy for a brighter economy: Wal-Mart is racing to generate more jobs and to grow its purchase of U.S.-manufactured products. By bringing back jobs to the U.S. and by promoting "Made in USA" goods, the White House agrees that Wal-Mart's commitment can make a difference, according to the press release by National Traders Association. However, negative comments seem to be piling up for Wal-Mart's move.
Increasing Dividend: Since 2008, WMT had been increasing its dividend from $0.24 per quarter to the current $0.40 per quarter. WMT is currently offering a forward annual dividend yield of 2.30% with a payout ratio of 32.00%.
Concerns
On February 4, 2013, WMT was downgraded by J.P. Morgan due to the concern that growing economic pressures will weigh on its momentum. Christopher Horvers, the analyst at J.P. Morgan, lowered the rating to "Neutral" from "Outperform" and expects WMT's stock to be trading at $75 in the next 12 months, down from an earlier estimate of $84. As stated by Horvers, "The company has now notched five consecutive quarters of revenue growth at comparable stores in the U.S., a clear-cut departure from the nine straight quarters in which revenue at those stores declined. When the company posts fourth-quarter earnings on Feb. 21, most expect even more positive results from aggressive discounting and an expanded layaway programs." The analyst believes the lift to sales will be more subdued vs. the low-hanging fruit of the initial turnaround and is concerned about the payroll tax increase that took effect at the beginning of the year.
Fundamentally, WMT has an enterprise value of $282.19B with a market cap of $236.74B. WMT has a total cash of $8.64B with a total debt of $57.91B. WMT generates a strong cash flow of $27.25B with a levered free cash flow of 14.36B. Compared with peers in the discount stores industry, including Target Corp (NYSE:TGT) and Costco Wholesale Corporation (NASDAQ:COST), WMT has lower revenue growth (three-year average) of 3.4, compared with the average of 3.9. WMT has higher operating margin of 5.9%, ttm, and net margin of 3.6%, ttm, compared with averages of 5.8% and 3.4%, ttm, respectively. WMT generates higher ROE of 23.5, compared with the average of 20.8. WMT's P/E of 14.3 is lower than the industry average of 15.0 and WMT's five-year average of 14.5. WMT's forward P/E of 11.0 is lower than S&P 500's average of 14.0.
Technically, WMT is bullish with the MACD (12, 26, 9) indicator showing a bullish trend, and the RSI (14) indicating a bullish lean at 59.77. WMT is trading above its 50-day MA of $69.52 and 200-day MA of $69.46, as seen from the chart below.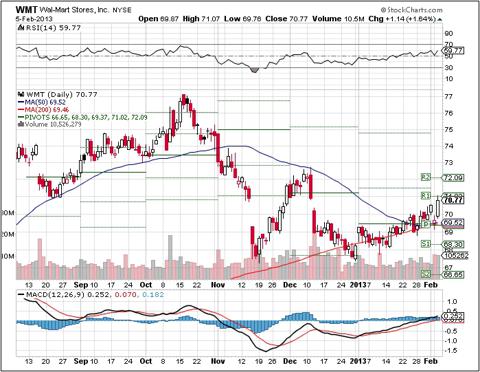 Source: StockCharts.com
Upcoming Earnings
Analysts, on average, are expecting an EPS of $1.57 with revenue of $128.82B for the current quarter ending in January, 2013. Analysts are projecting an EPS of $4.92 with revenue of $470.10B for the fiscal 2013. WTM is expected to release its earnings on February 21, 2013.
Reviewing Options
The most active call was Apr. 19, 2013 call at the strike price of $75.00 with a volume of 4,008 and an open interest of 1,148. The implied volatility is 12.3, and the chance of breakeven is 11.15. The historical volatility for WMT is 10.01 for one month, 15.43 for three months, and 16.04 for one year.
Conservative investors may want to wait until the earnings release to establish the long-term positions. For more aggressive bullish investors, a credit put spread of Apr. 20, 2013 $65/$67.5 can be reviewed to profit by earning the credit premium while having the worst-case scenario to acquire the WMT stock at a price lower than $67.5.
Note: All prices are quoted from the closing of February 5, 2013. Investors and traders are recommended to do their own due diligence and research before making any trading/investing decisions.
Disclosure: I have no positions in any stocks mentioned, and no plans to initiate any positions within the next 72 hours. I wrote this article myself, and it expresses my own opinions. I am not receiving compensation for it (other than from Seeking Alpha). I have no business relationship with any company whose stock is mentioned in this article.