Shares of Las Vegas Sands (NYSE:LVS) have appreciated by 57.6% from their 52-week low of $34.72 touched in August 2012. At $54.73 per share, the stock is moving closer to the 52-week high of $62.09 and offers a dividend yield of 1.8%. Should investors ride on the current price uptrend? In this article, I will elaborate on my valuation analysis which may assist you in formulating an appropriate investment decision.
Sell-side analysts on average predict LVS' revenue, EBITDA, and EPS to grow at solid CAGRs of 12.5%, 15.5%, and 26.5%, respectively, over the current and next calendar years (see comparable chart below). Those consensus estimates are considerably above the averages of only 5.0%, 9.2%, and -0.9%, respectively, for a group consisting of LVS' primary casino peers. The company's EBITDA margin is forecasted to expand by 1.8% over the same horizon, slightly better than the peer average at 1.7%. On the profit side, LVS has demonstrated a superior profitability performance as most of the firm's margin and capital return metrics are substantially above the par. The company carries a relatively lower level of debt as reflected by its below-average debt to capitalization and debt to EBITDA ratios. In terms of liquidity, LVS' trailing free cash flow margin is above the par. Due to the higher profitability and the lower leverage, the company was able to maintain an above-average interest coverage ratio. Both the company's current and quick ratios are above the par, reflecting a healthy corporate balance sheet.

To summarize the financial comparisons, LVS shares should deserve a premium valuation over the peer-average level given the firm's robust financial performance in almost every aspect. Nevertheless, the shares' current valuations at 10.7x forward EBITDA and 19.9x forward EPS together represent a discount of 3.4% to the peer-average trading multiple, and the stock's PEG ratio of 1.7x is even 18.6% below the peer average at 2.0x (see chart above), suggesting that LVS stock is modestly undervalued on a relative basis.
LVS' trailing EV/EBITDA multiple of 14.1x is currently trading at 23.1% discount to its 3-year historical average (see chart below). The lower valuation is primarily attributable to LVS' decreasing growth rate (see chart below). However, the current valuation level appears to be tempting provided that 1) the firm's capital return measures including ROIC and RE have improved significantly over the past 3 years; 2) the company has also seen a notable improvement in its profitability and free cash flow margins over the same period; and 3) LVS has gradually de-leveraged over time as reflected by the firm's decreasing debt to capitalization ratio and rising interest coverage ratio (see charts below).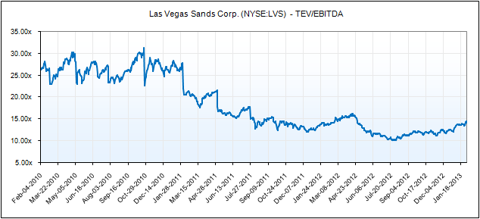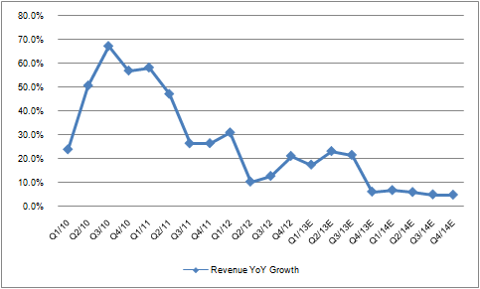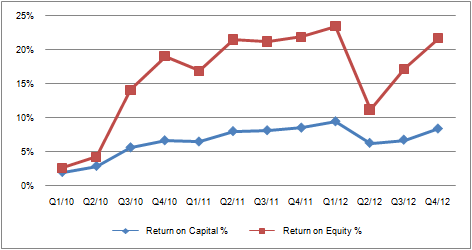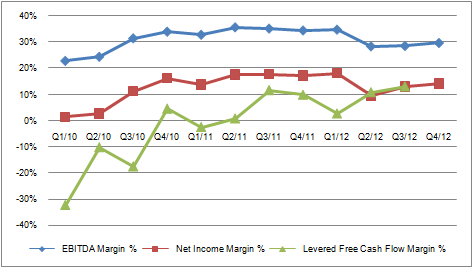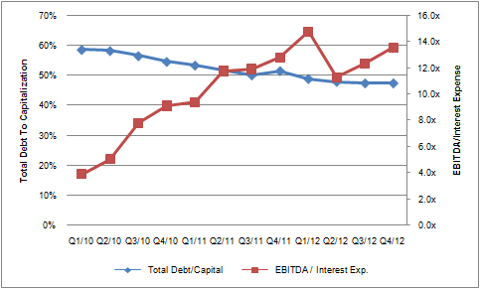 From another perspective, LVS' forward P/E multiple of 19.9x is now trading at 39.7% premium over the same multiple of the S&P 500 Index (see chart below). The trading multiple premium appears to be reasonable based on the facts that 1) LVS' long-term estimated earnings growth rate of 12.1% is considerably above the average estimate of 8.2% for the S&P 500 companies; 2) operated by a US-based management, LVS offers investors a significant exposure to emerging markets; and 3) the stock's dividend yield of 1.8% is not far off from the average yield of 2.2% for the S&P 500 Index. It is noted that LVS' current multiple premium is fairly close to its 1-year average of 36.9%, further indicating a reasonable valuation level.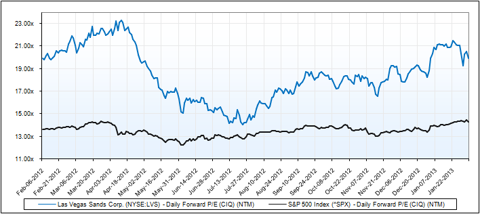 Cameron McKnight, a research analyst at Wells Fargo Securities, recently upgraded his rating on the stock from hold to outperform based on the following rationales that I tend to agree on (sourced from Thomson One, Equity Research):
We believe LVS represents one of the best companies in our space, and is likely to outperform over the next twelve months based on: (1) our bullish view on Macau in 2013, with our 16% market growth estimate ahead of 12% consensus, (3) improving operations at Sands Cotai Central, and plenty of excess capacity in a market that's increasingly capacity constrained, (4) a very strong medium-term outlook, with superior leverage to Macau market growth and additional jurisdictions, and (5) strong dividend growth, with potential annual dividends of $4/share by 2017.
Bottom line, despite the recent solid price appreciation, LVS' valuation remains attractive on a relative basis. Given the set of medium-term catalysts ahead, I recommend acquiring the stock at the current price level. To limit the investment risk, investors may also consider selling out-of-money put options to either collect upfront premium or take a potential opportunity to buy at a lower valuation level.
The comparable analysis chart is created by the author, all other charts are sourced from Capital IQ, and all financial data in the charts and the article is sourced from Capital IQ unless otherwise specified.
Disclosure: I am long LVS. I wrote this article myself, and it expresses my own opinions. I am not receiving compensation for it (other than from Seeking Alpha). I have no business relationship with any company whose stock is mentioned in this article.