In this article I'll give you 6 straightforward reasons to research further the second biggest hard drive manufacturer in the world, Seagate (NASDAQ:STX). I believe that Seagate is caught in the "PC is dead" hype and that it's currently significantly undervalued. Here are the reasons why:
1) Free Cash Flow And Earnings
Seagate is expected to earn $5.24/share for fiscal 2013 and $5.45/share for fiscal 2014. Seagate's fiscal year ends in June, so these estimates are for 6 and 18 months into the future.
Free cash flow for fiscal 2013 is expected at $8.16 per share and the company is committed to give it all back to shareholders as you'll read below.
Summing up, the stock trades at just 6.5 times earnings and 4.2 times its free cash flow.
2) Share Buybacks
Unless the world-wide economic recovery stops, Seagate will generate approximately $1.5 billion in FCF until June 2013. About $300 million of that will go to dividends and the rest are for the company to buy back its stock. It could buy as much 30 million shares (which is 8% of its current market cap) assuming a $40 average execution price.
From Seagate's Q2 2013, earnings call transcript:
Stephen J. Luczo - Chairman, President and Chief Executive Officer

Delivering value to our shareholders continues be an important objective with Seagate. Through the share redemptions we have made this fiscal year and through our quarterly dividends, we are on track to return approximately 70% of operating cash flow and 100% of free cash flow to shareholders in fiscal 2013.
If it continues generating FCF at the same pace until fiscal 2014, Seagate may repurchase 24% (90 million shares) of its current self within a year and a half.
A quick note: That means a 31% boost to EPS, which means a 31% boost to Seagate's fair value.
3) Dividend
This is as straightforward as it gets. Seagate pays a $1.52 per share cash dividend which yields 4.5% at its current stock price.
This costs the company about $600 ($1.52 X 380 mln of diluted shares) but as we mentioned above Seagate generates more than $3 billion of FCF per year ($8.16 X 380 mln diluted shares).
4) Moat
And while so far the company's business has been cyclical in nature, with ups and downs in revenue and FCF, there have been some recent developments that have changed the landscape quite a bit.
The developments I'm referring to are the acquisition of Samsung's hard-drive unit by Seagate and the acquisition of Hitachi's hard-drive unit by Western Digital (NYSE:WDC).
These deals are important because the HDD industry is now highly consolidated with Seagate and Western Digital controlling more than 85% of the market. Western Digital controls 45% and Seagate 42%.
This enables both Seagate and WDC to keep their margins higher than their historical averages and smooth out the impact of declining HDD sales (due to SSDs) to their bottom line.
5) Growth
Being a dominant player in the HDD market gives Seagate another advantage. Its massive cash flow gives it the ability to expand rapidly within the SSD market and thus secure its future and cover for the decline in HDDS.
Furthermore as you can see below the IHS projections for the next couple of years aren't that bad for HDD. Their decline seems to be extremely smooth.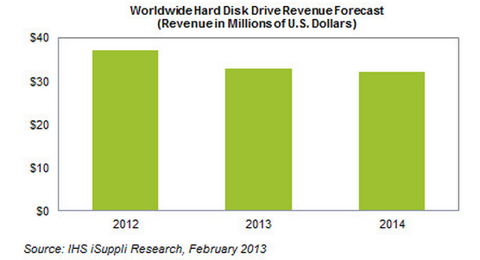 Let's sum up:
Seagate is trading only at 6.5 times EPS and 4.2 times FCF.
It is committed to buy back 8% of its stock until June 30, 2013.
It offers a $1.52 dividend that currently yi

elds 4.

5%
It dominates (along with WDC) in the HDD market and

uses

this to smooth out the decline in HDDs.
We can expect 0% to positive growth because Seagate already expa

nded into the SSD mar

ket and this will may give a nice growth boost to the company.
I believe that Seagate, given its prospects, is worth around 8 to 10 times its 2013 EPS. That's a $42 to $52 value range for the stock.
And now let's close with my bonus fact about Seagate:
The famous value investor David Einhorn owns the stock. Check him out, look at his track record and you'll understand why I list him as positive to research this stock.
Disclosure: You should do your own homework before buying this stock. This article isn't supposed to be a full fledged analysis but a list with reasons to do further research on this company.
Disclosure: I have no positions in any stocks mentioned, and no plans to initiate any positions within the next 72 hours. I wrote this article myself, and it expresses my own opinions. I am not receiving compensation for it (other than from Seeking Alpha). I have no business relationship with any company whose stock is mentioned in this article.