Copper is by no means on the top of the liquidity charts for precious metals. Heck, rhodium is almost more liquid. However the global demand for copper is astounding and there are ways to get in on copper. China is by far the leading consumer of the metal. The country now consumes 40% of the metal mined every year. In 2010 19.4 million tons of the metal were used globally. The current situation is slightly bearish for copper. However future demand is expected and China has a lot of room to run.
By 2020, global copper consumption is predicted to nearly double to 27 million tons. USGS researchers have estimated that firms would need to bring 35 new copper deposits online by next decade to meet that demand.
(source:Frontline)
In this article i will be outlining three mining companies that may have potential to grow in the future.
Copper Spot Price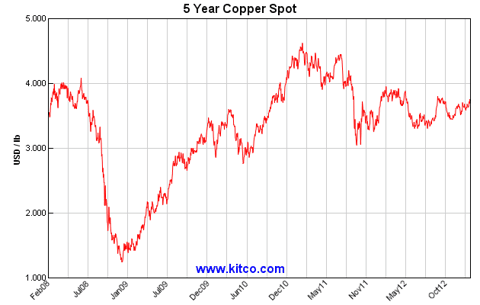 (source: Kitco)
This chart illustrates the past 5 years of the copper price per pound. The chart is still slightly bullish, and should become increasingly more in the near future.
Northern Dynasty Minerals Ltd.
Northern Dynasty Mineral (NYSEMKT:NAK) is a Vancouver based exploration company. The company has current total assets of $134 million. The stock price is at $3.55, lows not seen since 2008. However the price projections are outright ridiculous, which is why NAK should not be ignored. Yahoo Finance, CNN Money and Zacks Investment Research all project the price past the $20 level, yet these are not the best places to get stock projections. No investment should be made on these companies projections alone, although the possible growth in NAK should not be ignored. Currently NAK has only one exploration site, but an impressive one. The Pebble Project has the power to shoot NAK to the moon. Located in southwest Alaska, the proposed Pebble mine may become the largest copper mine in North America. The projected value of the mine is estimated at half a trillion dollars. The projected resources for the location are:
80.6 billion lbs. of copper
5.6 billion lbs. of molybdenum
107.4 million oz. of gold
Commercially significant amounts of silver, rhenium and palladium
(source: Pebble Project)
Yes, that is 80.6 billion pounds of copper or 36 million metric tons. Currently the project is in the pre-feasibility stage and pre-permitting stage.
Pebble is currently at a pre-permitting, advanced exploration phase. The Pebble Partnership does not expect to finalize a preliminary development plan and apply for permits until late 2012 or 2013. Any proposed mine plan will be subject to an exhaustive, multi-year regulatory review process involving 12 state and federal agencies, and an extensive public comment period.
(source: Pebble Project)
The project has a long way to go. However, if it was carried through, NAK would have 50% ownership of one of the largest copper mines in North America.
Southern Copper Corporation
Southern Copper Corporation (NYSE:SCCO) is a purely copper producing company headquartered in Arizona, U.S. The original company was incorporated in 1953. SCCO had 2.3 billion dollars in net revenue in 2011.
In millions:
| | | | | | |
| --- | --- | --- | --- | --- | --- |
| Statement of Earnings Data | 2011 | 2010 | 2009 | 2008 | 2007 |
| Net sales | $6,818.7 | $5149.5 | $3,734.30 | $4,850.80 | $6,085.70 |
| Operating income | 3,625.4 | 2604.20 | 1,485.10 | 2,201.90 | 3,497.40 |
| Net income attributable to SCC | $2,336.4 | $1554.05 | $929.40 | $1,406.60 | $2,216.40 |
(source: Southern Copper)
This chart shows visible growth in the past four years.
All of SCCO's operations are located in either Mexico, Peru or Chile. The operations located in Mexico produce 303,000 tons of copper. The Peru operations produce 295,000 tons of copper and the Chile operations are mostly exploration.
Exploration is key though, and SCCO is doing a good job with locations. In Mexico there are seven exploration locations. The majority contain copper and other elements from zinc to gold and silver. The Pilares location plans to begin production in the third quarter of 2013. The Angangueo location will begin production in the second half of 2014. The five other locations are still drilling to get a feel of the areas.
Peru has one early stage exploration location, pre-feasibility currently. The other exploration location actually produces gold and silver, however SCCO has a 44% ownership of that area.
Chile is another major area in exploration, currently only containing exploration sites with six in total. All locations are gong to continue drilling in 2012-2013. One location is pending in ownership.
SCCO has shown growth in financials, is an established company, and has many exploration locations that will be key in the future.
Freeport McMoRan Copper & Gold
Freeport McMoRan Copper & Gold (NYSE:FCX) is the second largest copper producer in the world, second only to Codelco in Chile. FCX was formed in the late 1980's. FCX employs 29,000 employees and operates in the Americas, Africa and Indonesia. In 2011 revenues were at a five year high, indicating growth. 2011 saw 20 billion dollars in revenue. Total assets were at a four year high at 32 billion dollars. Debt was at a five year low with a total debt of 3.5 billion dollars.
Freeport-McMoRan Copper & Gold's estimated consolidated reserves include 102.0 billion pounds of copper, 40.0 million ounces of gold, 2.48 billion pounds of molybdenum, 266.6 million ounces of silver and 0.7 billion pounds of cobalt.
(source: Freeport McMoRan)
In North America FCX has seven open-pit operating copper mines. Two other mines are molybdenum mines. South America contains three open pit copper mines. In Africa FCX has one operating copper mine and one project. The proposed mine project will have a 7-10 year mine life and produce 10 million tons of ore. The location is in the feasibility stage.
The Indonesian Grasberg location is a key production location for FCX. The Grasberg Minerals District is 90% owned by FCX. The open pit production is projected to continue into 2016. Then the underground operations begin at the Block Cave mine. The mine is currently in development.
Today, after significant production, the Grasberg mining district contains the world's largest recoverable copper reserve and the largest gold reserve.
(source: Freeport McMoRan)
Conclusion
If USGS predictions are correct, SCCO is in a good position to profit. With so many exploration sites, SCCO cannot be ignored when looking to invest in copper's future. FCX is another well developed producer with growth potential. Finally there is NAK, partnered with AngloAmerican Plc. NAK may ride the Pebble Project to the moon, or if the Pebble Project fails ... be left in ruin, in a cloud of AngloAmerican's dust.
Disclosure: I have no positions in any stocks mentioned, and no plans to initiate any positions within the next 72 hours. I wrote this article myself, and it expresses my own opinions. I am not receiving compensation for it (other than from Seeking Alpha). I have no business relationship with any company whose stock is mentioned in this article.
Additional disclosure: Do your own research, these are simply my own opinions and research.