For a Valuation Pro, PHK Was a Bad Call Then, and a Short Now: Look to Swap Out
Bill Gross is not naïve to securities valuation, he is one of the best in the world. In fact, most would take his advice on various non-fixed income asset valuation over professionals in their respective specialty, and rightfully so. However, the recent article in Barron's titled Rocky Road (the full link is pasted below), where he talks up (NYSE:PHK) PIMCO High Income Fund, I would strongly disagree with. In this recent article, Mr. Gross makes his case why:
"Treasuries don't make sense at these levels"
and states where he finds risks priced at both attractive and unattractive levels. He further justifies why.
"Pimco is not a fan of the high-yield market. It is a little early to be buying high-yield bonds."
Two additional comments I found troubling were:
"Yet, while junk-bond funds in general yield 14%, the Pimco High Income Fund yields 23%."

"It's about as good a deal as any in the bond market today."
Here's why I strongly disagree with that call. On the Friday the 16th, the fund closed at a 22.6% premium! By no means a "value" in today's beat up closed-end fund market. Is anything worth paying a premium for in todays market? Furthermore, it is in no way still a value after this article ran up the share price to a 55.6% premium over its net asset value (NAV) as of yesterday's close (1/22/09) since the article was released.
An additional note: The NAV was down $.35 since Fridays $5.35 NAV close, 6.54%. Despite its positive strategy changes over the past few months, this is still a leveraged high yield fund and will act as such over time.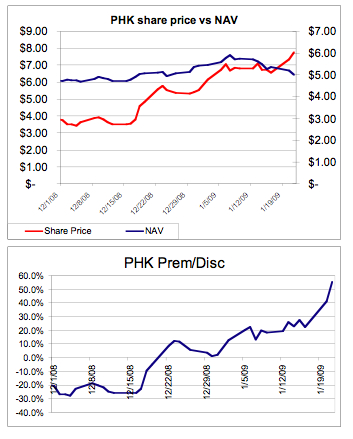 This fund is not yielding 23%, it is distributing. For those who don't know the difference, here is the math.
Based on the funds earnings report ending 9/30/08 for 3 months (calculated monthly):
Net Income +$.1267 per month
Leverage Costs* -$0.02 per month
Monthly Distribution -$.1219
Earning/-Not earning -$0.0152 per month
Its earning rate is ~ $0.1067 per month.- anything paid beyond that is from cash, or returning principal (aka selling securities to pay the dividend).
*Pimco does not include leverage costs in Net Investment Income, see the semi-annual report for the assumed leverage costs.
Investors buying the fund today are losing ~1000 basis points or ~10% in distribution simply because the premium is so absurd. Here's the math:
Share Price NAV

Distribution $1.46 $1.46
Value $7.78 $5.00
Distribution Rate 18.77% 29.20%
Without making this rant too long, it would be my advice to 1) short PHK if you can get a borrow (it may take another week or so before this crazyness stops- the same thing happened with AVK in November- it took about 2 weeks after the barrons article-but it worked! 2) If you own PHK, swap into the equivalent open-end fund or 3) replace it with another similar Closed-end fund: EVV, EAD or ERC.
I look forward to feedback.
I do not have a position in any of the securities mentioned above.