Whether saddled to mutual funds like Fidelity Select Gold (FSAGX) or ETFs like Van Eck's Gold Miners Index (NYSEARCA:GDX), gold investors have experienced a wild ride over the last year. While the recent volatility in gold prices is certainly enough to give investors pause, a good argument exists for the presence of a gold ETF or mutual fund in a well-diversified portfolio. Both FSAGX and GDX help investors mitigate the pitfalls of falling currencies and economic slowdowns. Since gold is a physical asset, it tends to maintain its value over time, giving wary investors an added measure of security as time-tested institutions vanish in the face of economic crisis.
FSAGX and GDX both invest assets in companies that are primarily engaged in the exploration, mining, processing and dealing of gold. As of FSAGX's semiannual report in November 2008, the fund held seven out of ten of the same top ten holdings. While GDX tracks the NYSE Arca Gold Miners Index, comprising 32 small, medium and large companies incorporated in any gold index, FSAGX is managed by Joe Wickwire and is composed of 69 holdings. The similarities between the two funds are striking, but some investors prefer having a human, rather than an index, at the helm. The larger number of holdings in FSAGX also means a smaller concentration of assets in top holdings, reducing the exposure that investors have to any one portfolio component.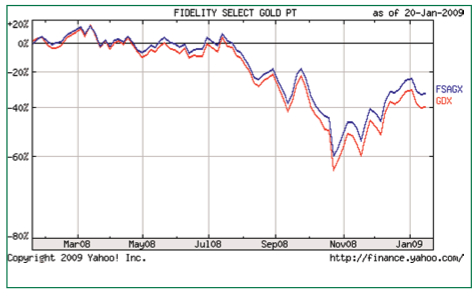 The top component for both FSAGX and GDX is Barrick Gold Corp. (NYSE:ABX), constituting 13.77% of GDX's portfolio as of January 13 and 9.5% of FSAGX's portfolio as of late November 2008. The Toronto-based exploration company holds interests in a variety of gold resources in South America, Africa and Australia. At the end of 2007, ABX had 124.6 million ounces of proven and probable gold reserves, 1.03 billion ounces of contained silver within gold reserves, and 6.2 billion pounds of copper.
Goldcorp (NYSE:GG), the second-largest holding for both GDX and FSAGX, saw shares battered with a series of downgrades and target price reductions in early January, after releasing lower guidance for 2009. Some analysts, however, have dismissed the tarnish to Goldcorp's shares as an overstatement of the reality of an industry-wide slowdown. In GG's latest report, the adjusted forecast calls for 50% growth in production through 2013—only 5% lower than analysts' estimates. In 2008, GG produced a hefty 2.3 million ounces of gold, achieving low margins on a scale larger than those of other competitors such as Yamana Gold (NYSE:AUY) and Agnico-Eagle Mines (NYSE:AEM).
While the most obvious difference in deciding between an ETF and mutual fund is the fees associated with the two different investments, investors should consider several factors when choosing FSAGX or GDX. Even though the expense ratios of both funds are well below the category average—FSAGX is 0.86% while the ratio for GDX is 0.59%—many investors have gravitated to the ETF fund in recent years for the additional edge.
Investors who own FSAGX will have to hold shares of the fund for longer than 30 days in order to avoid a 0.75% redemption fee—a nerve-racking setback for nervous investors who prefer the option of getting in and out of investments quickly. As opposed to the once-a-day pricing method of mutual funds, ETFs like GDX trade continuously throughout the trading day, but this flexibility also brings an increased measure of volatility. ETFs tend to be more affected by changing news events than mutual funds are, causing surges and dips in price avoided by comparatively steadier mutual funds.
The differences between GDX and FSAGX are more apparent when comparing fund performance in recent months. GDX dropped more than 63% from July 14, 2008, to October 28, 2008, but it has since recovered 35%. FSAGX, however, fell only 60% from July 14 to October 28 and has recovered 36% in the period since. While their price movement is relatively similar, investors fearing intraday volatility may feel more comfortable with FSAGX than GDX, especially given its longer track record.
While putting assets into gold could prove to be a profitable move for many investors, it is important for prospective GDX and FSAGX buyers to keep the role of this commodity in perspective. With the ultimate success of gold investments weighing heavily on continuing inflation concerns, placing a bet on gold—or any narrow sector—could whipsaw investors as the inflation battle takes shape under the new administration. For those investors seeking the added security that gold could add to their portfolios in 2009, both GDX and FSAGX, with their solid track records and investor interest, are good places to start.