Oracle (NASDAQ:ORCL) recently agreed to pay $2.1 billion to acquire Acme Packet (NASDAQ:APKT), a leading network equipment vendor specializing in session delivery network solutions.
According to the terms of the deal, which was announced this Monday, Oracle will pay $29.25 per share for Acme Packet. After subtracting ~$360 million of the cash that Acme has on its balance sheet, the net cost to Oracle will be ~$1.7 billion.
Acme Packet was founded in August 2000 by Andy Ory - currently President & CEO and Patrick MeLampy - currently CTO. It went public with an Initial Public Offering in 2006, when their common stock more than doubled from its offering price, reaching a peak of ~$22 per share on heavy trading. Acme has over 1,900 customers worldwide. The company is headquartered in Bedford, Massachusetts, and has 880 employees.
Carriers and enterprises deploy Acme's products to manage the quality of voice, video, application or unified communications sessions across all-IP networks.
What is an all-IP network ?
It's a network that transports all information and services (voice, data, and all sorts of media such as video) by encapsulating these into packets, similar to those used on the Internet.
Today, people want to be able to access the right information, from the right source, and right now, regardless of the network or the device they happen to be holding or standing near, and this all needs to be done in a secure manner. An all-IP network, provides this service, whenever & wherever you want.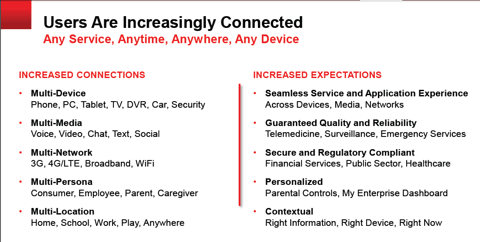 An all-IP network blends the traditional circuit with internet.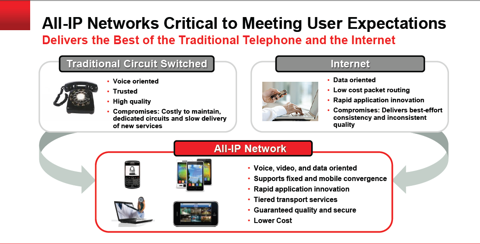 How Acme Packet solutions work?
As I mentioned above, the communications industry is going through an unprecedented shift as users become more connected and dependent on mobile applications and devices. Service providers and enterprises now require a comprehensive communications solution that will enable them to more effectively engage with their customers.
Acme Packet products that bear the brand name Net-Net, perform what is called session border control over all-IP networks. This means securing the network sessions that support multiple applications as well as prioritizing the packets as they fly around the network based on policies for quality-of-service set for particular end users, groups of users, and applications.
Why Oracle bought Acme?
Oracle needed a large organization behind it to take on Cisco Systems (NASDAQ:CSCO), Huawei, Alcatel-Lucent (ALU), Sonus (NASDAQ:SONS), ZTE (OTCPK:ZTCOF), and others in the "Unified Communications-UC" space. UC is where you mix, shape and control voice, video, instant messaging, and data-center traffic over IP networks for both enterprises and service providers.
Moreover, Oracle is already stuck with a saturated market for its products among major telecommunications companies. Though, 89 of the world's top 100 communications companies are already Acme customers, it can still use Acme's presence in those accounts to upsell customers on its broader array of offerings & solutions for communications providers.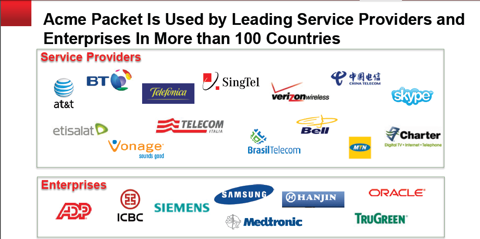 What it means for Oracle customers?
The Acme Packet business will be tucked up into the Oracle Communications division. It intends to incorporate Acme's offerings with its own communications product portfolio to accelerate the development of all-IP networks, alongside other core network products such as its network application platform and tools to manage service availability. It will help:
Service Providers: Uniquely differentiate & monetize next generation services.
Enterprises: Benefit from more effective user engagement and increased employee productivity.
Partners: Expand portfolio of solutions to speed the transformation to all-IP networks.
Oracle sells applications to assist service providers run their back-end businesses operations as well as their services organizations, but Acme's technology will fit within Oracle's 'core network' services and the systems that run them, in between sales, billing & supply chain applications on one side, and end-user applications & devices on the other. The Net-Net products will then work up the stack to make email, instant messaging, calendar, VOIP, and telepresence applications run efficiently and securely.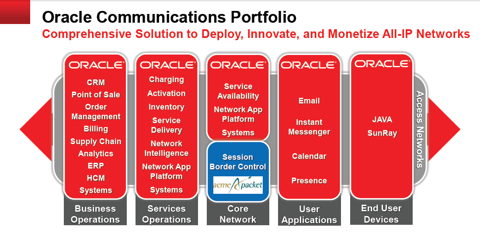 Conclusion
Oracle has never exactly been in the business of real time communications; it always wanted to be more like its competitor Cisco that offers real time UC solutions. Cisco recently further strengthened its UC solutions by acquiring Intucell that enables mobile carriers to monitor and tune their networks in real time on the basis of network traffic and user demand. I analyzed the Intucell technology in my previous article in January. Therefore in order to compete with Cisco in UC space, Oracle had to acquire a UC provider or UC solution vendor.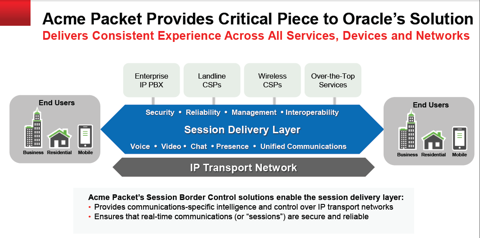 For me, this acquisition is the final missing piece in Oracle's overall strategy to deliver best-in-class real-time unified communications products that address crucial customer needs in the key industry. It will also bring deep domain expertise and proven solutions to enable all-IP networks. Oracle can now provide customers with purpose-built, innovative solutions to accelerate the deployment of all-IP networks and help deliver a consistent experience across all services, devices and networks.
Disclosure: I have no positions in any stocks mentioned, and no plans to initiate any positions within the next 72 hours. I wrote this article myself, and it expresses my own opinions. I am not receiving compensation for it (other than from Seeking Alpha). I have no business relationship with any company whose stock is mentioned in this article.