In my article of January 16 I already mentioned a new star on the horizon. This company is called MusclePharm (OTCQB:MSLP).
Last week, Miami Beach billionaire entrepreneur Dr. Phillip Frost invested $1.4 million in Muscle Pharm Corp and yesterday the company successfully completed the final closing of a $12.0 million registered direct offering of its Series D Convertible Preferred Stock.
The Frost Group, LLC, headed by Miami entrepreneur Dr. Phillip Frost, was the lead investor in the offering and elected to increase its previously announced investment in the offering to a total of $2.9 million. The nutritional supplement maker closed a $4.1 million offering of Series D Convertible Preferred stock, including the investment by The Frost Group. The stock was issued at $8 per share, convertible into two shares of common stock.
Dr. Phillip Frost made his fortune selling drug manufacturer Ivax to Teva Pharmaceuticals for $7.6 billion in 2005. A former dermatology professor, he got his start in pharma in the early seventies, when he took over Key Pharmaceuticals with partner Michael Jaharis to develop generic pharmaceuticals and veterinary products. They sold out to Schering-Plough in 1986. Frost went on to found Ivax. He also has stakes in more than a half dozen firms, including medical device company SafeStitch. Frost is an active trader, and holds stakes in several public companies. One of his biggest stakes is in vaccine-maker Opko Health (NYSEMKT:OPK), where he also serves as a CEO.
MusclePharm
The company develops, markets and sells athlete-focused, high quality nutritional supplements primarily to specialty resellers. MusclePharm's products have been formulated to enhance active fitness regimens, including muscle building, weight loss and maintaining general fitness. Their nutritional supplements are available for purchase in over 10,500 U.S. retail outlets, including Dick's Sporting Goods, GNC, Vitamin Shoppe and Vitamin World. Products are also sold to over 100 online channels, including bodybuilding.com, amazon.com, gnc.com and vitacost.com. Internationally, the company's nutritional supplements are sold in over 110 countries.
The company started formulating their nutritional supplements in 2008 for consumption by active individuals, high performance athletes and fitness enthusiasts. In late 2008 they launched sales and marketing programs through their internal sales executives and staff targeting specialty retail distributors.
The company's wide-range variety of nutritional supplements, include Assault™, Combat Powder™, MusclePharm Musclegel®, MusclePharm Shred Matrix®, and Re-Con®. These products are comprised of amino acids, herbs, and proteins tested by scientists for the overall health of athletes. The company developed these nutritional supplements to enhance the effects of workouts, repair muscles, and nourish the body for optimal physical fitness.
MusclePharm's primary growth strategy is to:
increase product distribution and sales through increased market penetrations both domestically and internationally;
increase margins by focusing on streamlining operations and seeking operating efficiencies in all areas of operations;
continue to conduct additional testing of the safety and efficacy of MusclePharm's products and formulate new products; and
increase awareness of MusclePharm's products by increasing marketing and branding opportunities through endorsements, sponsorships and brand extensions.
The company's core marketing strategy is to brand MusclePharm as the "must have" fitness brand for workout enthusiasts and elite athletes. MusclePharm seeks to be known as the "athlete's company," run by athletes who create their products for other athletes, both professional and otherwise.
Industry Overview
The company operates within the large and growing U.S. nutritional supplements industry. According to Nutrition Business Journal's 2012 Supplement Business Report, the industry generated over $30 billion in sales in 2011 and $28.1 billion in 2010, and is projected to grow at an average annual rate of approximately 6.0% through 2020.
According to the same Journal, sports nutrition products represented approximately 12% of the total sales in the U.S. nutritional supplements industry in 2011, and the category is expected to grow at a 9.1% compound annual growth rate (or CAGR) from 2012 to 2020, representing the fastest growing product category in the nutritional supplements industry.
MusclePharm believes there are several key demographic, healthcare and lifestyle trends driving the continued growth of the industry.
These trends include:
Increasing awareness of nutritional supplements across major age and lifestyle segments of the U.S. population. We believe that awareness of the benefits of nutritional supplements is growing among active, younger populations, providing the foundation for the future consumer base. In addition, the average age of the U.S. population is increasing and data from the United States Census Bureau indicates that the number of Americans age 65 or older is expected to increase by approximately 36% from 2010 to 2020. We believe that these consumers are likely to increasingly use nutritional supplements and generally have higher levels of disposable income to pursue healthier lifestyles.

Increased focus on fitness and healthy living. We believe that consumers are trying to lead more active lifestyles and become increasingly focused on healthy living, nutritional and supplemental. According to the Nutrition Business Journal's 2012 Supplement Business Report, 20% of the U.S. adult population (or 47 million people) were regular or heavy users of vitamins in 2011. We believe that growth in our industry will continue to be driven by consumers who increasingly embrace health and wellness as an important part of their lifestyles.
The company's products
The company currently offers 20 athlete-focused, high quality nutritional supplement products and are comprised of amino acids, herbs and proteins tested by the company's recognized scientists, and intended to be safe and effective for the overall health of athletes. Moreover, MusclePharm's nutritional supplements are intended to enhance the effects of workouts, repair muscles, and nourish the human body for optimal physical fitness. The following is a brief description of the company's current products:
| | | |
| --- | --- | --- |
| Product Name | | Description and/or Intended Benefits |
| Amino 1TM | | Hydration sports recovery drink with amino acids, coconut water powder and electrolytes |
| Armor-VTM | | Advanced multi-vitamin complex; multiple vitamins and minerals along with immune system support |
| AssaultTM | | Fuel power for long-lasting energy to enhance focus and build lean muscle mass |
| Battle FuelTM | | Herbal formula to increase aggression and boost testosterone |
| BCAATM | | Promote muscle development and maintenance through several amino acid complexes |
| Bizzy Diet StackTM | | Diet supplement stack |
| Bullet ProofTM | | Promote deep sleep; optimize recovery; and stimulate growth hormone/testosterone output |
| Casein | | Slow digesting protein with added digestive enzymes and pro-biotic blend |
| CLA CoreTM | | Support body composition, aid in weight loss and increase metabolic rates |
| Combat PowderTM | | High protein supplement; enhance digestion of nutrients and maximize response to intense training |
| Creatine | | Promote strength, power and endurance |
| Fish Oil | | Blend of nutritional oils |
| GetSwole StackTM | | Lean muscle mass combined products |
| Glutamine | | Assist in recovery time, enhance muscle growth |
| Hybrid N.O.TM | | Increase muscle fullness |
| Live Shredded StackTM | | Support lean muscle mass maintenance |
| MusclePharm Musclegel® | | Protein and nutrition supplement, contains several different proteins |
| Re-Con® | | Promote post-workout growth and repair; replenish nutrients |
| MusclePharm Shred Matrix® | | Multi-level weight-loss system; increase metabolism, suppress hunger, burn fat |
| ZMA MaxTM | | Mineral support formula to increase testosterone, and to support deep sleep and healthy libido function |
Competition
Participants in the vitamin industry include specialty retailers, supermarkets, drugstores, mass merchants, multi-level marketing organizations, online retailers, mail-order companies and a variety of other small participants. The nutritional supplements sold through these channels are divided into four major product categories: vitamins, minerals and health supplements; sports nutrition products; diet products; and other wellness products. Most supermarkets, drugstores and mass merchants have narrow nutrition supplement product offerings limited primarily to simple vitamins and herbs, with less knowledgeable sales associates than specialty retailers.
Competition is based primarily on quality and assortment of products, marketing support, and availability of new products. Currently, the main competitors are three private companies: Optimum Nutrition, Inc., or Optimum, Iovate Health Sciences, Inc., or IHS, and Bio-Engineered Supplements and Nutrition, Inc., or BSN. Optimum is a wholly owned subsidiary of Glanbia Nutritionals, Inc., an international nutritional ingredients group. Optimum owns and operates two brands of nutritional supplements (Optimum Nutrition and American Body Building), providing a line of products across multiple categories. IHS is a nutritional supplement company that delivers a range of products to the nutritional marketplace.
The retail market for nutritional supplements is characterized by a few dominant national companies, including GNC, Vitamin World, Vitamin Shoppe, and Great Earth Vitamin Stores. Four companies dominate the online channel-bodybuilding.com, vitamins.com (owned by Puritan's Pride), GNC.com and vitaminshoppe.com, the latter two having retail sales locations as well.
Major competitors in the sports nutrition and weight-loss markets consist of companies such as EAS, Inc., Weider Nutrition International, Inc. and Twinlab Corporation.
The company also competes with a number of large direct selling firms selling nutritional, diet, health, personal care and environmental products, and numerous small competitors. The principal direct selling competitors are Amway Corporation, Nature's Bounty, Inc., Sunrider Corporation, New Vision USA, Inc., Herbalife International of America, Inc., USANA, Inc., and Melaleuca, Inc.
An official listing on a major stock exchange is not far away, if you search through the filings.
The major reasons for the increase in our general and administrative expenses were: approximately $3.1 million in increased advertising and promotions due to our increased levels of sales activities (which included approximately $1.4 million in increased product sponsorships and athlete endorsement costs); approximately $1.5 million in increased salaries and benefits expenses due to our overall significantly higher level of sales; approximately $1.4 million from increased professional fees due primarily to significant activity required to obtain financings, resolve disputes and restate certain prior period financial statements, as well as increased fees due for overall increased levels of activities and preparing to seek an exchange listing for our common stock; approximately $1.2 million in investment advisory costs due to two consulting contracts that require us to issue 8.4% of our common stock on an ongoing, fully diluted basis; and other increases in general administrative expenses of approximately $2.1 million (including $0.5 million in stock compensation, $0.2 million in depreciation, and $0.2 million in travel). The total increase in general and administrative costs was offset by decreases in research and development costs of approximately $0.3 million and company support of $0.1 million.
Fundamentals
From a fundamental view I find it hard to predict profitability in the short term. I think the company has to optimize their cash flow first and cut some expenses that are not necessary to run a strong brand.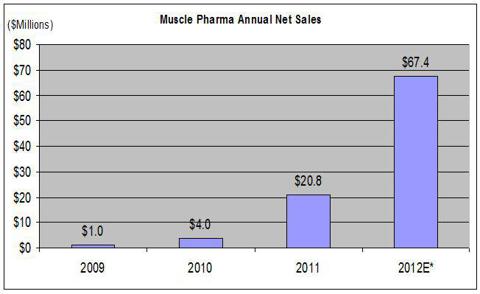 Source: SA article
Conclusion
International sales will be a significant part of MusclePharm's sales for the foreseeable future. From an European distributor I heard that MusclePharm's products are very popular, especially in the U.S. and Latin America. It's a trusted brand that consumers love.
The company's stock appreciated already from $4.02 to $6.30, but this could be just the beginning.
Trading has never been so easy because of Mr. Frost's participation.
Disclosure: I have no positions in any stocks mentioned, but may initiate a long position in OTCQB:MSLP over the next 72 hours. I wrote this article myself, and it expresses my own opinions. I am not receiving compensation for it (other than from Seeking Alpha). I have no business relationship with any company whose stock is mentioned in this article.