VIX - Market Sentiment:
Wednesday, S&P futures were opening near the lows after the strength from yesterday's rally faded. Trading above 1511 on yesterday's close, futures were trading down 6 handles trading just under 1500 for the second time this week. Earnings releases out of Chipotle (NYSE:CMG) and Disney (NYSE:DIS) had both stocks moving in the pre-market. CMG pre-announced just last month, and the stock has recovered nicely after a big drop on the initial bad news. Cummins (NYSE:CMI) also reported a mixed quarter after beating on an EPS basis, but also announced the company would be cutting staff due to the uncertainty of the global economy. DIS again beat estimates, if you exclude certain items, and continued to push to new highs. Zynga (NASDAQ:ZNGA) also reported a surprise profit, which initially sent the stock higher as investors applauded the initial reaction. The NYMO bounced back and now sits near 0 and reads -1.16, a 20.53 point increase. This reading solidifies my thesis that the market is continuing to poise for either a big break out or break down here in the next 2 to 3 weeks.
The spot CBOE Volatility Index (VIX) and futures recovered just slightly and moved higher as some volatility continues to creep back into the market. The last 3 trading days have seen 10 handle moves in the SPX, and triple digit moves in the DOW as volatility continues to whipsaw traders. Volatility ETF (NYSEARCA:VXX), 2x ETF (NASDAQ:TVIX), and alternative 2x ETF (NYSEARCA:UVXY) were all higher in the pre-market as volatility traders continue to jostle for position. Traders continue to follow the massive 10M VIX call spread I pointed out last week (here) by continuing to buy the April 20-25 call spread in smaller blocks. Interesting activity in the March 16 strike puts, as someone appeared to have dumped a rather large position throughout the day to the tune of 50K contracts. We'll need to check open interest tomorrow to confirm this move, but futures did tick higher just after 12:37 when the selling began.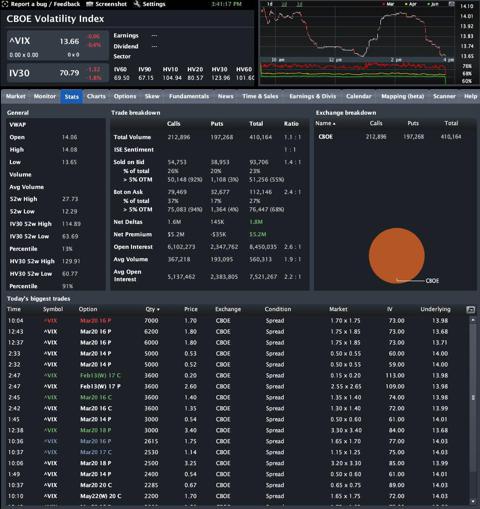 Statistics and Screenshot Provided By LiveVol
VIX futures are below.
Yesterday
· February VIX futures 14.50
· March VIX futures 15.53
· April VIX futures 16. 48
Today
· February VIX futures 14.25
· March VIX futures 15.48
· April VIX futures 16.48
Options Paper:
Options paper did pick up somewhat today, but this was greatly masked by dividend steals of Exxon Mobile (NYSE:XOM) and Blackstone (NYSE:BX), which traded more than 2.7M in calls combined. This is out of the 15.2M total contracts, so today is an extremely light volume day. Typical names were again leading in this light option volume environment, such as S&P ETF (NYSEARCA:SPY), Apple (NASDAQ:AAPL), Emerging Markets (NYSEARCA:EEM), and Bank of America (NYSE:BAC). For those who follow me and my trades on Twitter, I noted some unusual option activity in multiple stocks today. First, Boeing (NYSE:BA) is a name I had on my speculative play Friday back in January (here). Since this time, I have built a substantial position in BA using timing buying call stupid option strategies on dips and selling the body to create call butterflies at little to no cost. Options traders have bought more than 8M in net calls over the last 30 days, and today another long-term bull stepped in, buying the January 2014 strike 90-100 call spread for 1.19 10K times. This trade cost the trader almost 1.2M, but was clearly bought as the calls went off for 1.71 when the spread was reading 1.66 x 1.70 at the time when the block went off. When you look to combine this with the options activity of puts overall being net sold, you have a very bullish potential setup for this name. Open interest on the call side has expanded from 200K to 263K in very short order, and it appears this could continue to rise in the upcoming weeks. Options activity was just above normal on today's trading session, with calls outnumbering puts more than 4 to 1.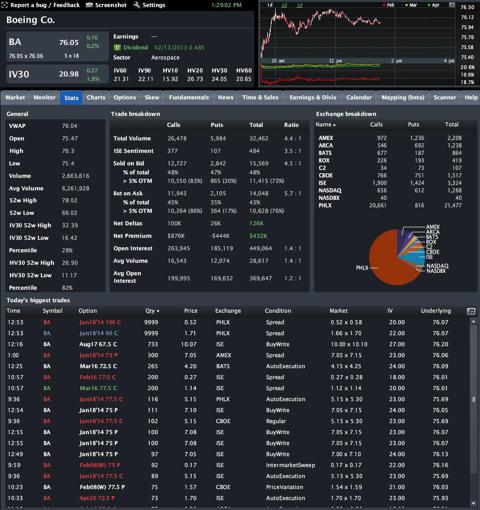 Statistics and Screenshot Provided By LiveVol
Other option activity I tweeted out today was again long-term bulls buying calls. This time, it was in car maker Tesla Motors (NASDAQ:TSLA), as a buyer of the January 2014 55 strike calls bought 5K times for 1.85. This trader just laid down more than 900K, as he is willing to get long TSLA at an effective price of 56.85 or more than a 30% increase from here. TSLA has earnings upcoming, so volatility is elevated, but the direction is clear -- bulls think this stock could go much higher than the current price. Options activity was more than 2x average daily volume, with calls outnumbering puts by more than 4 to 1.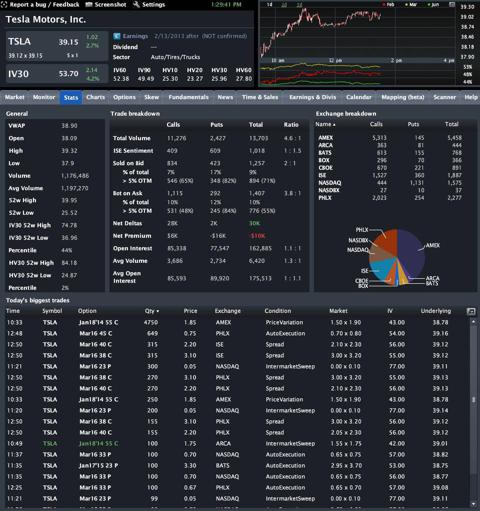 Statistics and Screenshot Provided By LiveVol
Popular ETFs and equity names with bullish/bearish paper:
Bullish Option Flows - ISE & % OTM calls bought on offer
Millennial Media (NYSE:MM) 83% - 3K OTM calls bought
Patterson-UTI Energy (NASDAQ:PTEN) 77% - Energy theme continues
Fusion-IO (NYSE:FIO) 69% - Bottom feeders playing this beaten up tech name
American Capital (NASDAQ:ACAS) 67%
GNC Holdings (NYSE:GNC) 2.5K ISE calls bought
Kinross Gold (NYSE:KGC) 1.3K ISE calls bought
Bearish Option Flows - ISE & % OTM puts bought on offer
Oneok Partners (NYSE:OKS) 99% of the 2.2K OTM puts bought on offer
Genworth (NYSE:GNW) 79% - Big June 8 - 4 collar, where 8 calls sold to buy 4 strike puts. (Closing position)
Marathon (NYSE:MPC) 78% - puts continue to be bought in this name
CTRIP.com (NASDAQ:CTRP) 72% of the 2.8K OTM puts bought
Oil ETF (NYSEARCA:OIH) 2K ISE puts bought
Applied Materials (NASDAQ:AMAT) 1.75K ISE puts bought
HCA Holdings (NYSE:HCA) 1.43K ISE puts bought
NRG Energy (NYSE:NRG) 650 ISE puts bought (Not good for my long)
Disclosure: I am long AGNC, BA, CBB, CONE, F, INTC, KERX, KOS, LNKD, MCD (Straddle), MTGE, NRG, PCLN (straddle), PG, TUMI, VHC, VOD, and I am short CMG, DDD, EDU, GMCR, MCD (Strangle), PCLN (Strangle), SPY.
Trades Today: Bought MCD straddle, short MCD strangle, bought WMB calls, long PCLN straddle, short PCLN strangle. Bought LNKD call calendar, added to TUMI long, bought GMCR put diagonal.
I wrote this article myself, and it expresses my own opinions. I am not receiving compensation for it (other than from Seeking Alpha). I have no business relationship with any company whose stock is mentioned in this article.
Disclaimer: The opinions in this document are for informational and educational purposes only and should not be construed as a recommendation to buy or sell the stocks mentioned or to solicit transactions or clients. Past performance of the companies discussed may not continue and the companies may not achieve the earnings growth as predicted. The information in this document is believed to be accurate, but under no circumstances should a person act upon the information contained within. I do not recommend that anyone act upon any investment information without first consulting an investment professional as to the suitability of such investments for his or her specific situation.