A key component in any investment analysis for investors and traders alike is the availability of supply of both a company's products and their shares. In the case of BlackBerry (NASDAQ:BBRY), both shares and the new Z10 smartphones are in tight supply thereby limiting sellers.
Widely known for being bearish on BlackBerry, Forbes writer, Eric Savitz, recently only told half the story when he reported today several bearish analysts anecdotally have said that BBRY is restricting supply in the UK and Canada. However, mobile operators are saying the opposite. According to a Bloomberg report, operators in both countries are reporting sell outs. Moreover, when one wants to leave a comment on Savitz article, a quick "sorry comments are closed" pop-up appears. Come on Eric, join the age of open interactivity and don't be afraid of the truth. See photo:
(click to enlarge)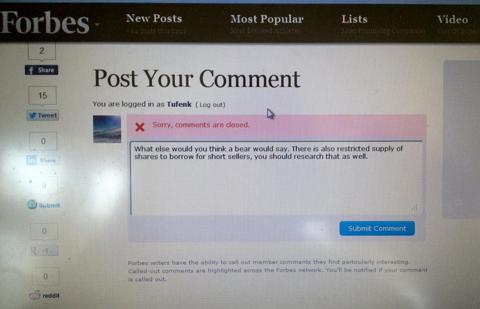 We checked our channels late yesterday and now believe that the short interest has grown since Monday and from the last reported number on January 15th. The negative rebate (the cost to borrow shares that are in high demand to short) continues to rise since our last article at different "Wire Houses" with our last source claiming they were only available to borrow 30,000 shares firm wide on Tuesday. For a company with 540 million shares outstanding, 30,000 shares is a very small "batch" to offer customers who are exclusively hedge funds.
The shortage of shares in turn gives the short desks at "Wire Houses" the ability to re-price the negative rebate (the cost to borrow shares that are in high demand to short) upwards as demand for borrowed shares increases. Short sellers are increasingly subjecting themselves to rising BBRY share prices because of reports of Z10 selling well and in the case of the white version selling out in the UK. The Associated Press interviewed BBRY CEO Thorsten Heins yesterday in Canada at the Canadian launch of the new smartphone. Some notable quotes from the interview include:
"It's beyond expectations," Heins said. "White is sold out already. The black is hard to stock up again. It's very encouraging. I won't share the number because I need to verify it, but we are getting a substantial number of users moving from other platforms to BlackBerry."
And Regarding the possible sale of the company, Heins performed his fiduciary obligations very well by stating:
"The recognition for BlackBerry 10 and what we built is pretty high. We got good reviews," he said. "That moves you into the middle of the radar screen so I expect some activity around it but we'll look at it one by one. We'll assess it and we'll make decisions with the board on what make sense."
To be fair, short selling takes a skill resembling that of a canary in a coal mine. The information available from the market place on short sales is stale by the time it is published. The last information available on shares sold short is January 15th, 2012 for any company. Clearly, with a stock trading 123 million share just yesterday, January 15th reported 135 million shares short could be a vastly different. Availability of borrowed stock for a short seller comes from shares held in margin accounts. Institutions can constrain supply by moving shares into cash accounts, thereby making shares for borrow harder to find. Short sellers are trying desperately to keep a lid on share prices by selling shares in pre-market this morning with shares as we write this article down $.68 in a typical non-liquid pre-market trading session. We have a suggested song for shorts in the BBRY name: Maroon 5's "Harder To Breathe."
Short sellers' should not take comfort in Dan Nile's interview with CNBC's Fast Money yesterday where he asserted his claim:
"I don't see how you can't be a bear longer-term,"
He continued:
"You don't buy a phone to make phone calls anymore," he added. "You buy them to run applications, and if you're a software developer, you build applications for where the market is. The most profitable market is for iPhone, so it's on Apple. The next one is on Android."
First of all, Dan has been known to change his mind on the fly as he did with Facebook (NASDAQ:FB) when he went from a short position to a long position. Secondly, I disagree that all I need my phone for is apps. I need my phone for making calls and messaging first and foremost. It's my communicator. If you do that well, you are my companion. Dan is out of his league about understanding the BB10 QNX platform and its easy porting capabilities which we have written about in several articles. Beware anyone who can claim "long term" trends in smartphone customer needs in technology unless his last name is Jobs.
A must read article by fellow SA contributor Greg Vousvounis does a beautiful description of the BB10 platform and why it is so different. He juxtaposes BB10 to the "Dead on Arrival" label BBRY naysayers are promoting under the banner of "700,000 apps mean game over" (that's just plain hogwash, period).
Disclosure: I am long BBRY. I wrote this article myself, and it expresses my own opinions. I am not receiving compensation for it. I have no business relationship with any company whose stock is mentioned in this article.
Additional disclosure: And want to get longer.