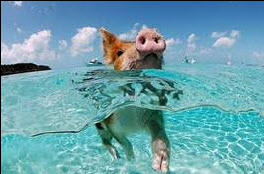 We've seen some great bullish returns from equities over the past month. It may be time for markets to take a breather and consolidate.
Nevertheless, the primary stimulus for growth remains Fed QE, to the tune of $85 billion per month. This liquidity has done what it's intended to do -- push stock prices higher. This is in contradiction to the Fed's announced intent (relieve unemployment and stimulate economic growth), but they "wink wink" know higher stock prices are the immediate result of these policies. It's quite foolish to fight this tsunami of liquidity. You can sit out the dance if you choose and rage at the machine from the sidelines (and many are), but shorting probably will cause you some pain.
That said, eventually like anything else, it will eventually end or even become tiresome and lose its impact.
To discover trend exhaustion, there are some useful technical indicators and "tells" that still "may" work.
Tom DeMark has many useful ways of spotting trend exhaustion with his systems. These can be wrong like many such indicators, and perhaps now is one of those times.
For our subscribers, we've been using the DeMark weekly sequential 9 counts to help us find useful "exhaustion" points. We raised some cash recently with weekly chart views on the Russell 2000 Index ($RUT), as shown below: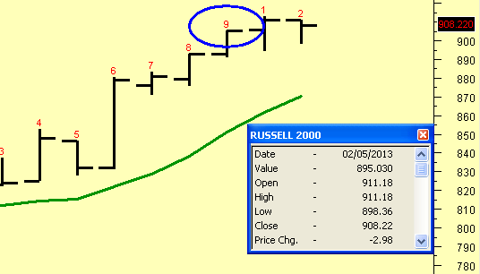 Click to enlarge
Thus far, and still with half the position intact, we're a little behind the current price. (Weekly chart doesn't reflect 2/6/2013 data yet.)
Another trend we're watching closely is what's happening with high yield bonds (NYSEARCA:HYG), for example. Junk bonds have been tracking the stock market well. So this can be a tell, showing some divergence is developing between the two sectors, as demonstrated by the daily chart view below. Note the previous lows occurred during the "fiscal cliff" stress, which correlated well with stock price movements then. But now we see separation, which is more than just a little interesting to me.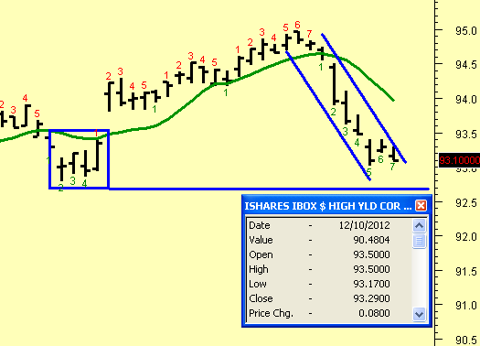 Click to enlarge
All things considered, we're about 35% in cash in our lead trading portfolio. That leaves us lagging slightly performance, as cash is a drag when stocks are in rally mode. If you're a true believer in QEternity, meaning stocks will rally until the liquidity stops, then you should be in a Lazy portfolio, of which we have six currently.
As indicated, stocks rested on Wednesday since there was little news beyond more QE. (The phrase of the day was stocks "eked out gains.") It's reported that 75% of S&P 500 stocks are beating earnings expectations. Pardon my cynicism, but this is the game played during every earnings season. It's the tango danced between corporate CFOs and the analysts covering the stocks. They give poor hand wringing guidance, then analysts will lower expectations and "presto!" there are beats. Stocks then rally, CEOs get pats on the back and more potential bonus money.
There was little in the way of leadership in markets Wednesday, as no sector stood out.
Remember with lower volume and HFTs ubiquitous, there's little the algos have to worry about, especially since they generally close shop the end of each day. Looming in the future is the so-called congressional "sequester," which is just a couple of weeks away. There's a political scramble to extend it, and current pols are wondering why they even instituted it.
Volume, as I've been indicating is back to 2006 levels, and showed that again Wednesday. Breadth per the WSJ was positive.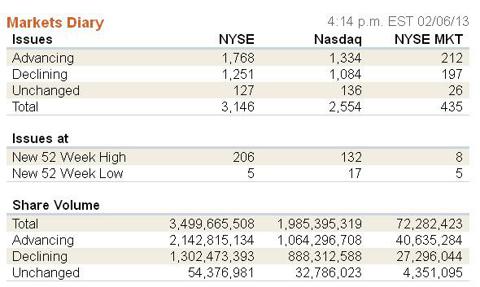 Click to enlarge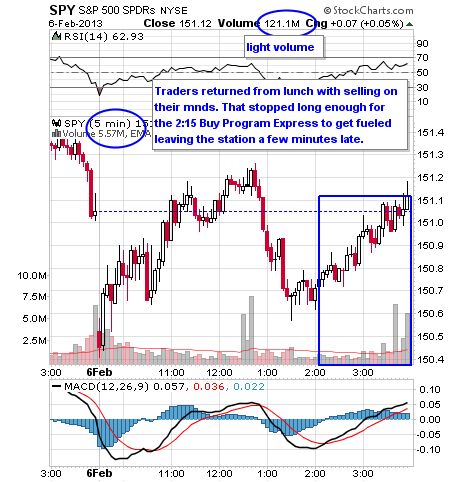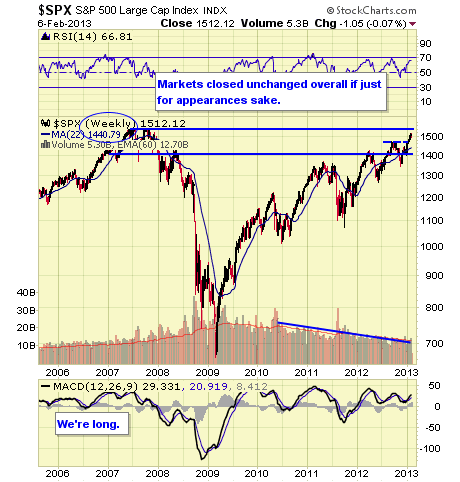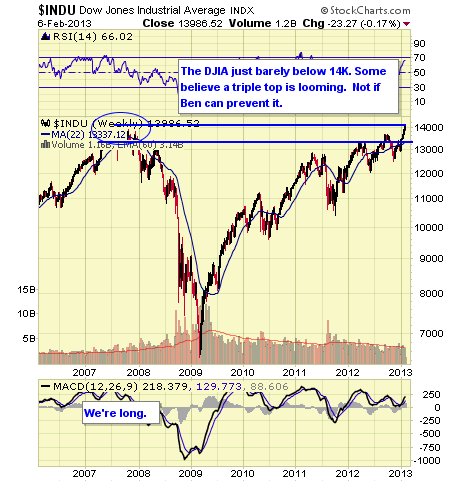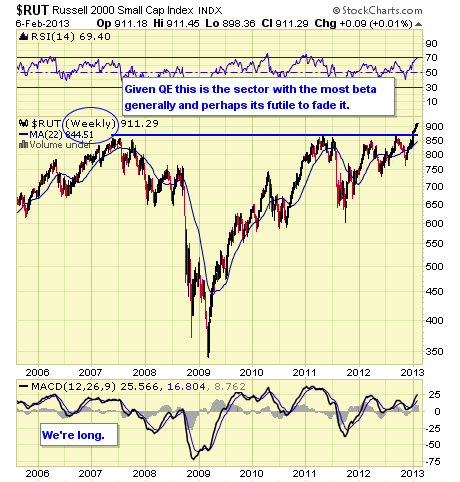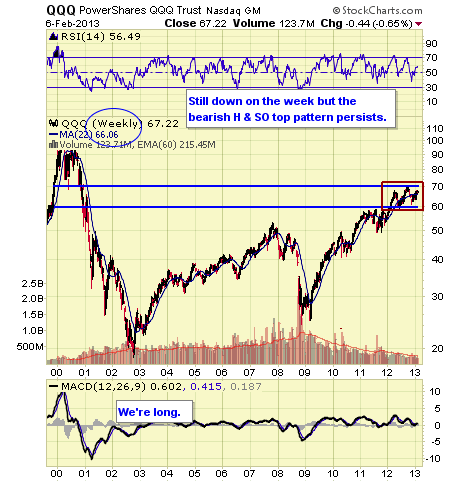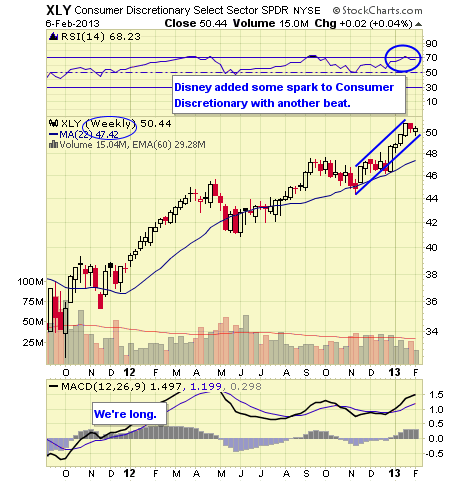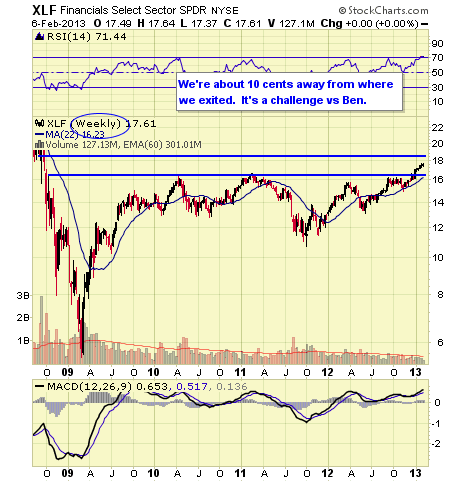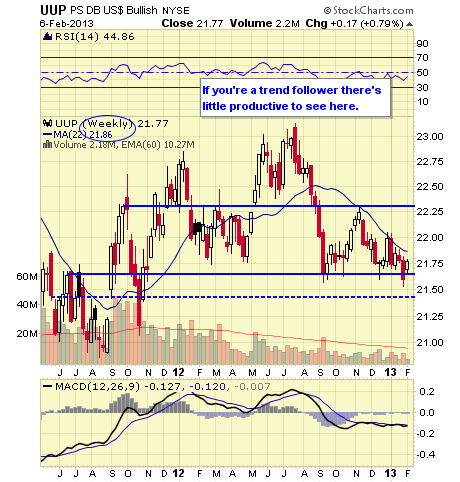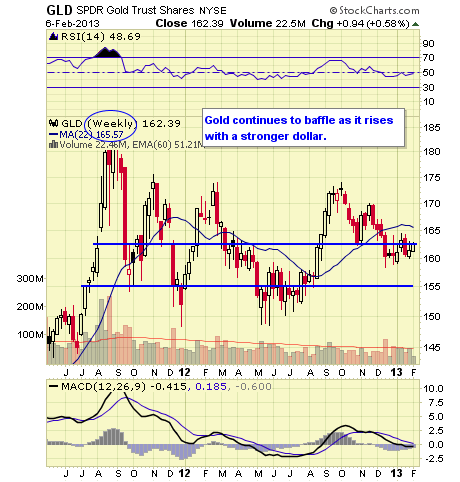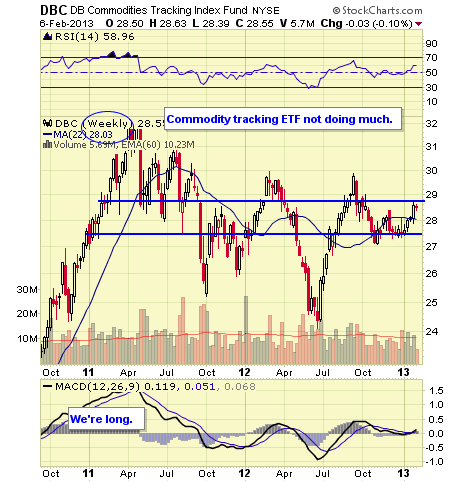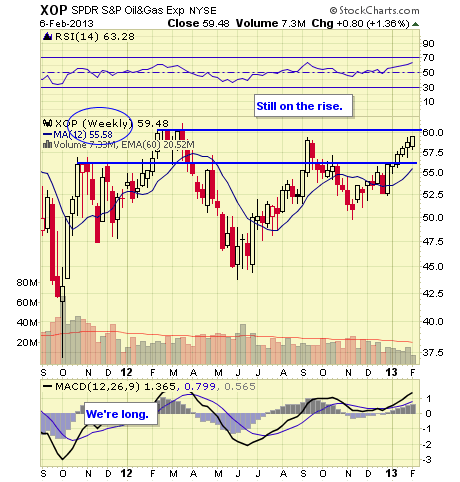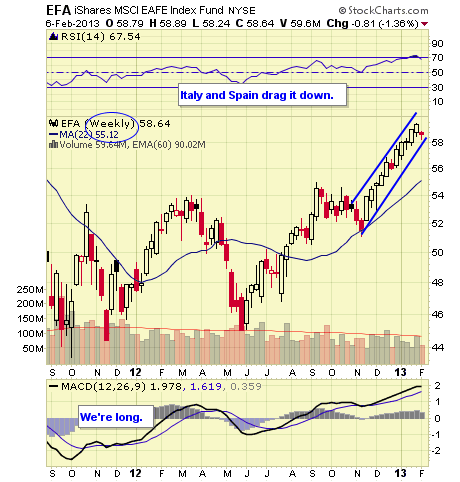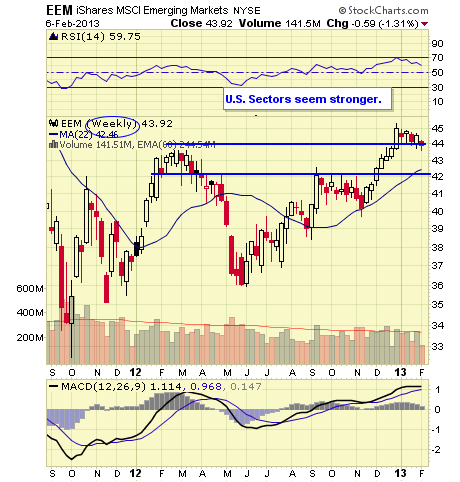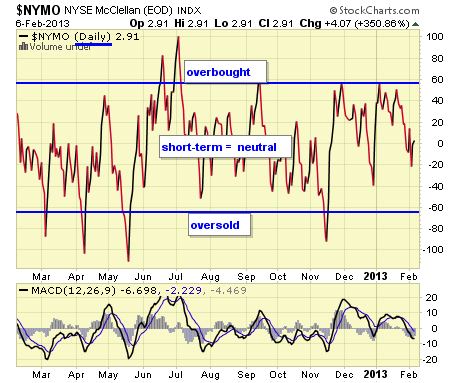 The NYMO is a market breadth indicator that is based on the difference between the number of advancing and declining issues on the NYSE. When readings are +60/-60, markets are extended short term.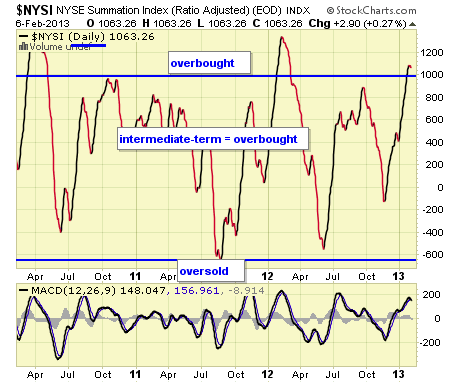 The McClellan Summation Index is a long-term version of the McClellan Oscillator. It is a market breadth indicator, and interpretation is similar to that of the McClellan Oscillator, except that it is more suited to major trends. I believe readings of +1000/-1000 reveal markets as much extended.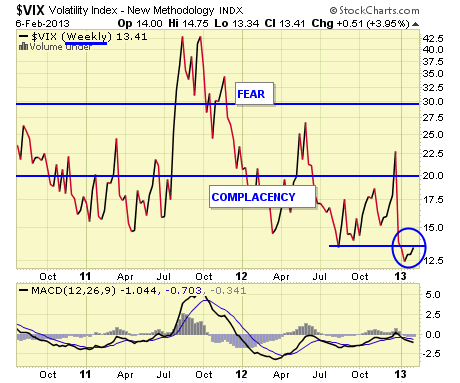 The VIX is a widely used measure of market risk, and is often referred to as the "investor fear gauge." Our own interpretation is highlighted in the chart above. The VIX measures the level of put option activity over a 30-day period. Greater buying of put options (protection) causes the index to rise.
Concluding Remarks
Thursday will bring Jobless Claims and Productivity & Costs. Compared with last week, there has been little in the way of economic data.
More earnings news will roll out, and that could have some impact.
Let's see what happens.
Disclaimer: The ETF Digest maintains an active ETF trading portfolio and a wide selection of ETFs away from portfolios in an independent listing. Current "trading" positions in active portfolios, if any, are embedded within charts: Lazy & Hedged Lazy Portfolios maintain the follow positions: VT, MGV, BND, BSV, VGT, VWO, VNO, IAU, DJCI, DJP, VMBS, VIG, ILF, EWA, IEV, EWC, EWJ, EWG, & EWU.
The charts and comments are only the author's view of market activity and aren't recommendations to buy or sell any security. Market sectors and related ETFs are selected based on his opinion as to their importance in providing the viewer a comprehensive summary of market conditions for the featured period. Chart annotations aren't predictive of any future market action rather, they only demonstrate the author's opinion as to a range of possibilities going forward.

Disclosure: I am long EFA, DBC, XOP. I wrote this article myself, and it expresses my own opinions. I am not receiving compensation for it. I have no business relationship with any company whose stock is mentioned in this article.