Though I was stopped out of them a few times earlier this year, I now have approximately one quarter of my speculative portfolio allocated to long positions in junior gold miners. Here's why:
The fundamental backdrop is extremely supportive. A few weeks ago, I expected the dollar to soften as the U.S. government stretched its balance sheet beyond belief. This, of course, was wrong — not because the dollar is a safe haven but rather because other countries are also in dire straits. The United States has no monopoly on currency devaluation. Its a global phenomenon, and most countries are participants. Only one currency cannot be devalued by governments: gold. Unlike fiat currencies, it is not vulnerable to the best laid plans of mice and men.
The fundamentals also look strong on a micro level. I'm not referring to a discounted cash flow analysis, or anything like that. Rather, I mean that it is cheaper for the majors to buy juniors at these levels than it is for them to explore and develop new properties.
The technical picture for gold itself is strong. Boosted by a nearly 5% leap Friday, the gold ETF (NYSE:GLD) broke its multi-month downtrend and closed over its 50-week moving average.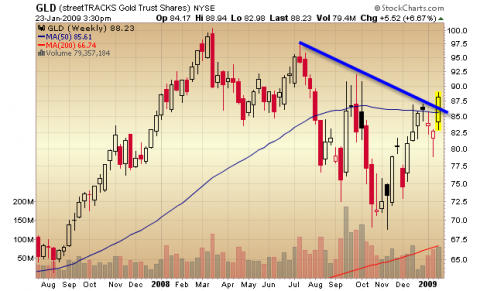 The junior miners are trading well. Most junior miner stock charts show positive patterns. In the aggregate, they seem to indicate a modest return of speculative interest to the sector. Below are charts of four junior miners that I own. Also listed are the latest news items for each, reflecting the generally positive tilt of newsflow from junior miners.
1. New Gold (AmEx:NGD)
Market cap: $363.96M (per Yahoo!)
Latest news:
New Gold Exceeds 2008 Production Guidance and Boosts 2009 Forecast
New Gold to buy back notes at discount to reduce debt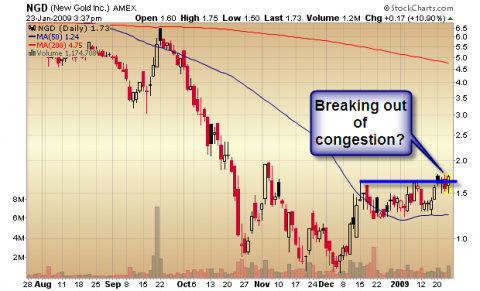 2. Banro Corp. (AmEx:BAA)
Market Cap: $48.26M (per Google Finance - note may not reflect recent financing)
Latest news:
Banro Increases Measured and Indicated Mineral Resources at Twangiza
Banro intercepts broad zones of gold mineralization at Lugushwa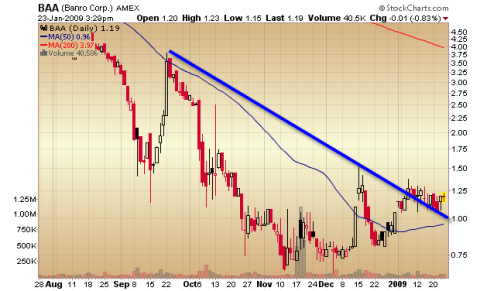 3. Golden Star Resources (AmEx:GSS)
Market cap: $283.13M (per Yahoo!)
Latest news:
Golden Star Resources upgraded by Canaccord Adams

4. U.S. Gold (AmEx:UXG)
Market Cap: 120.84M (per Yahoo!)

Latest news:
U.S. Gold Corp. - El Gallo: Two New High-Grade Areas Discovered
US Gold Intersects Impressive High-Grade
DISCLOSURE: Long GSS, UXG, BAA, NGD. No position in GLD.