Less than an hour before the market close on Friday 1st February 2013, the notorious National Inflation Association (NIA) newsletter announced its latest stock suggestion Concurrent Computer Corporation (NASDAQ:CCUR). On that day, CCUR (which previously had low volume, averaging just a few thousand shares traded each day) traded an impressive 1,059,613 shares, as a result of NIA sending out emails announcing CCUR as its latest pick. A chart of CCUR on Friday shows very clearly the buying power NIA can bring in as soon as it launches a new stock pick: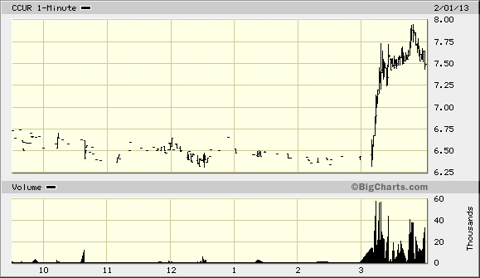 An overview of CCUR
CCUR operates in the TV Everywhere industry. Through its MediaHawk product, CCUR develops technology to deliver video to "any screen, over any network." CCUR has a similar product to Synacor Inc (NASDAQ:SYNC), NIA's previous promotion. The NIA also compares CCUR to SeaChange (NASDAQ:SEAC), a stock that they had briefly profiled in the past, in their initial CCUR promotional email. Apart from its TV Everywhere products and solutions, which is the main segment of their business, CCUR also has a business called "Real-Time", which has applications in flight and car simulation devices.
CCUR has a number of prolific clients including Time Warner Inc (NYSE:TWX) (one of the original pioneers of TV Everywhere), Cox Communications, Rogers Communications Inc (NYSE:RCI), J-COM Holdings, Bright House Networks, and General Electric (NYSE:GE) (for its Real Time business).
CCUR recently announced its earnings for its second fiscal quarter 2013 ended December 31st 2012, where revenue was $16.6 million (compared to $16.4 million in the same period of 2012) and net income was $673,000 (compared to a loss of $833,000 in the same period of 2012). At December 31st 2012, CCUR had very healthy cash and cash equivalents of $24.6 million. Regarding the most recent earnings, CEO Dan Mondor said the following:
"I am pleased with the operating results in the second quarter, which marked our fourth consecutive quarter of profitability. Continued focus on improving our operating model through cost reduction and process improvements allowed us to generate increased value for our shareholders."
CCUR may have been fairly valued at the price NIA first announced it, at around $6.40. From now on, however, anyone considering investing in CCUR at a higher price must be aware of how the NIA operates, and how some of their past stock promotions have performed.
Why Investors Have To Be Cautious With CCUR
I expect that the price action for CCUR in the months to come will not be dictated so much by material developments, but rather hype and speculation generated by the NIA newsletter. The NIA has proven that it has a talent for stock manipulation and it has the ability to seriously influence a stock price. I strongly advise CCUR investors to read this article I published a few weeks ago, which outlines how the corrupt NIA newsletter had relentlessly promoted SYNC and caused millions of dollars in investor losses:
Synacor And The NIA: A Tale Of Losses And Red Flags
As the article explains, the NIA makes money by buying huge positions in the stocks it promotes (in the case of CCUR it is 360,336 shares as disclaimed in their initial email, a position currently worth millions of dollars) and then selling its position after pumping the stock up (I strongly suspect they also make money through third party payments and other avenues, although though nothing else is disclaimed). Last year, the NIA promoted Broadvision (NASDAQ:BVSN) and SYNC, which both had strong runs before falling back down:
BVSN chart (first promoted by the NIA in January 2012)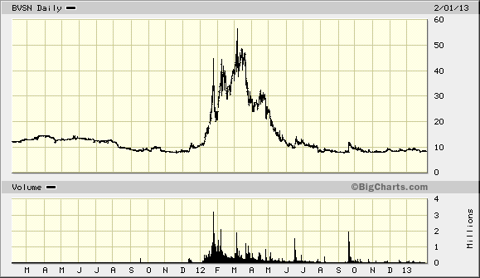 SYNC chart (first promoted by the NIA in May 2012)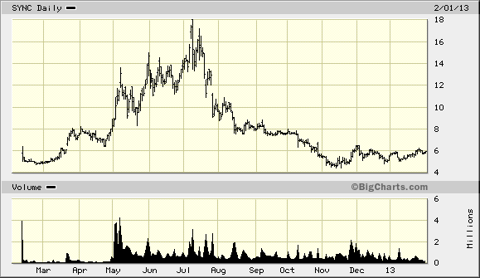 With both BVSN and SYNC, the NIA newsletter sent an enormous amount of emails over the course of a few months (in the case of SYNC, several hundred emails per subscriber) encouraging its subscribers to buy, resulting in massive volume and price fluctuations. Those who brought once the NIA announced the stock and held for a few months saw huge percentage gains before the stocks then fell back down. There is no doubt in my mind that NIA now intends to spend the next few months sending hype-filled emails promoting CCUR and highlighting its every minor piece of news, hoping to run it up to a higher price where they can sell their large position.
Will CCUR behave like past NIA-promotions?
CCUR certainly began like the past NIA promotions BVSN and SYNC, spiking upwards quickly upon announcement from the NIA that it was their latest promotion. Many traders were quick on the trigger to buy CCUR early on and were able to get filled in the mid to high $6's, selling minutes later for gains of nearly $1/share. Now that that opportunity has passed, the question is how CCUR will behave from here.
While past performance is not indicative of future returns, it is certainly possible that CCUR will go on a similar run to BVSN and SYNC, going well above its initial pre-NIA price of $6.4, up to perhaps $10 to $20 (though at this stage I am certainly not going to make any predictions). I expect there will be several opportunities to trade CCUR from here on, either by buying the stock on clear breakouts, shorting (assuming shares become available to borrow) if the stock goes on a big run upwards, or buying bounces. I will not buy CCUR expecting it to steadily increase in price over the next couple of months, the same way BVSN and SYNC did. It is questionable whether the NIA will be able to bring in the same kind of volume to CCUR as they did with BVSN and SYNC, or even that they will continue to be in business at the end of this year. CCUR will likely be a volatile stock that only smart traders will profit from.
How to lose money on CCUR: holding and hoping
The surest way to lose money on CCUR is to buy if and when the stock is at a far higher price than when the NIA initially profiled it, and hold even if the stock is clearly running out of steam. The aim of the NIA newsletter is to convince you to buy CCUR, not to help make you money. Even if CCUR goes on a huge run and becomes terribly overvalued, the NIA will continue trying to bring in buyers to the stock, as they did with SYNC when it hit its highs of $18 (now around $6) and BVSN at its highs of around $50 (now less than $10). Do not buy and hold CCUR if it is ever trading at a high price - it will very likely come back down, just like all promoted stocks. Millions of dollars were lost from investors who brought BVSN and SYNC at high prices and held through their collapses, while the smart traders made profits shorting at the highs. It is my hope that this article will prevent at least one person from losing a lot of money by buying CCUR at a high price and refusing to cut losses.
Disclosure: I have no positions in any stocks mentioned, and no plans to initiate any positions within the next 72 hours. I wrote this article myself, and it expresses my own opinions. I am not receiving compensation for it (other than from Seeking Alpha). I have no business relationship with any company whose stock is mentioned in this article.