<<Return to Page 1- Global Markets in Review: Investors Favor Safe Havens
A number of global stock markets - Germany, France, Belgium, Finland, Ireland and Venezuela - have actually already broken below their November 20 lows. Although a retest of the lows is often a feature of base formation development, it can also be a harbinger of the resumption of a downtrend.
Donning his customary bearish outfit, Albert Edwards of Société Générale, a favorite market strategist among Investment Postcards' readers, said:
After increasing our equity exposure at the end of October we believe that the market is set to quickly slide sharply towards our 500 target for the S&P 500.

While economic data in developed economies increasingly reflect depression rather than a deep recession, the real surprise in 2009 may lie elsewhere. It is becoming clear that the Chinese economy is imploding and this raises the possibility of regime change. To prevent this, the authorities would likely devalue the yuan. A subsequent trade war could see a re-run of the Great Depression.
According to Jeffrey Hirsch (Stock Trader's Almanac), the December Low Indicator says that should the Dow Jones Industrial Index close below its December low anytime during the first quarter, it is frequently an excellent warning sign. This came to pass on Tuesday when the Dow closed below its December low of 8,149 (recorded on December 1).
Also of concern to Hirsch is the January Barometer, stating, "As January goes, so goes the year." Every down January since 1950 has been followed by a new or continuing bear market or a flat year. On Friday the S&P 500 closed at 832, 7.9% lower than the December 31 close.
From across the pond David Fuller (Fullermoney) commented that one could not rule out an overcorrection by the S&P 500 to 600 (as suggested by Jeremy Grantham in his latest quarterly newsletter):
...although the downside move to date is still quite overstretched relative to the 200-day moving average. Fundamentals will not determine the actual low, in my opinion, whether already seen or pending. That will be determined by sentiment and liquidity, as always. Currently, sentiment is diabolical but liquidity is increasingly abundant.

From an investment perspective, my preferred strategy would be to nibble on high-quality equities with decent and well-covered yields.
On the back of the bullion price increasing by 6.9%, the Gold Bugs Index (+10.6%) was one of the top-performing industry groups for the week. The venerable Richard Russell said:
The [gold] market always does what it's supposed to, but never when. Is it 'when time' for gold? It looks like the long erratic correction in gold is over.

Gold is pushing up consistently now - the first upside target is to better the 900 level which will take gold above the two preceding peaks. If gold can move above the 900 level (we're close), I think there is a good chance it will test the highs. Up until now, gold's progress has been halted, every advance corrected. Gold appears to advance more easily now and the gold stocks are going along with the bullion.
click to enlarge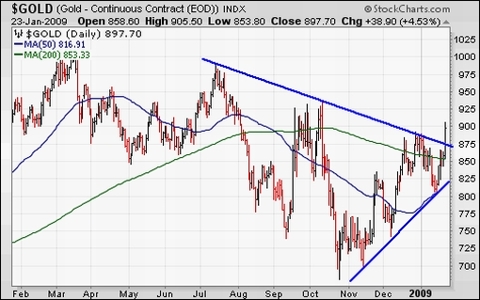 According to US Global Investors - Weekly Investor Alert, David Rosenberg of Merrill Lynch on Friday sent out a research note titled, "The case for gold," explaining that gold's value is enhanced by declining bullion supply and increasing money supply.
James Montier of Société Générale added:
Gold kind of scares me because very often the people involved with it seem to be slightly insane. My other problem is I don't know how to value it. That said, I can certainly see why gold could be considered somewhat of an insurance policy, if not an investment in its own right. Any kind of systemic economic turmoil is likely to drive gold prices higher.
For more discussion about the direction of stock markets, also see my post "Video-o-rama: Wishing you well, Mr. O."
Economy
According to the latest Survey of Business Confidence of the World conducted by Moody's Economy.com:
Global businesses remain darkly pessimistic. Sentiment was at its worst in mid-December, but has improved only marginally since then. European and South American businesses are most worried, followed by North America; Asian companies are negative but less so. Pricing power has collapsed, suggesting that deflation is increasingly likely.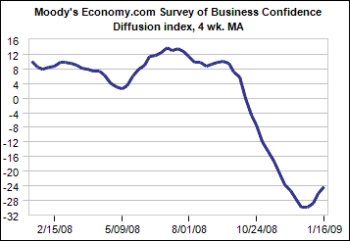 The latest U.S. economic reports also indicate that the intensity of the economic downturn shows no sign of letting up. Homebuilding descended to an unprecedented post-war low, the National Association of Home Builders (NAHB) housing market index again reached a new low, and the ABC/Washington Post Consumer Confidence Index remained near its all-time lows. Interestingly, no president has entered office with such a poor level of consumer confidence since the beginning of the Survey in 1985.
Regarding the meeting of the Federal Open Market Committee (FOMC) on January 27 and 28, Asha Bangalore (Northern Trust) said:
The policy statement will be the first following the zero interest rate policy adopted at the last meeting. The explicit hint about the Fed's future course of action in the December 16, 2008 policy statement read as follows:

'The Federal Reserve will employ all available tools to promote the resumption of sustainable economic growth and to preserve price stability. In particular, the Committee anticipates that weak economic conditions are likely to warrant exceptionally low levels of the federal funds rate for some time.'

We will be paying close attention to whether the Fed will retain or rephrase this part of the policy statement. With regard to the Fed's views about economic growth and inflation … we do not expect radical modifications of the entire policy statement.
Elsewhere in the world, evidence mounted that the recession was spreading and deepening.
The U.K.'s real GDP contracted by 1.5% in the fourth quarter, following a 0.6% decline in the third quarter. The data confirmed the first U.K. recession since 1991.
China's real GDP declined by 6.8% year on year in the fourth quarter. However, when recalculating China's growth rate on a quarter-on-quarter annualized basis, like most other countries do, commentators are of the opinion that the Chinese economy might already be contracting.
Japan recorded a fifth consecutive monthly trade deficit in December, marking the worst year for exports on record. Exports contracted by 35% year on year, compared with a 16% expansion as recently as July.
click to enlarge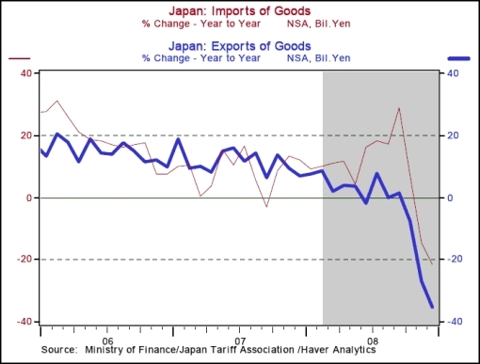 Summarizing the economic situation, Nouriel Roubini (RGE Monitor) said:
The US economy is, at best, halfway through a recession that began in December 2007 and will prove the longest and most severe of the post-war period. Credit losses of close to $3 trillion are leaving the US banking and financial system insolvent. And the credit crunch will persist as households, financial firms and corporations with high debt ratios and solvency problems undergo a sharp deleveraging process.

Worse, all of the world's advanced economies are in recession. Many emerging markets, including China, face the threat of a hard landing. Some fear that these conditions will produce a dangerous spike in inflation, but the greater risk is for a kind of global 'stag-deflation'. We're likely to see vulnerable European markets (Hungary, Romania and Bulgaria), key Latin American markets (Argentina, Venezuela, Ecuador and Mexico), Asian countries (Pakistan, Indonesia and South Korea), and countries like Russia, Ukraine and the Baltic states facing severe financial pressure.

The world's first global recession is just getting started.
Week's economic reports
Click here for the week's economy in pictures, courtesy of Jake of EconomPic Data.
| | | | | | | | |
| --- | --- | --- | --- | --- | --- | --- | --- |
| Date | Time (NYSE:ET) | Statistic | For | Actual | Briefing Forecast | Market Expects | Prior |
| Jan 21 | 10:35 AM | Crude Inventories | 01/16 | - | NA | NA | NA |
| Jan 22 | 8:30 AM | | Dec | 549K | 610K | 600K | 615K |
| Jan 22 | 8:30 AM | | Dec | 550K | 605K | 605K | 651K |
| Jan 22 | 8:30 AM | | 01/17 | 589K | 540K | 543K | 527K |
| Jan 22 | 11:00 AM | Crude Inventories | 1/16 | 6.10M | NA | NA | 1.14M |
Source: Yahoo Finance, January 23, 2009.
In addition to the interest rate announcement by the FOMC (Wednesday, January 28), the US economic highlights for the week, courtesy of Northern Trust, include the following:
Leading Indicators (January 26): Consensus: -0.3% versus -0.4% in November.
Existing Sales (January 26): Consensus: 4.40 million versus 4.49 million in November.
New Home Sales (January 29): Consensus: 400,000 versus 407,000 in November.
Durable Goods Orders (January 29): Consensus: -2.0% versus -1.5% in November.
Real GDP (January 30): Northern Trust: -4.5% Consensus: -5.4% versus -0.5 in Q3.
Other reports: Consumer Confidence (January 27); Consumer Sentiment Index and Employment Cost Index (January 30).
Click here for a summary of Wachovia's weekly economic and financial commentary.
Markets
The performance chart obtained from the Wall Street Journal Online shows how different global markets performed during the past week.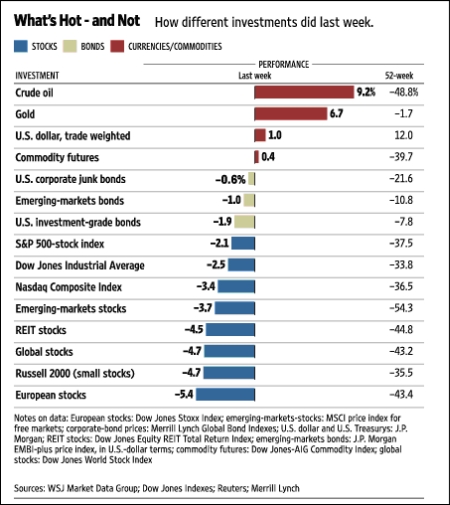 Source: Wall Street Journal Online, January 23, 2009.
Bernard Baruch said:
If you get all the facts, your judgment can be right; if you don't get all the facts, it can't be right.
Hopefully the "Words from the Wise" reviews offer assistance to Investment Postcards' readers in compiling the facts.
That's the way it looks from Cape Town.