Pre-market Friday morning after record earnings National Oilwell Varco (NYSE:NOV) rose about 2.5%. After the market opened the price crashed 6%. It has continued to go down the past couple of sessions. This created an excellent buying opportunity for those who have been sitting on the side line waiting for the right moment. Well that moment is now.
Fundamentals
National Oilwell Varco reported earnings of $5.91 a share for the 2012 FY. This is an increase of 24% from FY 2011. Current estimates for 2013 and 2014 are $6.31 and $7.15, a growth rate of 6.73% and 13.73%, respectively.
At a price of $67.90 (Wednesday's open) the company is trading at a P/E of 11.49. The annual growth for the next 5 years is estimated at 16.70%. This gives us a PEG of .68. From the PEG we get a "Fair Market Value" based on growth of about $100.00.
I've seen some people mention that Mr. Buffet owns this stock for Berkshire Hathaway (NYSE:BRK.A) (NYSE:BRK.B) but haven't seen anyone run the Graham Number so here it is. Yes, I know Graham has many other criteria in selecting a stock. However, at a quick glance the Graham Number alone is an excellent tool to gauge the value of a stock.
Square root of (22.5 x Earnings per Share x Book Value per Share)
Or Square root of (22.5 x 5.91 x 74.41) = $79.65
From this we get a Graham Number of $79.65. Conservatively, from a value standpoint, this is the most that should be paid for this stock.
Technicals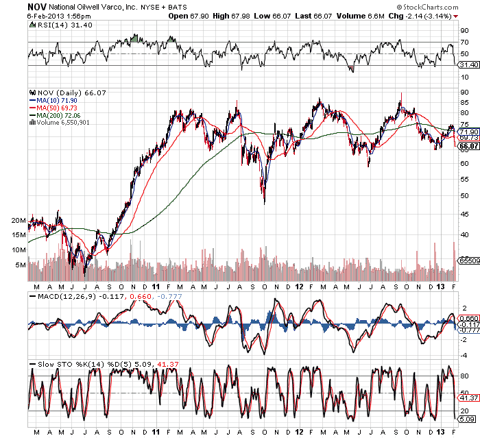 On the chart we see a long term pattern. The stock tops out at around $90.00 a share it's been like this for the past three or four years. We can draw a line of resistance at around $90.00 a share, under our fair market growth price of $100.00.
There also seems to be a trending line of support going back three to four years as well as the stock is creating higher lows. We had our previous low of about $64.75 on December 14th. I do not see the price going below this. If it does go lower, it should not go much lower.
From the chart we see an ascending triangle pattern forming forecasting this stock will eventually break the $90.00 resistance, sending this stock higher.
Conclusions
To pick a stock I first look at the fundamentals of a company. Is the company making money and will it continue to do so in the future at a reasonable growth rate? I also check the Graham Number. If a price is considerably above the graham number I move on to the next candidate. I like to see the Graham Number lower than the PEG growth number. It shows me that the stock is still growing. I like it even better if the current price is below the graham number, the more conservative of the two. There are other things I look at but these are usually the first two.
I then look at the chart and try to gauge when a good time to buy is. I know I'm not going to buy the absolute bottom, but I'd like to come as close as possible. I also do not want to try and chase the stock as it's rising or catch a falling knife.
National Oilwell Varco is a stock that is going to take a couple of years to break through the $90.00 resistance level. I do not see it happening this year. Maybe one or two more bounces before it goes past the ceiling it has set for itself. I do not believe this is a stock to actively trade however, I'm sure others may disagree. I see National Oilwell Varco as a sound long term investment and that's why I bought it.
Disclosure: I am long NOV. I wrote this article myself, and it expresses my own opinions. I am not receiving compensation for it (other than from Seeking Alpha). I have no business relationship with any company whose stock is mentioned in this article.
Additional disclosure: I have expressed only some of the criteria I use to decide if a stock is right for me. I always recommend conducting one's own research before making any investment decisions.