Target (NYSE:TGT) has played second fiddle to Walmart (NYSE:WMT) in the past, but I don't think that this trend will continue. Target has the potential to outperform its larger rival in 2013 and beyond. Target and it competitors have performed well in the past year. Target is up 20% from this time last year, Walmart is up 14%, and Costco (NASDAQ:COST) is up 21.5% from last year. Walmart is battling numerous scandals, which gives Target an edge over the company. Costco's valuation is also much higher than Target's valuation. Target has the biggest potential of the three retailers.
Competitors
Target's arch rival is Walmart and more recently Costco has become a competitor for the retailer. The company is also being challenged by the Amazon (NASDAQ:AMZN) for online sales. Although Walmart has performed well in the past, the company is currently battling numerous scandals. In November, 112 Bangladesh workers were killed when an apparel factory that is a supplier for Walmart burnt to the ground. According to the New York Times, a Walmart official played a leading role in blocking an effort to have global retailers pay more for fire safety in Bangladesh. Walmart is also dealing with allegations that the company bribed Mexican officials to quicken growth. The bribery scandal could cost the company 4.5 billion dollars. Despite these scandals, Walmart does have solid fundamentals. The TTM P/E ratio is 14.59 and the P/S ratio is .51. However, Walmart has a forecasted EPS growth rate (5 year) of 9.73%, but Target has a projected growth rate of 12.19%. Costco, a wholesale retailer, has become one of Target's top competitors lately. However, the valuation for Costco is much higher than Target. Costco's P/E ratio is 24.63 and the TTM P/E ratio for Target is 13.84. The forward P/E ratio is in the low 20s for Costco and the low teens for Target. Despite the big difference in P/E ratios, Costco and Target have similar projected growth rates. Amazon is another threat to Target, but the stock has a sky high valuation. Online sales taxes could also threaten Amazon's business model.
Valuation
The stock appears to be undervalued. The stock's TTM P/E of 13.84 is lower than the industry average of 16.50. The P/S ratio is .57 and the stock's PEG ratio is close to 1. The stock has the potential for EPS growth that is higher than its competitors over the next 5 years. The forward P/E ratio is 12.90.

Click to enlarge
Fundamentals
The company has great fundamentals. The company's TTM revenue is 71.86 billion. As shown in the graph below, the company's TTM revenue is approaching 5 year highs. The leveraged free cash for the company 2.95 billion. The dividend yield is 2.4% and the payout ratio is 28%. The debt to equity ratio is 1.135, which is displayed in the chart below. The debt to equity ratio has sharply decreased since the financial crisis.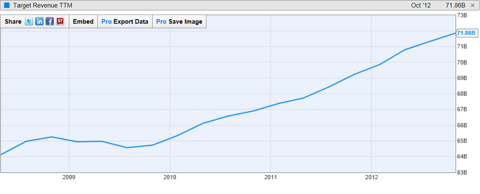 Click to enlarge

Click to enlarge
Target's Future
Target will continue to expand and diversify in the future. Target will offer their customers the services of the well known Geek Squad brand in the near future. Unlike Walmart, Target is not struggling with a bad brand image. Fortune magazine recently ranked Target as its 25th most admired company. Target is expanding domestically as well as globally. In 2011, Target opened 21 new stores, many of which were in large metropolitan areas. The company plans to open 125 to 135 stores in Canada. Over time, Target believes that they will profitability operate 200 stores in Canada. The company also launched CityTarget stores in 2012. As shown in the infographic below, Target's sales comes from diverse sources.

Click to enlarge
Source: from Target investor relations
Conclusion
Target has big potential. The stock has performed well over the past few years, but that trend can certainly continue. Target's stock is much more attractive than any of its competitors. Unlike Walmart, Target's growth is just getting started. Walmart's store count will soon slow because of oversaturation. Target is just now starting to expand globally into places like India and Canada. The projected growth rate of the company is higher than many of its competitors. The stock still has room to rally despite the big gains that the stock has seen in recent years.
Disclosure: I have no positions in any stocks mentioned, and no plans to initiate any positions within the next 72 hours. I wrote this article myself, and it expresses my own opinions. I am not receiving compensation for it (other than from Seeking Alpha). I have no business relationship with any company whose stock is mentioned in this article.