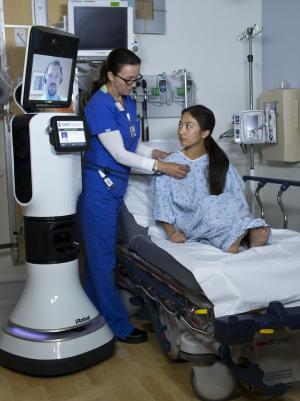 Recently, shares of iRobot (NASDAQ:IRBT) shot up on news that the FDA had approved its RP-VITA navigation robot. The company behind the Roomba vacuums will now be coming to a hospital room near you. Before then, you should consider investing in the company as it will see record revenue and a growing new source of income.
The FDA granted approval to iRobot for the first autonomous navigation robot. The device will serve as a remote doctor to patients in rooms. The device is fully compatible with an iPad interface. RP-Vita stands for remote presence virtual and independent telemedicine assistant. Devices will help monitor patients during preoperative, perioperative and post surgical settings.
The RP-VITA was developed in a partnership with InTouch Health. InTouch is a leader in the field of telemedicine and has strong partnerships with hospitals. Over 10% of hospitals in the United States use products from InTouch in this growing field. InTouch has previous experience with telemedicine devices that are in over 600 hospitals.
ABI Research has estimated the remote presence market to reach $13 billion globally by 2017. They list segments as hospitals, businesses, home health, and security, as possible markets for devices. iRobot already has relationships with security companies, which will help it get into that segment. The new RP-VITA will likely lead to other devices that can be used with businesses and homes. The market is clearly in its infancy and the partnership with InTouch should help iRobot dominate the hospital market.
Chief executive officer Colin Angle had this to say about the approval:
FDA clearance of a robot that can move safely and independently through a fast-paced, chaotic and demanding hospital environment is a significant technological milestone for the robotics and healthcare industries. There are very few environments as difficult to maneuver as that of a busy ICU or emergency department. Having crossed this technology threshold, the potential for self-navigating robots in other markets, and for new applications is virtually limitless.
I bolded the key takeaways from the statement from Angle. The words significant and limitless should be bullish for investors. The device is the first of its kind and will transform both the hospital market and other areas that can use the assistant. This is what Angle is referring to with the phrase "virtually limitless".
From a revenue perspective, the device should sell well in hospitals. The device will cost $4,000 to $6,000 a month according to phys.org. This seems like a high cost for hospitals, but will save them money by utilizing less staff. It also allows hospitals to differentiate themselves and offering premium services to gain patients or become the hospital of choice. Once the device begins being sold, units will be a key number to watch for iRobot and its revenue. For iRobot, a monthly subscription will allow them to further diversify their revenue stream away from their home goods.
The interesting thing will be to see patient reception. Having a machine talk to you might come across as creepy. The missing touch or comfort of a doctor could also take away from a doctor. However, the company remains confident in the device being well received by patients and hospitals. I think in the long run patients will be happy with the device, as it will mean faster results and care while in hospital rooms. Instead of waiting an hour for a doctor to come in, patients will get quick updates or instructions from a doctor on the device.
Adoption of the machines by hospitals could also increase emergency room and surgery productivity. This would lead to shorter wait times for patients, which could make the creepiness level of the machine.
At the Needham Growth Conference, iRobot listed three main markets:
Consumer home maintenance
Emerging remote presence markets
United States and International governments
The important thing is iRobot is trying to diversify its business. In 2012, over 80% of sales came from the company's home division, while only 20% came from defense. In 2013, around 90% is expected to come from home, due to spending cuts in the government and military budgets.
Over eight million Roombas have been sold since the product launch in 2002. With the Roomba and other spin-off cleaning devices, iRobot has 8% of the vacuum market in the United States and Canada. The company continues to launch new devices, including a new pool cleaner and gutter cleaner in January.
In 2013, iRobot has forecasted revenue of $470 to $490 million. This was released during third quarter results. Analysts estimate 2013 revenue to come in at $477.3 million, representing earnings per share of $0.69. Look for iRobot to update guidance with the impact of sales from the RP-VITA. I think the company will see gradually revenue increases in the 2013 quarters before seeing a huge impact in fiscal 2014.
Shares of iRobot were down 34.5% in 2012. The company has $190 million in cash with zero long term debt. This currently equates to almost $7 per share in cash. Shares trade at around $23, down from highs in the $30s. This could be your opportunity to buy shares before analysts take note of the new segment and begin to update guidance and bullish activity on the company.
Disclosure: I have no positions in any stocks mentioned, but may initiate a long position in IRBT over the next 72 hours. I wrote this article myself, and it expresses my own opinions. I am not receiving compensation for it (other than from Seeking Alpha). I have no business relationship with any company whose stock is mentioned in this article.