In a quest to continue to provide alpha by looking at fundamentals, I wanted to take a current look into the fundamentals of stocks that have a large short position for possible upcoming squeeze plays.
After looking through a large list of stocks with significant short interest, I found myself coming across a long list of companies that I was bearish on as well. I came up with these 4 picks by researching stocks that have high short interest to float percentages, and chose 4 companies that I'm most familiar with. Rather than play the short squeeze angle, here are four of those companies that I'm bearish on and, in my opinion, deservedly have large short positions.
magicJack (CALL) (56.84%) -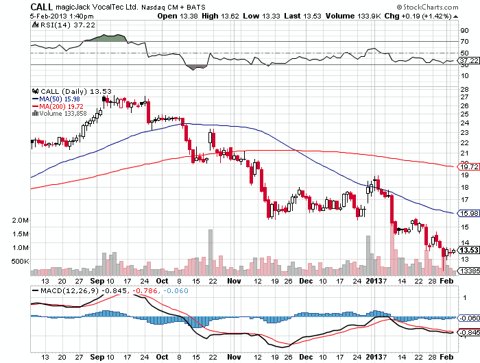 The company with the largest short position is going to be one of the toughest ones to argue against. magicJack had a great 2012, ending the year raising guidance across the board. The company stated:
magicJack VocalTec Ltd announced that for the fourth quarter of 2012, it expects operating income to be greater than $0.50 per share. For fiscal 2012, it expects GAAP EPS to be above previous estimated range and GAAP Revenue projected to be approximately $155.0 Million or 40% above fiscal 2011 revenue of $110.5 Million. According to I/B/E/S Estimates, analysts on an average are expecting the Company to report EPS of $0.36 for the fourth quarter Of 2012; revenue of $153.02 and EPS of $1.87 for fiscal 2012.
When its first EPS guidance raise happened in early October, it took the stock, which had been waning in the high teens, back up over the $20 mark. What followed was a sharp selloff that continued through the end of 2012 and into 2013. The success story quickly hit a serious gray cloud in early January when a report was published questioning accounting practices at the company.
On January 9, 2013, Copperfield Research published a report revealing, among other things, that the Company had been consistently overstating its revenue and profitability. According to the report, "magicJack has presented its retail investor base with earnings press release and financial tables that are overstated and later altered based on the corresponding SEC filings."

On this news, magicJack stock declined $2.01 per share or more than 11%, to close at $15.30 per share on January 9, 2013.
On the heels of the Copperfield report going to the public, the usual onslaught of class action suits and investigations followed. The company, whose revenue and business revolves solely around its one product, is now going to be tied up in substantial litigation. Although the company has a favorable cash position, this is the type of onslaught that, regardless of whether or not they're found guilty, is like quicksand wrapping around a company's share price and sucking money and resources from the company.
magicJack Hangs Up on Themselves
Making money is making money and profit is profit, no matter how you do it. This investor has no issues with people going both long and short to place their bets accordingly on companies. But, when was the last time you saw a company buy put options for its own stock; for whatever reason? Not exactly a vote of confidence, if you ask me. From magicJack's last 10-K:
Fair value gain on common equity put options for year ended December 31, 2011 was $2.2 million, as compared to $0 for the year ended December 31, 2010. In 2011, we sold common equity put option contracts in connection with our share repurchase program in order to lower the average share price paid for ordinary shares we purchases. We recognized gains on such instruments as a result of: (NYSE:I) unrealized gains on outstanding common equity put option contracts outstanding as of December 31, 2011, and (ii) realized gains on common equity put option contracts exercised or expired during the year ended December 31, 2011.
Long-term, if magicJack can shake these legal problems and continue to grow revenue the way it has, the company has a chance at making it. The bullish case on magicJack remains the great numbers it reported heading into 2012. If the company can stay competitive with other VoIP companies, like Skype, it has a chance of staying afloat in this emerging market.
For a short-term look, until these issues are resolved and until we see some confidence or insider buys from management, I don't expect any type of bullish trend from the company.
GameStop (GME) (34.97%) -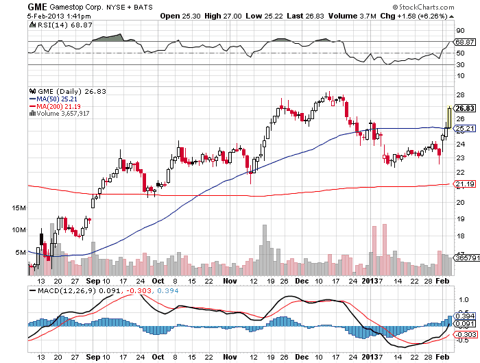 Right off the bat, the holiday season; traditionally a slam dunk for retailers in general but specifically for GameStop, was a massive disappointment. In early January the company reported:
Total global sales for the period were $2.88 billion, a 4.6% decrease compared to the 2011 holiday sales period. Total comparable store sales decreased 4.4%, with U.S. comps of -3.5% and international comps of -6.4%. Based on the holiday sales results, GameStop is narrowing its comparable store sales range for the fourth quarter to -7.0% to -4.0% and the full year to -9.0% to -7.5%.
You'd never know it from looking at the chart, would you? After an uptrend following the poor holiday sales reported on 1/8/13, this company's RSI is starting to dabble in oversold territory. One of the causes of this is the company's president coming out and announcing that GameStop is going to be focusing, moving forward, on mobile developments. GameStop's mobile platform, Kongregate, announced just yesterday that GameStop has funded them with $10 million and they've hired a former Zynga (NASDAQ:ZNGA) General Manager to head up mobile gaming operations. While this might be a step in the right direction, any type of corporate strategy move like this is going to cost the company substantially more cash to implement.
The holiday disappointment was on the heels of a lackluster quarter three, where Todd Sullivan makes the extremely cogent argument:
The question bulls have to ask themselves is: "why will games makers like Electronic Arts (NASDAQ:EA) or Microsoft (NASDAQ:MSFT) want to continue to pay a middle man like $GME to sell their games when they can go direct to the consumer and be more profitable?" The obvious answer is they won't. The retort is usually that not everyone has download speed fast enough to make downloading a game feasible. That is also true. But if we are being honest I think we have to concede that gamers tend to have "the latest" in terms of games and equipment and given the success of Xbox live and gamers playing each other online, we can assume fast internet speeds are not a luxury but a must for them.
Todd is spot on. The quicker these companies embrace the reality that everything is moving towards streaming, the easier it's going to be for them to adapt. To be fair, this isn't just a fundamental argument for just GameStop, it holds true for companies like Netflix (NASDAQ:NFLX), Redbox (NASDAQ:CSTR), and any type of retail store that's based on going out of your house to have to purchase media.
Short-term, I'm bearish here because GameStop is clearly overbought, without any type of fundamental progress. As in store customers continue to table off, more pressure will be put on Kongregate throwing together a mobile solution to save the company.
Long-term I'm bearish as well, as it'll only be years before the consumer streams and orders their game from home as opposed to having to leave the house to purchase it.
RadioShack (RSH) (34.73%) and J.C. Penney (JCP) (32.84%)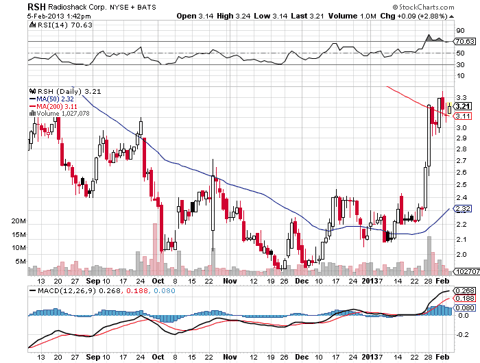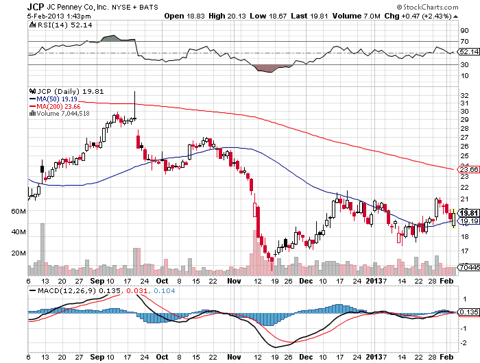 I've lumped these two in together for a couple of obvious similarities. In my opinion, both of these companies:
Are Years Past Their Retail Prime-Time
It's a sad story for both of these retailers. There was a day, back around 20 years ago, where both of these stores were the go-to points for products in their industry.
J.C. Penney was the leading affordable middle class retail clothing vendor. Its stores were fresh looking, usually packed, and the company had supplemental sales coming from catalog orders. There was consistent hustle and bustle in its department stores long before internet shopping. J.C. Penney's stores are now often understaffed, undermaintained, deserted and sometimes simply look like demilitarized zones.
Before Tiger Direct, Amazon (NASDAQ:AMZN), eBay (NASDAQ:EBAY), and other online electronic shops, RadioShack was the go to spot for electronics and accessories in the midst of the computer boom. Not only was it a place to go and keep up to date on the latest accessories and electronics to come out, it is a place where there always used to be a banter in the air amongst interested parties exchanging tips of the trade. It seemed like a bit more than a just store, it was like a daily meeting of your local electronics gurus.
Now, the RadioShack retail stores stink with an air of desperation. They're usually empty, there's little focus on electronics aside from mobile phones, and the sales pitch from the commission fueled associate trying to pitch either the product replacement warranty or the bargain du jour lasts far longer than the actual shopping experience itself. Stores are closing, and business is waning -- it looks like the beginning of an unceremonious exit for the company. Capital Traders Group writes about upcoming store closings for RadioShack:
The company reports a $60 million operating loss in the 3rd quarter of 2012. Same store sales are down 1.6% year-over-year while revenue in the quarter fell 3.8%. In 2010 and 2011 the company closed more than 120 locations. With 4,412 locations across the country, RadioShack can be expected to cut up to an additional 450 to 550 stores during 2013.
Are Failing to Make Business Saving Changes
Former Apple executive Ron Johnson has stepped in at J.C. Penney and tried to make some drastic changes to operations that have notes about RadioShack.
Last February, the new chief executive ended the department-store chain's practice of heavily discounting products through sales and coupons. He also laid out a plan to build 100 boutiques-from Martha Stewart Home to Izod-inside the chain's 1,100 department stores.

But during the first nine months of the fiscal year, Penney's sales fell by $2.7 billion, down 23% to $9.1 billion. More than half of its cash evaporated, to $525 million, as the department store chain racked up $433 million in losses.
J.C. Penney is in a mad dash to stop its sales downtrend and it is furiously throwing cash at its in-store improvements. This can only keep up for so long with its current cash burn before the company must show a marked sales and margin improvement.
Similarly, The Wall Street Journal notes about RadioShack:
In recent years, RadioShack has focused its growth strategy on selling tablets and smartphones, a category that benefits from stronger demand yet faces competition from online retailers and the wireless carriers RadioShack relies on as partners.

Mobile devices accounted for 51% of $4.38 billion in sales last year, up from 44% the year before. But the company's gross margins continue to shrink, falling 8 percentage points, to 36%, in the 12 months ended Sept. 30.
Both of these companies have put plans in place to save themselves, and both of them are failing. J.C. Penney's cash burn and sales downtrend show no signs of stopping and RadioShack's margins are being crippled by its shift in business strategy on the heels of three poor reporting quarters.
J.C. Penney's long-term hopes of success rely on Johnson's new plan to create sub-sections of the store in different departments. He's taking a huge risk in segmenting the stores by brand, giving major brands their own individual sections. Big risk sometimes pays off, and therein hangs the balance of the company's corporate strategy going forward.
Are in Technical Downtrends Based on Charts
Looking at the above charts, it's easy to point out that aside from RadioShack's recent revival, both of these stocks appear to be in a serious long-term downtrend.
The overbought RSI (and just common sense) tells investors that a correction is coming on RadioShack. This could be a great short-term short, playing the upcoming correction, covering, and then playing it bearish again long-term. The candlesticks appear to be giving way to the $3.10 floor falling out.
J.C. Penney's chart is, well, ugly. The RSI hasn't gotten close to 70 in the last 5 months, indicating that the stock is performing bearish and sedated. It gets uglier if you look at its 1 year chart: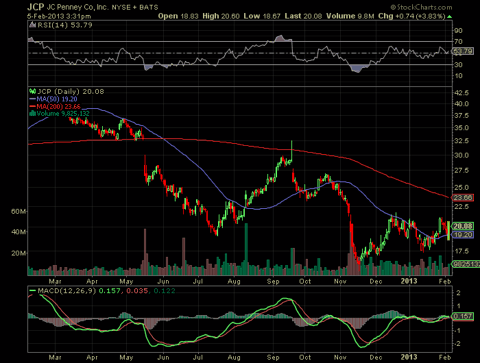 It's clear that this stock is carrying around a malaise and lack of confidence on its back. At this stage in the game, the only thing that's going to change this downtrend for J.C. Penney is serious concrete revenue and sales improvements.
No matter your stand on these four companies, this investor wishes you the best of luck going forward with all of your investments.
Disclosure: I have no positions in any stocks mentioned, and no plans to initiate any positions within the next 72 hours. I wrote this article myself, and it expresses my own opinions. I am not receiving compensation for it (other than from Seeking Alpha). I have no business relationship with any company whose stock is mentioned in this article.