For the long-term, silver is poised for years of gains for reasons I have outlined previously. I also have suggested that silver could outperform gold in the next 12 months, and thus recommended considering some of the larger companies. Furthermore, silver is not only a precious metal but also has many industrial applications and therefore will always have demand, especially when the economy comes fully out of the recession. Right now silver is priced around $31.90 an ounce. Gold is currently priced at about $1,665 an ounce. That represents a 52.8 gold-to-silver price ratio, whereas the historical ratio is 16-to-1 (see figure 1). The respective prices of gold and silver have not approached this historical ratio in years, and I believe a reversion is overdue in the coming years.
Figure 1. Price History of Gold and Silver in the Last 100 Years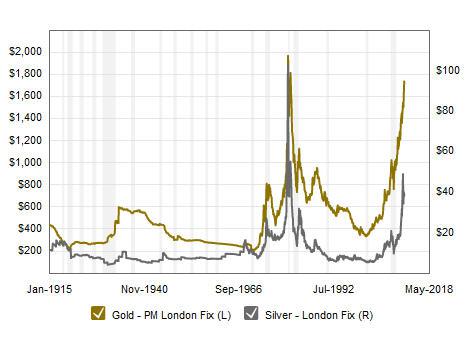 With massive stimulus under way from the European Central Bank unlimited bond buying program, the Federal Reserve's decision to purchase mortgage assets to the tune of $40 billion monthly until unemployment is sufficiently lower, as well as the recent announcement of a separate spending initiative to replace operation twist, inflation seems ever more likely in the near future. During this inflationary stretch, precious metals stand to do well. I think silver will rise at a higher rate than gold, thus contracting the gold-to-silver price ratio toward historical norms. Gold, silver and companies that mine these metals have all pulled back significantly since hitting highs in October. However, gold and silver may be poised to breakout as the selloff has ceased and prices are starting to appreciate once more. In the last month the SPDR Gold Trust ETF (NYSEARCA:GLD) is up 1.8% while the iShares Silver Trust (NYSEARCA:SLV) has delivered a larger return, up 5.1%. While the metals in physical form are my preferred method of investing in this space, followed by the aforementioned ETFs, the greatest returns can be had from individual stocks. For those individuals looking to place a speculative bet on silver price appreciation, in my view there is a long-term opportunity with Great Panther Silver (NYSEMKT:GPL). The company has had great progress in the last few months, however the stock is down about 20% since I first highlighted it in September 2012, following the general trend of the entire sector lower since October. With recent reports that I will discuss, I believe GPL represents opportunity and I have been adding to this position on the dips in the last few weeks.
General Company Overview
GPL is primarily a silver mining and exploration company. GPL's operational activities are currently focused on the mining of precious and base metals from its wholly owned properties in Mexico. GPL is also pursuing acquisition opportunities throughout Latin America to add a third mine to its portfolio of properties. GPL has two primary mining properties, the Topia mine and the Guanajuato mine. GPL also owns a development stage property, San Ignacio, which is approximately 20 kilometers from its Guanajuato processing plant, and an exploration stage property, Santa Rosa, which is located approximately 15 kilometers northeast of Guanajuato. GPL it has a 100% interest in the El Horcon Silver/Gold Project in Jalisco State. El Horcon covers 7,908 hectares in 17 contiguous mining concessions and is located 60 kilometers northwest of GPL's Guanajuato Mine Complex. One advantage of the close proximity is that it is within trucking distance of the Cata Processing Plant. GPL's CEO Robert Archer acknowledged this, saying that it "has excellent potential to be a satellite mine for our Guanajuato Operations."
Last Three Quarters: Reflective of the Companies Expansion Efforts; Record Production
The quarterly report for the quarter ending June 2012 demonstrated that the company is strengthened year over year. The company reported revenues of $14.5 million, which is a 70% increase compared to revenues of $8.5 million reported in the comparable quarter in 2011. Due to increased mining and exploration costs, diluted EPS was $0.00 per share in this quarter compared with $0.02 per share in the comparable 2011 quarter. The company also produced about 3% less silver in the most recent quarter vs. the comparable 2011 quarter, producing 374,000 ounces vs. 386,000 ounces in the quarter the year before.
It is important to note in these comparisons that the price of silver started declining significantly when the quarter began, and it did not start rebounding until the last few weeks of the quarter. In the comparable quarter in 2011, silver prices were about 25% higher, spiking significantly during that quarter. Thus, the weaker performance of the most recent quarter relative to the comparable 2011 quarter is partly to blame on the overall price of silver. Increased investments being made by the company and the lower price of silver were also addressed directly by GPL's CEO, who stated that "gross profit was significantly impacted by lower silver prices and an increase in depreciation charges due to the substantial investments made in our mines, plant and equipment over the last year."
The quarterly report for the quarter ending September 2012 reflected challenges with grade variability at its mines and lower year over year metal prices, the latter impacting all mining companies. However, GPL has focused its efforts on cost containment and efficiency, allowing it to fare quite well relative to some of its competitors in the comparable quarter. Revenues for the quarter were $15.3 million, down 6% from the comparable year ago quarter. However, this was a 6% increase over the quarter ending June 2012. Decreased revenues led to the reporting of $0.01 EPS versus about $0.02 EPS in the same 2011 quarter. Silver production costs were also higher, and combined with lower silver prices, the quarter was impacted. There were some highlights in the quarter, specifically on the production end. Compared to the 2011 quarter, ore processed was up 9%, metals produced increased 22%, silver production rose 8% and gold production increased 102%.
The most recent quarterly production update was somewhat indicative of a real turnaround and a very strong quarter. CEO Robert Archer stated "We are pleased to report a strong fourth quarter with several quarterly and annual production records. We have made and continue to make improvements and changes at both mines that will have a positive impact going forward". He further elaborated that 2013 will be a year of slashing costs and getting new production underway at San Ignacio. Some production highlights of the quarter compared to the year ago quarter include a 30% increase in ore processed, 28% increase in silver production, and a 24% increase in gold production. Financial results for the quarter ending December 31, 2012 will be available in March 2013.
A Very Recent Development: High Grade Silver-Gold Mineralization Intersected and Two New Zones Discovered at Guanajuato Mine Complex
Drilling in the Valencia mine area of the Guanajuato mine complex resulted in finding an intercept with 2,900 grams per ton (g/t) of silver and 26 g/t gold. The two new zones discovered are significant, with intercepts of 1,010 g/t silver and 6.7g/t gold at one zone as well as 1,460 g/t silver and 4.8g/t gold at the other zone. For more on this find, see the update here.
In light of recent events and projected growth going forward, analysts now have a mean price target of $2.12 on the stock, representing a 40% increase from the current price of $1.52. Over the long-term, I think the stock could perform much better, as it often jumps significantly on large moves in silver. With inflation likely on the horizon, I see silver and silver companies continuing to rise in price. I believe that in the long term, GPL could provide great returns should its future exploration activities continue to reveal sizable mineral deposits and if it can keep related exploration costs down. These are primary goals for 2013. I like this stock as a speculative but long-term bet, as I see the price of silver continuing to rise. The stock currently at current levels, GPL has a 39 P/E multiple with average daily volume of about 625,000 shares. The stock has a 52-week trading range of $1.38-$2.94.
Bottom Line
I see an investment in precious metals, particularly silver, as an excellent long-term strategy in light of the currency debasement and inflation that will stem from central bank action. For those investors who cannot or will not buy physical assets, I have pointed to the ETFs that track the price of metals as a second-line approach. I recommend the SLV and ETFs Silver Trust (NYSEARCA:SIVR) for silver exposure second to physical coins and bullion. For the individual silver companies, I recommend dividend paying companies, such Silver Wheaton (NYSE:SLW), Silvercorp Mining (SVM), and Pan American Silver (NASDAQ:PAAS). I think they are safe bets for the long-term. However, speculation can offer outsized returns, and GPL represents a prime example of a stock that is set to roar higher along with the price of silver.
Disclosure: I am long SLW, GLD, GPL. I wrote this article myself, and it expresses my own opinions. I am not receiving compensation for it (other than from Seeking Alpha). I have no business relationship with any company whose stock is mentioned in this article.