Today, I'd like to take a look at Novartis (NYSE:NVS), one of the world's largest healthcare companies, to see if it's a buy at current valuations. To do this, I will use the Q4 2012 Financial Report.
NVS consists of several divisions, as listed below:
Pharmaceutical is by far the largest division, bringing in over $32 billion in net sales last year. They sell an enormous variety of brands. You can see a full list here.
Alcon is a global company specializing in eye care. Novartis bought it from Nestlé in 2010. In 2012, Alcon contributed just over $10 billion in net sales.
Sandoz is the world's largest generic drug company. They employ over 23,000 people. Net sales in 2012 were $8.7 billion.
Vaccines and Diagnostics is the smallest division if measured by net sales. Their contribution was only $1.9 billion.
Consumer Health includes NVS's over-the-counter drugs and animal healthcare. Net sales for 2012 were $3.7 billion.
From this we can clearly see that NVS is dominating in several markets.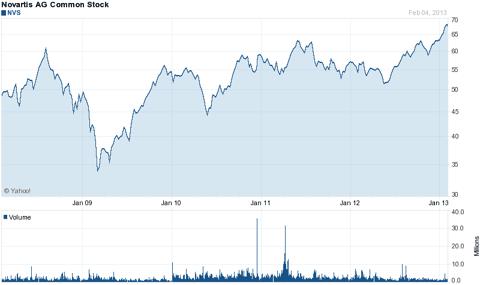 All financial data is from Yahoo Finance
Novartis is currently trading at its 5-year high, with a forward P/E of only 12.15. Analysts estimate an EPS for 2013 of $5.16, and a growth of 5.18% per year for the next 5 years.
Novartis' focus on emerging markets seems to be paying off, as can be read in the Q4 2012 Financial Report:
Net sales in our Emerging Growth Markets - which include all markets except the US, Canada, Western Europe, Australia, New Zealand and Japan - grew 7% (cc) in the fourth quarter, contributing USD 3.7 billion or 25% to Group net sales. Key growth drivers included China (+22% cc) and India (+20% cc). Pharmaceuticals sales in Emerging Growth Markets grew 4% (cc) in the quarter. For the full year, Emerging Growth Markets were up 6% (cc) and generated USD 13.8 billion or 24% of Group net sales.
NVS had 17 major approvals in 2012, allowing it to replace medicines that lost their patents, but more importantly, they have a huge pipeline of over 200 projects in clinical development.
For me, when choosing to invest, dividends are always very important, as these allow me to invest in other companies, or reinvest in the same. Let's see how NVS's dividend has evolved over the past years.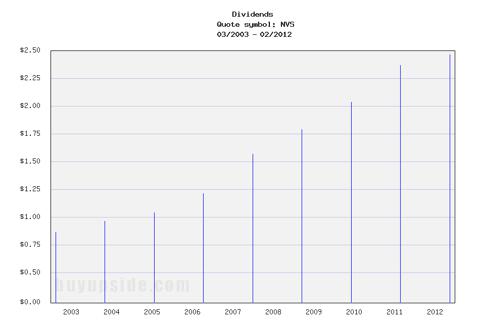 Dividend chart from Buyupside.com
As you can see in the graph above, the dividend has gone up from $0.70 in 2003 to $2.46 in 2012.This means NVS currently yields 3.70%. NVS has proven to be very reliable in raising their dividend, but the dividend growth ratio seems to be slowing down:
10 year dividend growth: 13.4%
5 year dividend growth: 10.8%
1 year dividend growth: 4.7%
I don't see this as a problem, because EPS is expected to rise, and the payout ratio is relatively low at 64% for last year. NVS is slowly but surely evolving from a growth stock, boosting dividend increases of 10+% yearly, to a blue chip stock paying a lower, but more secure dividend.
All in all, NVS seems like a great company to own, with its slow but steady growing dividend. It might not grow its dividend at double digit numbers anymore, like it did 10 years ago, but I like how secure it is. People are always going to need medication, and with more and more people in developing countries getting access to the healthcare market, I can see NVS being part of my portfolio for the next half a century or so.
How do you feel about NVS? Please comment below.
Disclosure: I have no positions in any stocks mentioned, but may initiate a long position in NVS over the next 72 hours. I wrote this article myself, and it expresses my own opinions. I am not receiving compensation for it (other than from Seeking Alpha). I have no business relationship with any company whose stock is mentioned in this article.