Every January, in Las Vegas, electronic developers from around the world gather to showcase their latest creations. Intel (NASDAQ:INTC) is no exception and its latest revelation is a clear indicator that Intel is breaking new ground that makes the smart money bullish on Intel.
Originally released to the public last fall at the developer's conference in San Francisco, Intel introduced us to Perceptual Computing. But, it was the unveiled working system at CES that caused the greatest reaction. Why is this so significant, and how will this turn Intel around is the subject of this article.
Intel's Fall
Intel was once the largest semi-conductor and computer processor manufacture on the planet. They dominated their industry and stock prices reached record highs of over $75 per share in early 2000. Then the "mobile technology" revolution and the once mighty desktop and laptop computers were replaced with tablets and smartphones.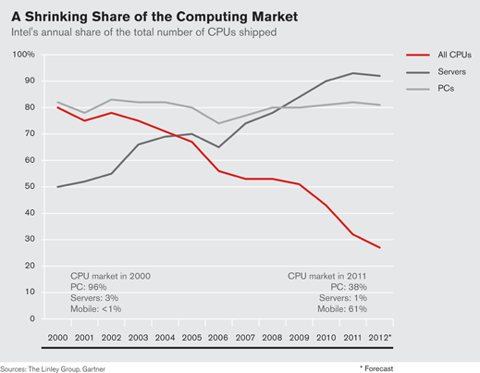 According to the International Data Corporation, as late as 2011, Intel still enjoyed the biggest market share in both the overall worldwide PC microprocessor market (79.3%) and the mobile PC microprocessor (84.4%). However, these numbers decreased by 1.5% and 1.9% compared to year over year and they continue to decline.
Intel's Response To A Changing Market
According to recent reports, 44% of adults now own Smartphone's, and the number of tablet owners grew by about 50% since the summer of 2011; that number now stands at 18% of Americans over age 18. Over half, 52%, of desktop/laptop owners now also own a smartphone and roughly a quarter, 23%, own a tablet computer (while just 43% own just the desktop/laptop computer).
The world is rapidly changing into a "mobile" world and what this means for Intel is that there is less and less demand for its processors. As a result of falling demand and falling revenues Intel's stock price suffered a precipitous decline and has been sideways trading between approximately $12 per share to $25 per share for close to a decade.
However, as a direct result of this rapid change in technology, and how users interact with this technology, there is now a confusing myriad of keypads, track pads, touch-screens and countless other ways to interact with all of these new computing devices. There are almost as many ways to interact with computing devices as there are computing devices on the market. But, from this chaos, Intel has emerged with a new, revolutionary technology that is reminiscent of a scene right out of the "Minority Report."
After many failed attempts at regaining it relevance in the market place, Intel may have just found a way with "Perceptual Computing."
According to Barry Solomon, Intel's chief strategist;
"We're not trying to replace anything. We're just trying to augment existing modes of interaction. We're adding senses to the computer's brain so it can perceive its surroundings, [see] who's interacting with it, and make those interactions more intuitive.
"We want to go beyond simply delivering technology. The tech world has morphed into delivering experiences."
Intel's perceptual computing represents a leap forward in how we, as humans, will interface with our computing devices. It will allow users to seamlessly transition from keypad to track pad to the revolutionary voice and gesture commands. But, the coup de gras is the ability to use multiple interfaces at the same time. Think Microsoft's (NASDAQ:MSFT) "Kinect" system on steroids. Imagine a world where you can speak to your computer while simultaneously using hand gestures. The applications are limitless. You can watch what Intel is proposing in this scene from the Minority Report, starring Tom Cruise.
This is Intel's stab at trying to keep laptop and desktop computers relevant in the mobile computing age.
Key Players
At the conference, Intel demonstrated a new, more powerful voice-recognition technology from Nuance Communications Inc. (NASDAQ: NUAN) that covers nine different languages. Nuance, of course, is best known as the ground breaking force behind Apple's (NASDAQ: AAPL) voice-activated personal assistant inside iPhones; "Siri."
Intel has also been collaborating with a company called SoftKinectic, located in Belgium, whose aim is to deploy gestural recognition system on PCs that can distinguish between each of one's 10 fingers.
Currently, the "perceptual computing" system requires users to clip a "3D" video camera to their laptops or PCs. As a result, Intel is working with Creative Technology Ltd. (OTC: CREAF.PK), to produce and supply these cameras. As represented at the demo at CES, Creative Technology's camera will allow users to perform gestures between six and 36 inches away from the lens. While currently not released to the general-public it is rumored that the camera is scheduled for retail sales sometime later this year. However, Intel has strongly stated that the Creative Technology camera is a "bridge Technology" until such a time that new "Intel powered" laptops and desktops are produced with the technology built into the system.
Intel is also rumoring about including applications that will make it easier to post news and updates to social-networking sites, search Wikipedia and, of course, to control videogames. As a result, Intel is encouraging developers to start writing applications now and is offering the camera so they can do just that.
The Competition
Currently, the only competition for Intel on the horizon is Advanced Micro Devices (NYSE:AMD), long the main competitor of Intel. But, unlike Intel, it has not weathered the changing market well. Its stock is down to under $3 per share and most agree that AMD is rapidly loosing ground and has no relevant breakthroughs in the pipeline. Take into consideration that Intel already has a working model while AMD does not I do not foresee AMD as a serious threat to the new technology. According to AMD's chief technology officer, Mark Papermaster:
The Surround Computing Era is multi-platform, ranging from eyeglasses to room-sized computing devices. It's also fluid, with realistic output and natural human input, and it's intelligent, anticipating human needs… This kind of computing, imagines a world without keyboards or mice, where natural user interfaces based on voice and facial recognition redefine the PC experience," and where devices deliver "contextual insight and value," even as they "disappear seamlessly into the background."
While there stated goals are ambitious, they are still years away from bringing a product to market.
The Bottom Line
Consumers always want something new. If Intel can truly deliver a product that works seamlessly as promised this could be the one breakthrough technology that turns the tide for Intel. Based on the performance at CES I believe that Intel is going to deliver. As a result: with stock price under $25 per share, a market cap of 105.9 Billion and a nice dividend yield of about 4% I am going long on Intel.
Disclosure: I have no positions in any stocks mentioned, and no plans to initiate any positions within the next 72 hours. I wrote this article myself, and it expresses my own opinions. I am not receiving compensation for it (other than from Seeking Alpha). I have no business relationship with any company whose stock is mentioned in this article.