This morning Asia is down and Europe is up, while commodities are for the most part are mixed during early hours trading. We are not convinced that Europe remains in a bubble and if that Pandora's Box, so to speak, is opened it could have serious consequences for the current market rally and far reaching effects across the financial landscape. In the retirement account we are now sitting on about 1/6th cash and we are looking for ways to reduce margin in our one trading account while maintaining exposure, a tricky course when options premiums are so high.
Chart of the Day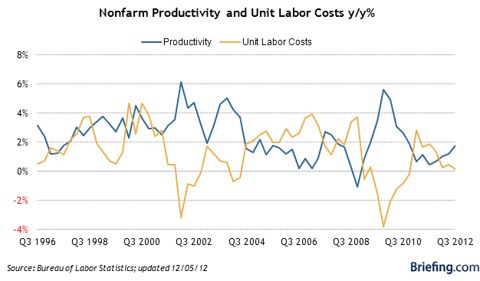 Chart courtesy of Briefing.
We have economic news due out today, and it is as follows (these are the consensus estimates):
Initial Claims (8:30 AM EST): 360k
Continuing Claims (8:30 AM EST): 3200k
Productivity - Preliminary (8:30 AM EST): -1.2%
Unit Labor Costs (8:30 AM EST): 2.4%
Natural Gas Inventories (10:30 AM EST): N/A
Consumer Credit (3:00 PM EST): $11.9 Billion
Asian markets finished lower today:
All Ordinaries - up 0.31%
Shanghai Composite - down 0.66%
Nikkei 225 - down 0.93%
NZSE 50 - down 0.40%
Seoul Composite - down 0.23%
In Europe markets are higher this morning:
CAC 40 - up 0.40%
DAX - up 0.07%
FTSE 100 - up 0.13%
OSE - up 1.25%
Technology
We were pretty impressed with the price action in Shutterfly (NASDAQ:SFLY) yesterday after the company released a positive forecast for 2013 sales forecasts, which they see growing as much as 17%. This growth will be driven by their marketing and partnerships, namely their agreement with Costco to use their stores to deploy product offerings. For 2013 the company expects sales to come in between $739.7-746 million versus $709.4 million which is the figure analysts had previously estimated. News was bullish all around for the company and Topeka Capital Markets kept the 'Buy' rating they had on the shares while simultaneously raising their price target from $40 to $45/share. Investors really liked the news, pushing shares up $6.81 (20.27%) to close at $40.40/share and making this one of the top gainers yesterday.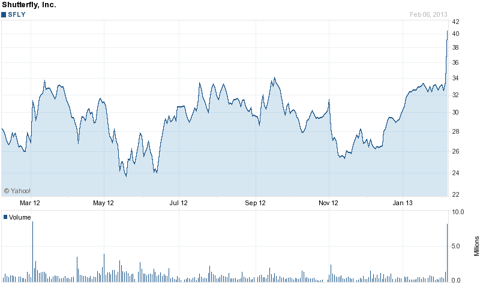 Chart courtesy of Yahoo Finance.
Finance
The biggest news in the finance sector yesterday, with the farthest reaching implications, had to be the ruling in the Assured Guaranty Ltd. (NYSE:AGO) case. The ruling sent shares up $1.31 (10.20%) to close at $19.56/share as the Judge ruled that the company was indeed owed damages and costs associated with the bad mortgages included in the pools they purchased from a lender. The ruling appears to make other cases seem likely to favor the insurers now that a precedent has been set which effectively says that the banks and mortgage originators violated their contracts by allowing individuals to lie about income and other pertinent information regarding their creditworthiness. This is in contrast to how those who wrote the bad mortgages wanted the situation to be viewed which would have treated the insurers and purchasers as sophisticated investors who should have done their own due diligence. On the surface this seems to be the correct ruling and falls into law with contract law and how negligence and willful wrongdoing are treated. This does open the door for another potential nightmare for the banks.
We wanted to provide another update on Regions Financial (NYSE:RF) and their move to take out $8/share. The shares did take out the old 52-week high yesterday as they rose as high as $7.99/share but once again could not break through that resistance level. After that failure the shares did back off a bit, but still managed to finish in the green. This is as we suspected and investors should not be getting frustrated, the time for that will be if the shares fail to breach the $8/share level and sell-off one of these days but until then the trend is your friend.
Biotechnology
Elan (NYSE:ELN) is a company which has always disappointed investors. It certainly is a stock which seems to reinforce the theory of gravity, to say the least. Yesterday investors were once again forced to endure a poor performance as shares closed at $9.40/share after falling by $1.06 (10.13%) on volume of 69.2 million shares. The sell-off was triggered by the announcement that the company was selling its 50% ownership stake in the Tysabri multiple-sclerosis drug to partner Biogen Idec for $3.25 billion in cash. The company does get rid of its equity ownership, but they will retain a royalty which will pay them 12% of all sales over the first year upon the closing of the deal and then revert to a royalty schedule whereby the company shall receive 18% on sales up to $2 billion, 25% on sales over that amount and should Tysabri reach $2.5 billion in sales an extra payment of $485 million would be made.
To put all of this in perspective, last year sales of Tysabri were $1.6 billion which was an 8% increase from 2011. It will take some time before the sales reach levels where the royalties not only max out but reach the second level and although the deal does look to be expensive Elan investors did not like the news as the question remains as to where the company goes from here. They have sold and/or spun-off parts of their business and drugs in the pipeline simply have not panned out. This sale removes possibility that the entire company could be taken over by Biogen Idec in order to consolidate Tysabri, so management now has the task of coming up with a game plan to reposition the company for growth.
Also moving yesterday were shares of Dendreon (NASDAQ:DNDN) which saw heavy volume of 13.3 million shares as Summer Street said that they believed that the concern regarding the Medicare co-payment for Provenge is overdone. For those who follow this company, even casually, it is well known that these concerns have been around since the drug was launched and people were worried that the high cost coupled with the drug's benefits would keep Medicare from getting behind this. The bullish view sent shares higher at the open, with shares finishing the day at $6.65/share after having risen $0.49 (7.95%). It sure seems to us that the news flow has turned dramatically more bullish for the company, which should be good for shareholders so long as there are no more stumbles.
Disclosure: I have no positions in any stocks mentioned, and no plans to initiate any positions within the next 72 hours. I wrote this article myself, and it expresses my own opinions. I am not receiving compensation for it (other than from Seeking Alpha). I have no business relationship with any company whose stock is mentioned in this article.