This article discusses the trend of gold and Dow Jones in the last 15 months in order to underscore the importance of portfolio diversification. Further, the near-term expected trend for equity markets and the precious metal is discussed.
Amid a long-term secular bull-market, gold peaked out (in the near-term) in September 2011 at $1,895 an ounce. Since then, gold has moved sideways and downwards while equities have trended higher. As a result, equities have outperformed gold in the last 15 months. On converting this observation in numerical terms, golh ratio from September 2011 to February 2013.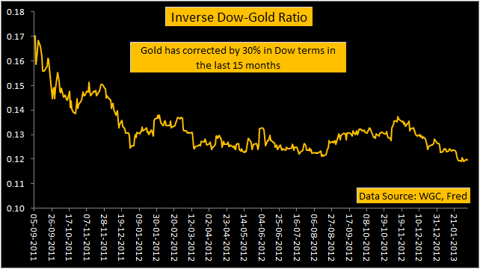 Click to enlarge
As mentioned earlier, the primary objective of this discussion is to underscore the importance of portfolio diversification. I am bullish on gold for long-term and I have explained the rationale for the same in one of my earlier articles. However, if my bullish view converted to 100% exposure to gold, my portfolio would be down by 30% at a time when a diversified portfolio might be performing well or outperforming. Investors therefore need to create a portfolio having a mixed asset class exposure such as gold, equities, industrial commodities, agricultural commodities, real estate and corporate bonds among others.
Given the current expansionary policy environment, I would suggest 20% exposure to gold and precious metals, a 20% exposure to domestic equities, 20% exposure to emerging market equities, 20% exposure to industrial and agricultural commodities and 20% exposure to cash and investment grade corporate bonds. The portfolio diversification might differ depending on age and other factors.
Coming to the expected trend in gold and equities, I expect further decline in gold in Dow terms. In other words, investors can still be overweight in equities and underweight in gold and precious metals for the first half of 2013.
One of the primary reasons for being bullish on equities is related to the global economic performance. An improving or stable global economy will result in more liquidity flowing into equities. As the chart below shows, there has been a meaningful improvement in the global purchasing manager index in the recent past. With this improving trend likely to continue, equity market sentiment will remain bullish.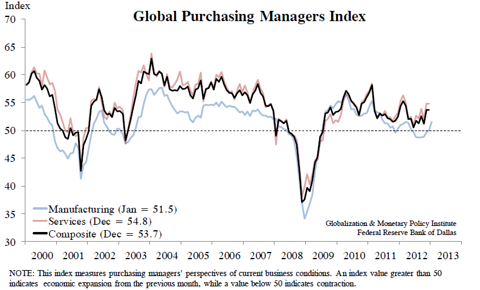 Click to enlarge
In the US, an increase in durable goods orders has resulted in an uptick in investments, which is positive for the economy. At the same time, retail sales growth has been robust and ensures that the first quarter will be decent in terms of economic growth. I am not suggesting that economic activity is the only factor that can lead to upside in equities. However, given the current bullish sentiment and liquidity scenario, equities can witness further upside.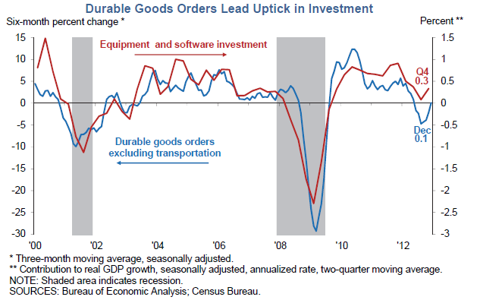 Click to enlarge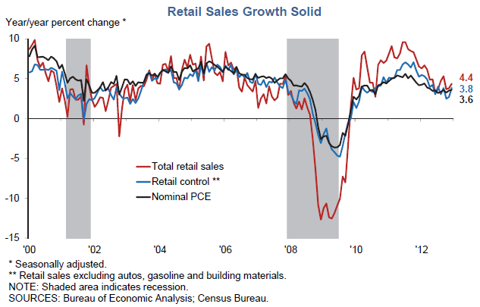 Click to enlarge
In terms of economic activity and financial market risk, an improvement in the Euro zone PMI gives yet another reason to believe that equities can sustain at current levels or trend higher. Higher bond spreads for the PIIGS did result in declining equity markets in the past. Currently, the bond spreads for PIIGS is on a decline and should decline further if economic activity improves in the Euro zone.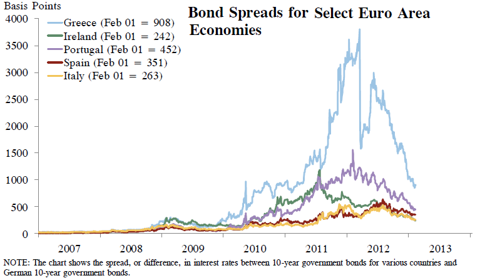 Click to enlarge
Besides the economic fundamental factors, I personally don't see any irrational exuberance in equity markets at this point of time. Investors can expect a last leg of a robust rally before any healthy and meaningful correction.
Given these factors, I do expect gold to move sideways or trend down in the first half of 2013. I would consider this as a good buying opportunity for long-term as there is still no long-term fix in place for the economic and financial problems.
In terms of portfolio diversification, which I mentioned in the first half of my article, I would consider the following investment options -
SPDR S&P 500 ETF (NYSEARCA:SPY) - It has been proven that beating the index is not an easy task. Therefore, the strategy should be simple - beat the index or invest in the index. From this perspective, SPY looks interesting. Also, with excess money flowing into risky asset classes, the S&P should trend higher over the next 3-5 years. The ETF provides investment results that, before expenses, generally correspond to the price and yield performance of the S&P 500 Index.
iShares MSCI Emerging Markets ETF (NYSEARCA:EEM) - Global diversification is necessary and exposure to emerging markets is critical. Over the long term, emerging markets will outperform developed markets in terms of equity price appreciation. The iShares ETF corresponds generally to the price and yield performance, before fees and expenses, of publicly-traded securities in emerging markets, as represented by the MSCI Emerging Markets Index.
iShares FTSE/Xinhua China 25 Index (NYSEARCA:FXI) for specific exposure to Chinese equities. China looks attractive at current levels and growth in China has bottomed out in all probability in 2012. I would still take a cautious stance and gradually invest in China.
iShares S&P India Nifty 50 Index Fund (NASDAQ:INDY) for specific exposure to Indian equities. I would like to mention here that Indian markets have rallied significantly in the last few months. Therefore, investors can wait for some correction before considering exposure to Indian equities.
SPDR Gold Shares ETF (NYSEARCA:GLD) - Investors can consider exposure to the hard asset for the long term. In the near term, some more correction in the precious metal is entirely likely. However, expansionary monetary policies and artificially low interest rates will trigger long-term upside in the precious metal. The GLD ETF seeks to replicate the performance, net of expenses, of the price of gold bullion.
iShares Silver Trust ETF (NYSEARCA:SLV) - Very similar to the argument for gold, I am also bullish on silver for the long term. Investors can consider exposure to silver through the purchase of physical metal or the ETF, which seeks to reflect the price of silver owned by the trust, less the trust's expenses and liabilities.
Vanguard Energy ETF (NYSEARCA:VDE) - In times of inflation (very likely in the future), investors seek refuge in hard assets. Energy as a sector will do well in times of inflation. The ETF seeks to track the performance of a benchmark index that measures the investment return of stocks in the energy sector. With a low expense ratio of 0.19%, the ETF is a good investment option in a sector, which has good upside potential in the long term.
Disclosure: I have no positions in any stocks mentioned, and no plans to initiate any positions within the next 72 hours. I wrote this article myself, and it expresses my own opinions. I am not receiving compensation for it (other than from Seeking Alpha). I have no business relationship with any company whose stock is mentioned in this article.