Community Bankers Trust (AMEX: BTC)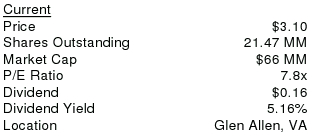 Community Bankers Trust

With recent weakness at Bank of America (NYSE:BAC) and Citigroup (NYSE:C), the last type of investment idea investors want to hear about is a bank stock. Non-performing loans are rising. Commercial real estate is a disaster. The decline in auto sales is stunning. What will be the knock-on effects? Many more consumers and businesses will have trouble repaying their loans, but we think there are still opportunities in small cap banks with conservative loan portfolios and strong capital positions. Many of these small banks have had their stocks prices thrashed as investors have exited the sector.
One of our favorite small cap banks is Community Bankers Trust. BTC has decent credit quality, has excess capital and is trading around only 70% of tangible book value. The key catalyst is the implicit endorsement BTC received in late November from bank regulators. The FDIC selected BTC to assume the deposits and branches of a failed bank. The acquisition of the failed bank almost doubles the size of BTC's franchise, is immediately accretive to earnings and cost BTC close to nothing.
As background, BTC is a single-bank holding company headquartered in suburban Richmond, Virginia, with approximately $1.3 billion in assets, $1.1 billion in deposits, $500 million in loans, and $150 million in capital. It operates 13 branches in Central Virginia and four branches in the northern Atlanta, GA suburbs. BTC was formed in May 2008 through the 3-way merger of Community Bankers Acquisition Corp, BOE Financial Services, and Transcommunity Financial Corp.
Investment Thesis

Here's our investment thesis on BTC:
1. Low Valuation – BTC is cheap for a commercial bank with decent credit quality and excess capital. BTC trades at just 70% of tangible book value. This is low compared to peers. Commercial banks headquartered in Virginia with deposits of at least $500 million and less than 1% NPAs trade at a median tangible book value of 1.35x. At 1.35x tangible book, BTC would trade at $6.00 or 90% higher than current levels. Of the 6 Virginia-based banks with the lowest Price/Tangible Book ratios, BTC has the lowest level of non-performing assets by a wide margin.
click to enlarge


BTC is cheap on an earnings basis as well. We estimate BTC had earnings power of $0.28 prior to its recent acquisition. The acquisition could be 12 cents accretive to BTC's earnings, so we think BTC's earnings power is now $0.40. At $3.15, BTC trades at 7.9x earnings power while still having excess capital.
2. Increase in Intrinsic Value from Acquisition of Failed Bank – BTC's acquisition of the failed bank in Atlanta drives a large increase in BTC's intrinsic value. We estimate BTC paid about $4 million for the $300 million of core deposits at TCB. For BTC to replicate these $300 million in core deposits, the company would expand great time and expense. Instead, the acquisition was immediate and required only a nominal investment. Assuming a 4% interest rate spread and a 2% expense ratio, the payback on buying the failed bank is just 6 months. BTC was able to cherry-pick about $80 million of loans from TCB's $600 million loan portfolio. The FDIC takes responsibility for the other loans, which dramatically reduces BTC's risk in the acquisition.
3. Signaling from Acquisition of Failed Bank – BTC's acquisition of TCB gives investors two important signals. The first signal for investors is the bank regulators are not concerned about BTC's safety and soundness. This is an important point for potential new shareholders of BTC. The biggest fear in getting involved with a new bank at this point in the economic cycle is whether the stockholders will be wiped-out in a failure of the bank. With this acquisition, the FDIC has implicitly given BTC a clean bill of health. The second signal investors receive from BTC's acquisition is management savvy. BTC has been running with excess capital since its formation in May. While there have been plenty of opportunities to buy small banks, BTC's management waited to get the ultra-cheap TCB deal from the FDIC. This is a great deal for BTC and gives management credibility as deal-makers.
4. Pullback by Larger Competitors Presents Opportunity for Loan Growth – The main bank competitors - Bank of America, Wells Fargo (NYSE:WFC), SunTrust (NYSE:STI) and BB&T (NYSE:BBT) in BTC's markets are each going through major acquisition integrations or have balance sheet issues. In either case, they are pulling back from commercial lending. This provides an opportunity for BTC to grow its loan book at attractive spreads in the current environment.
5. Remaining Excess Capital – BTC continues to have a significant amount of excess capital. While the common equity-to-asset ratio is 7%, this masks about $300 million of brokered deposits that will be run-off from the failed bank acquisition. Pro-forma for the deposit run-off, BTC's tangible common equity ratio is 9.6%. This excess capital provides two advantages: 1) safety and 2) opportunity for additional value creating actions such as further acquisitions or repurchasing stock. Capital is a precious resource for banks in the current environment. BTC has it and has demonstrated an ability to deploy it wisely.
6. Run by Capitalists – BTC is run by capitalists who will realize value for shareholders at the right time. BTC was formed by the three-way merger of Community Bankers Acquisition, Transcommunity Financial and Bank of Essex. Community Bankers was a special purpose acquisition company ("SPAC") formed by Gary Simanson. Simanson is now a Vice Chairman of BTC. He is a former investment banker and is involved with BTC to make money. Shareholders should look to him as the architect of value creation at BTC.
7. No research coverage from Wall Street – BTC is underfollowed by the investment community as evidenced by no research coverage from Wall Street. It may be a while before a Street firm picks up coverage of a $65 million market cap bank, but this is the opportunity to buy the shares before it is widely known.
8. Existing shareholder base has been in disarray but should be stabilizing – As a former SPAC, BTC's shareholder base is turning over which pressures the shares lower. SPACs are usually held by hedge funds, which are playing an arbitrage. The hedge funds buy SPAC units consisting of one share and one warrant. They sell the warrant and hope to collect some upside if the SPAC makes an acquisition the market likes. If the market doesn't like the acquisition, the hedge fund votes against the acquisition and redeems its share of the IPO cash from the trust. In a SPAC deal like BTC, the hedge fund owners sell their shares after the acquisition because they are looking for the next arbitrage and are not natural owners of post-SPAC companies. Since the failed bank acquisition, it appears that BTC's shareholder base is stabilizing towards natural holders of small cap bank stocks.
Business Overview BTC's business is not complicated. Up until the TCB acquisition, BTC had a dozen branches scattered in small towns through central Virginia. The bank is focused on business lending. It usually takes a secured position in the loan by taking lien against the commercial real estate used in running the underlying business.
The bank was created through the 3-way merger of Community Bankers Acquisition Corp, BOE Financial Services, and Transcommunity Financial Corp. Community Banker Acquisition Corp was a SPAC formed by Simanson to buy an existing commercial bank. The original acquisition target was Transcommunity Financial, which agreed to a deal in September 2007. In November 2007, BOE Financial Service agreed to be bought by the combined Community Banker/Transcommunity Financial company. The 3-way merger was completed in May 2008. As a SPAC, Community Bankers brought about $45 million of fresh capital to the combined company.
Risks
Here are the risks we see:
1. Credit quality – With any small cap bank, credit quality is the main issue. BTC's credit quality is better than average due to its markets not participating in the housing bubble and its focus on commercial banking. BTC's metrics were also helped by merger accounting which allowed them to mark-down problem credits and put the loss into goodwill. BTC also has ample excess capital to absorb any increase in problem credits. That being said, we don't think BTC has seen the peak of non-performing assets or loan charge-offs for the current credit cycle.
2. Integration of Failed Bank – Although the price paid for the failed bank was minimal, it is an out-of-footprint acquisition and carries some extra integration risk. BTC's existing franchise is just north of Richmond, VA, but the failed bank's branches are in suburban Atlanta. This will require extra management time to integrate and manage. It also shows that future acquisitions may be dispersed through the Southeast.
3. Acquisition risk – BTC is trying to make additional acquisitions with its excess capital. There is a risk they could overpay or buy a bank with bigger problems than they realize. Given the high quality of their first acquisition, I'd give them a pass on this risk.
4. Liquidity – At $66 million market cap, it is tough to trade the stock in size. Although for smaller orders, the bid/ask is usually 5 or 10 cents, and it trades daily.
Recommendation
BTC is cheap, has decent credit quality, has excess capital and is run by capitalists. It shouldn't stay at this valuation for long. With the dividend yielding north of 5%, shareholders are getting paid to wait. The wait shouldn't be long. We would definitely own this name ahead of any regional names trading at similar valuations but with significant credit quality issues such as Regions or SunTrust.
For more aggressive investors, BTC also has publicly traded warrants. The warrants have a strike price of $5 and expire June 1, 2011, so we think there is a very reasonable chance they will expire in-the-money. However, we would caution investors that the warrants have roughly doubled in price since December 1st without a corresponding move in the stock because the company announced a warrant buyback program. We think the warrant buyback program makes a ton of sense to remove potential dilution for existing shareholders. Our hesitation in recommending the warrants is their recent price increase and competition with the company in buying the warrants in the open market.
Bottom line, we see BTC as a mispriced stock. We think a move from its currently depressed price to a valuation in-line with peers provides the opportunity for excess returns.
Disclosure: long BTC and BTC warrants.