Commodities have just hit a 10-year high for the month of February.
Even the massive commodities boom that ran through 2007 and 2008 didn't top the levels we're seeing right now.
The benchmark for this high is the Standard & Poor's GSCI Commodity Index, which includes everything from oil and lead to cocoa and lean hogs.
And not only has the index set a new February high, it's poised to rise over the next two months, based on the traditional seasonality of its underlying commodities.
Have a look for yourself…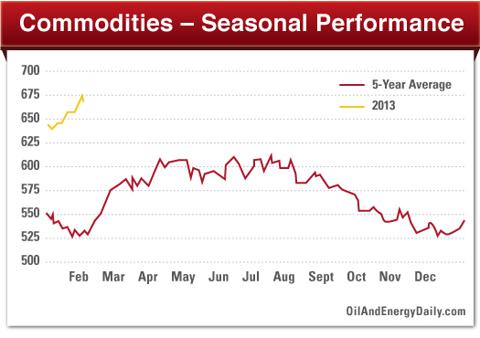 This chart shows the average values for the S&P GSCI Commodity Index over the last five years. As you can see, commodities prices tend to rise as we head into the spring before sliding down in the fall. So if history is any indication, this commodities price rally is just getting started.
So what's driving this action?
Well, there are two possibilities
The first is that economic activity is on the rise, pushing global commodities demand higher.
The second is inflation. If that's the case, it's a sign that the Fed's loose monetary policy has run its course and needs to be reined in - something I recently discussed at Wall Street Daily.
To distinguish whether it's economic growth or inflation that's moving commodities higher, we can look at what's happening to energy, in particular. Separating the energy commodities from the rest of the S&P GSCI Commodity Index, you see the same new high and the same seasonal pattern.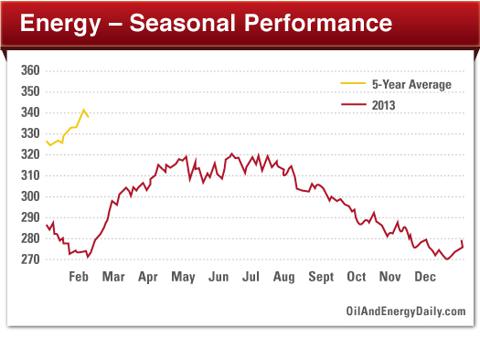 We know more about what's happening with energy from studying it so closely. And in the case of energy commodities, economic activity is what's currently driving demand - or at least what's driving prices based on perceived demand. That suggests inflation may be less of a factor than if this price surge were happening absent an economic recovery.
So it's not time to sound the inflation warning alarm just yet. But with the economy picking up steam, and driving commodity prices higher, it won't be long before the Fed has to carefully unwind its current policies to keep inflation in check.
Overall, this new high in commodity prices means things are good for the economy.
And if you're a commodities or energy investor, expect higher prices over the next two months, as well.
And "the chase" continues,
Disclosure: I have no positions in any stocks mentioned, and no plans to initiate any positions within the next 72 hours. I wrote this article myself, and it expresses my own opinions. I am not receiving compensation for it. I have no business relationship with any company whose stock is mentioned in this article.